The Reason Paul Guilfoyle Left CSI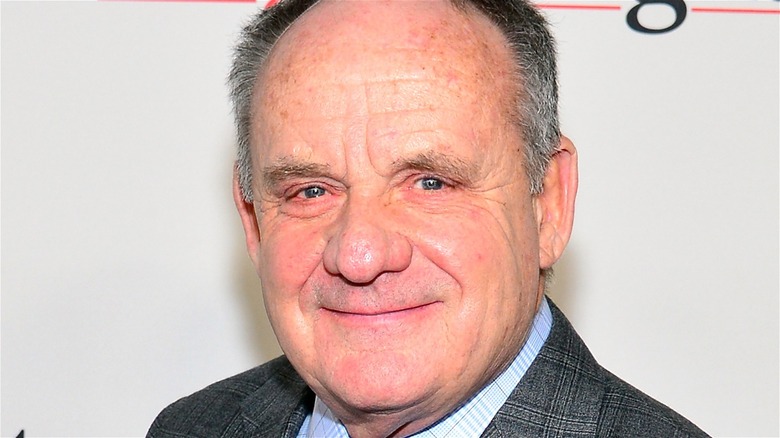 Roy Rochlin/Getty
Even when multiple veteran cast members exited "CSI" at various points during its run — including lead actor William Petersen and Gary Dourdan, aka Warrick Brown — Paul Guilfoyle remained a regular on the crime procedural for an incredible 14 seasons.
A veteran film and television actor by the time he signed onto the series in 2000, Guilfoyle played Jim Brass, a homicide detective who aids the CSI team with their cases. The incorruptible, stalwart cop typically was the team member who actually interrogated suspects and arrested them. Brass had a good heart but went through a lot of tragedy and turmoil over the years, even nearly getting killed by his own daughter during a murderous rampage. At the end of Season 14, the detective decided to retire from the police force so he could help take care of her, exiting the series in the process.
But why did Guilfoyle leave the hit procedural a year before it properly ended its 15 season-long network run? Here's the actual reason Paul Guilfoyle left "CSI."
Jim Brass was written off the show
As it turns out, Jim Brass leaving "CSI" at the end of the penultimate season wasn't Paul Guilfoyle's choice, but rather the result of the producers deciding the character's time on the show had come to an end. According to The Hollywood Reporter, the producers chose to write the character off after deciding that his storyline was effectively over. Guilfoyle only found out about Jim's fate a week before the announcement was made.
However, that wasn't the last time audiences would see Jim Brass. The steadfast detective made an appearance on the series finale, "Immortality." Guilfoyle also recently reprised his role in two episodes of "CSI: Vegas" when his character, now retired, is attacked by a mysterious intruder. The incident ultimately jump-starts the "CSI: Vegas" story when Brass asks Sara Sidle (Jorja Fox) to help figure out the truth behind the assault.
Hopefully, fans will get to see Guilfoyle return as Jim Brass in Season 2 of "CSI: Vegas," even if William Petersen isn't coming back.