Hawkeye Director Drops A Huge Daredevil Teaser For Episode 6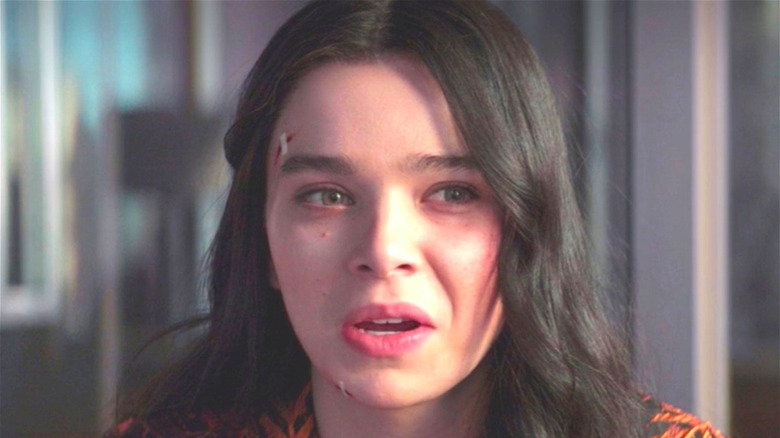 Marvel/Disney+
Contains spoilers for "Spider-Man: No Way Home" and "Hawkeye" Episode 5
Devilish rumor dodger that he is, Charlie Cox can now breathe easy following an infinite amount of questions, after finally reprising his role as Matt Murdock and appearing in "Spider-Man: No Way Home" as Peter Parker's lawyer. This appearance coincides with the equally expected arrival of Vincent D'Onofrio as Kingpin in Disney+'s "Hawkeye." Finally caught on hazy camera footage in last week's episode, the 'big guy' that Clint feared would make an appearance is set to drop in on the final episode of the Disney+ show next week, and it's a build-up of one of the show's directors, Amber Templemore-Finlayson aka Bert of the directing team known as Bert & Bertie, was happy to add.
Speaking to Insider regarding the confirmed return of the Kingpin of Crime, Bert explained, There's something about the simplicity of the simple tease," adding, "We kinda loved that it was this grainy, grainy impression of him and just confirms everyone's suspicions because there have been lots of theories and that one's been the outstanding theory about who this was."
Rumors abound ever since D'Onofrio showed an alarming amount of interest in the first trailer for "Hawkeye." To bring him into the fold, however, was carefully planned. "It's Marvel. There've been different iterations of how Kingpin was revealed and this is the one that served the story, to hold him back to the very end of [episode] five." With that shocking appearance though, where does that leave the villain in the show's inevitably huge finale?
Will the Devil of Hell's Kitchen return with The Kingpin?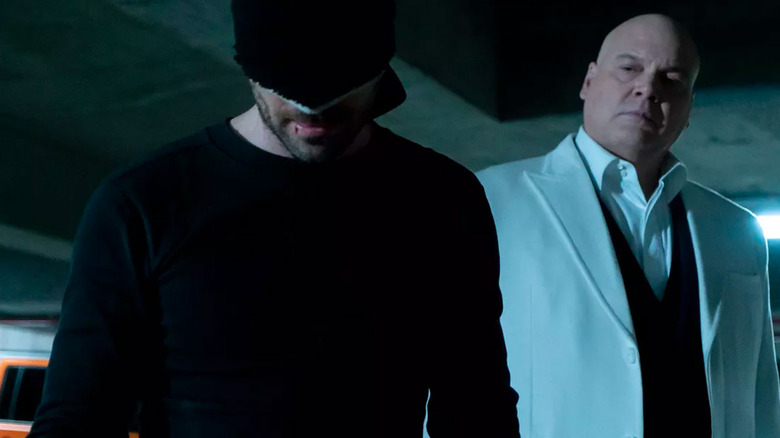 Netflix
Bert also hinted to Insider, "We're gonna see what he's got in store playing out in [episode] six." Of course, with this week's episode confirming that Wilson Fisk is most certainly a prominent presence in New York City, it means that there's one particular opponent that will no doubt be focusing on his activities. Following the horned hero making his appearance as his civilian identity in Spidey's latest cinematic outing, could there be a chance Daredevil would be dropping in for the "Hawkeye" finale, as well? Remaining quiet enough so even a super-sensitive hero couldn't figure it out, Bert instead highlighted many assumptions that have been floating around the internet. "Keep the theories going," the director requested. "We love every single one and we love avoiding every single question about it."
Following a heavy dose of cast members reprising their roles in "Spider-Man: No Way Home," seeing the King face off against the Devil just like old times would make this festive show extra special. That being said, would it be one hero too many, given that we've already got two Hawkeyes, a Black Widow, and potentially side-switching Echo in the cards as well? We can wait and see when the "Hawkeye" finale arrives next week, on Disney+.