How Kingpin's Return In Hawkeye Ruins The Ending Of Daredevil Season 3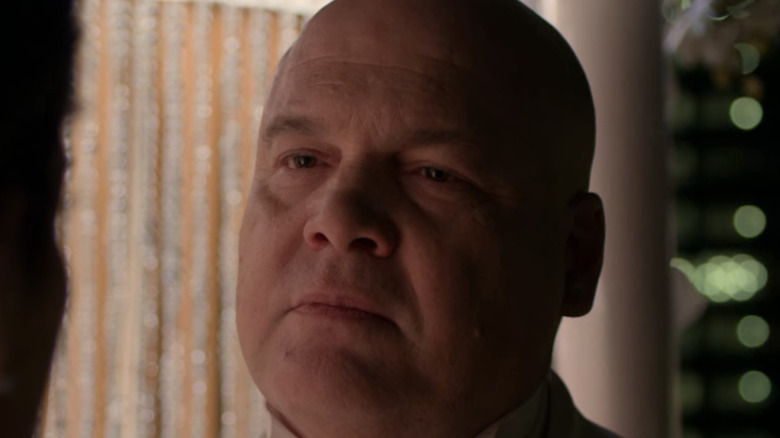 Netflix/Marvel Studios
Disney+ has spoiled Marvel fans with several shows about their favorite heroes this year. From "WandaVision" to "Loki," each series boasts its own distinct identity while simultaneously contributing essential pieces to the jigsaw that is the Marvel Cinematic Universe. "Hawkeye," which centers on Jeremy Renner's Clint Barton and his archery-centric exploits, is the latest critically acclaimed addition to the franchise, as evidenced by its 92% fresh score on Rotten Tomatoes.
Of course, the most exciting thing about "Hawkeye" arguably isn't the Avengers member at the heart of it all. Episode 5 recently revealed that Wilson Fisk, aka Kingpin (Vincent D'Onofrio), has been pulling the strings in New York City's criminal underworld all this time. Naturally, fans were excited to see the critically acclaimed character back in action.
"Hawkeye" marks the character's first appearance in the MCU since "Daredevil" Season 3, which seemed to give him a proper swan song, albeit an ambiguous one that left the door open for more dastardly adventures down the line. D'Onofrio lobbied hard for Kingpin's return as well, so it seemed like only a matter of time until his wish was granted. However, has his shocking comeback ruined the legacy of "Daredevil" Season 3's impactful ending?
Bringing back Kingpin undermines Daredevil Season 3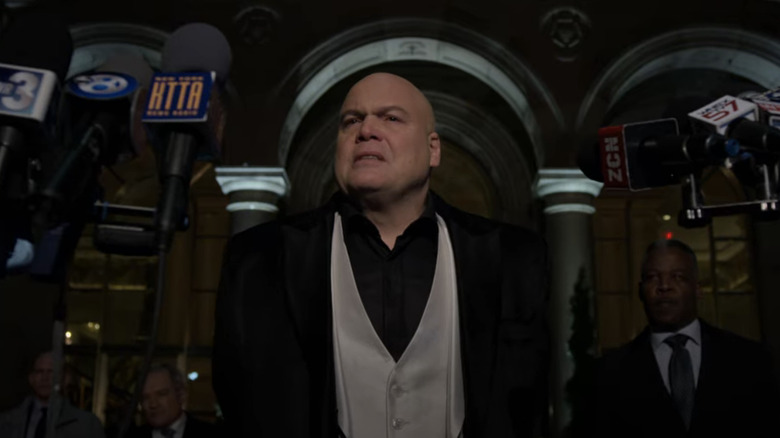 Netflix/Marvel Studios
Season 3 of "Daredevil" established that Wilson Fisk can't be contained in a penitentiary. He's far too rich and powerful to be behind bars. Therefore, Matt Murdock, aka Daredevil (Charlie Cox), determined that the only way to end the criminal's reign of terror was to either kill him or issue him an ultimatum pertaining to his wife that he couldn't refuse. Being the romantic softy that he is, Fisk obviously chose the latter in order to protect his spouse.
While it wasn't the outright victory Murdock was hoping for, it gave him some form of moral closure and suggested that the story had been wrapped up. However, as Screen Rant points out, the decision to keep Fisk alive could be a mistake as it makes Murdock look like the loser in the grand scheme of things.
On a more optimistic note, however, it's also possible that this could lead to another showdown between Daredevil and Kingpin in the near future. If "Hawkeye" and that cameo in "Spider-Man: No Way Home" are anything to go by, characters from Netflix's cancelled Marvel shows could play a part in Phase 4 of the MCU. Who doesn't want that? There is plenty of time to provide a justifiable reason for Kingpin re-entering the fray.