Hawkeye's Fra Fee Reveals The Truth About Working With Jeremy Renner - Exclusive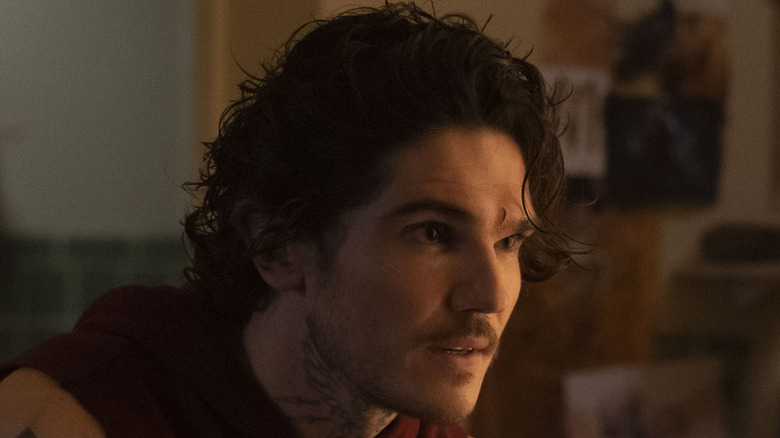 Disney+/Marvel Studios
Most actors dream of working with the best of the best in Hollywood, but it can also be a bit nerve-wracking doing heart-to-hearts and action sequences with actors like Jeremy Renner. The actor scored the role of Hawkeye for a reason, and he's certainly lived up to the hype (on and off the set).
With the mini-series "Hawkeye" nearly finished airing its six episodes, we've met quite a few new foes that tie back to Clint Barton's stint as Ronan — including Irish actor Fra Fee's Kazi. While he's new to the MCU, Fee fits right in, offering a compelling villain that you just can't help but root for just a bit.
During an exclusive interview with Looper, Fra Fee talked about dished on what it was like going head-to-head with Jeremy Renner's Hawkeye and which actor from the series he would have liked to work with on the show if given the opportunity.
Kazi vs. Hawkeye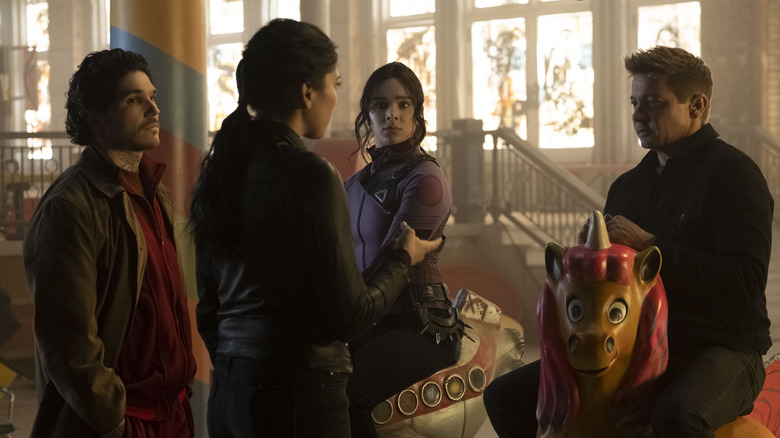 Disney+/Marvel Studios
It's been quite an entertaining ride watching Kazi duke it up with Hawkeye during the self-titled show. However, it has to be a bit nerve-wracking for actors to engage in action scenes with archer extraordinaire Jeremy Renner, and Fee quickly agreed. "It was daunting. Yeah. Big time. I loved 'Endgame' so much, and the scene where Clint's family disappears, his performance in that one, I just thought was so, so heartbreaking," Fee said. "What Jeremy does so brilliantly is the human stuff, the real stuff. He's not a superhuman, he's a real human, and his values of family are so inherent in him."
It's been a treat for fans to watch Hawkeye shine in both an action and cheesy holiday capacity in his quest to make it home for Christmas — honing in on his character's humanity. He added, "But Jeremy was great. I think he manages to do so much with so little, which is such a wonderful skill as an actor. So yeah, I enjoyed that day in the car. We had a laugh."
The scene that never was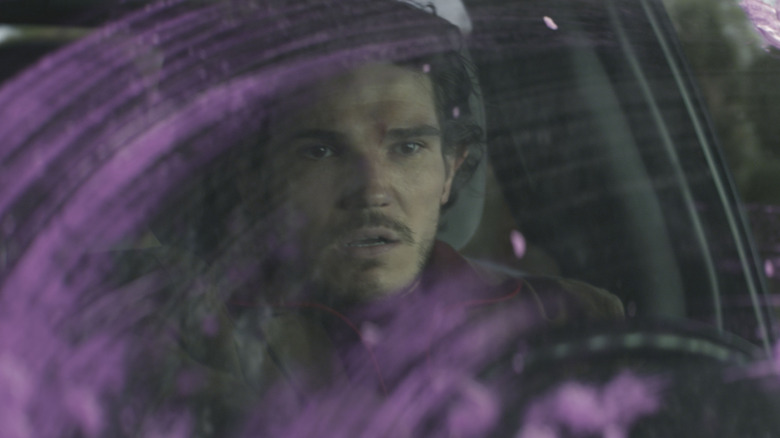 Disney+/Marvel Studios
On whether or not there was an actor Fee didn't get to work with in the series that he'd have liked to have a scene with, the actor geeked out about his co-stars. "I'm such a huge fan of all of the actors involved. I actually got to hang out with Simon Callow, who is a real big hero of mine, and he's now become a very dear friend," he explained. "We were shooting at the same time, but of course, we didn't do any scenes together. And I don't know if there's a magical world in which we see Kazi and Armand meet and have some fine wine in the New York restaurant together. Maybe that's happened before, but that would be cool." Well, we know "What If...?" Season 2 is already in the works — so get on it, Marvel. 
Fans can tune into the season finale of "Hawkeye" on Disney+ Wednesday, December 22.