The Blue Bloods Character Everyone Forgets Tony Bennett Played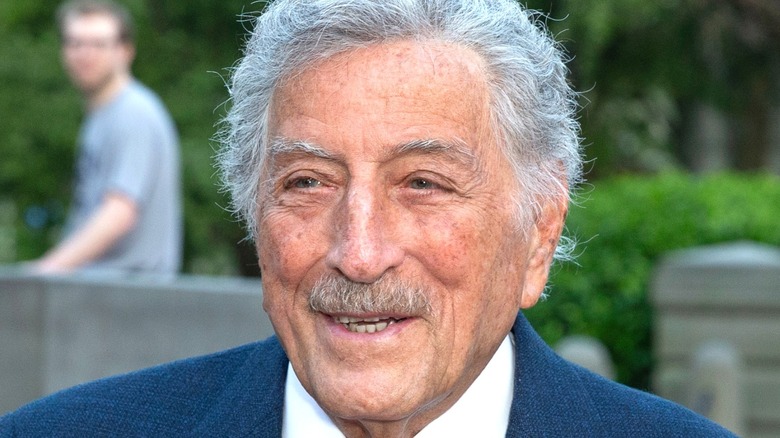 Lev Radin/Shutterstock
After more than a decade of new "Blue Bloods" episodes arriving just about every week, fans of the long-running CBS series could be forgiven for forgetting about the plethora of special guest stars the series has had throughout its run. Indeed, the series can count performers as diverse and varied as Whoopi Goldberg (as politician Regina Thomas) to Method Man (as criminal Mario Hunt) among the many talented people who have stopped by to say hello (or other, less friendly words) to the Reagan police family from time to time.
However, longtime fans of the series will remember another name who appeared in an early season of "Blue Bloods" in a role that certainly suits him well. In the Season 2 premiere episode, New York City Police Commissioner Frank Reagan (Tom Selleck) attends a formal concert dinner (which is doubling as a fundraiser for the newly elected mayor) with his daughter, Erin (Bridget Moynihan). While at the dinner, Frank and Erin watch two music legends perform on stage.
Tony Bennett and Carrie Underwood guest starred as themselves in one episode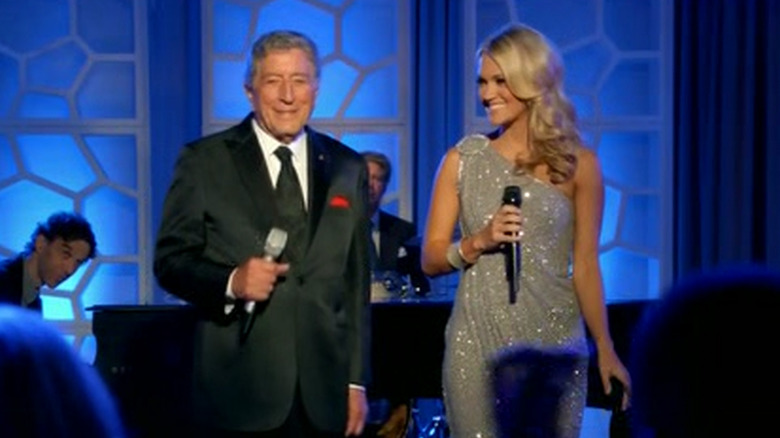 CBS/Paramount+
In "Blue Bloods" Season 2, Episode 1 ("Mercy"), Tony Bennett and Carrie Underwood guest star in brief musical appearances. Just before Bennett and Underwood arrive on screen, Frank greets Mayor Carter Poole (David Ramsey) and introduces him to Erin. After exchanging pleasantries, the mayor takes Frank aside to lean on him in regards to an ongoing case. However, Frank is not convinced that the mayor's direction is the right course of action. The mayor notes that he received Frank's letter of resignation, but asks that Frank stay in the position anyway, an invitation which Frank accepts, so long as he is granted autonomy to complete his job as before. After the conversation, the two move into another room to listen to a bit of live music from some familiar stars.
Here, Bennett and Underwood perform a duet of "It Had To Be You," a timeless song that was first recorded by the Isham Jones Orchestra in 1924 (via DAHR). In the many decades since the first recording of the song, it has been performed by acts as varied as the legendary Frank Sinatra (via YouTube) to Bakersfield country musicians like Henry Sharpe and the Sharpshooters (via YouTube). The song's popularity has endured well into the public domain-era of its life, which it entered into in 2020 (via Lifehacker). During Bennett and Underwood's performance, Frank contemplates the decisions that he will need to make later in the episode. After the song is over, Underwood notes that she and Bennett recorded the song for Tony's 85th birthday album, while her singing partner gives Frank a shoutout on stage calling him "my old friend."
We have to wonder if Bennett or Underwood have plans to pop up in any other shows anytime soon?