Why Jason From Spider-Man: No Way Home Looks So Familiar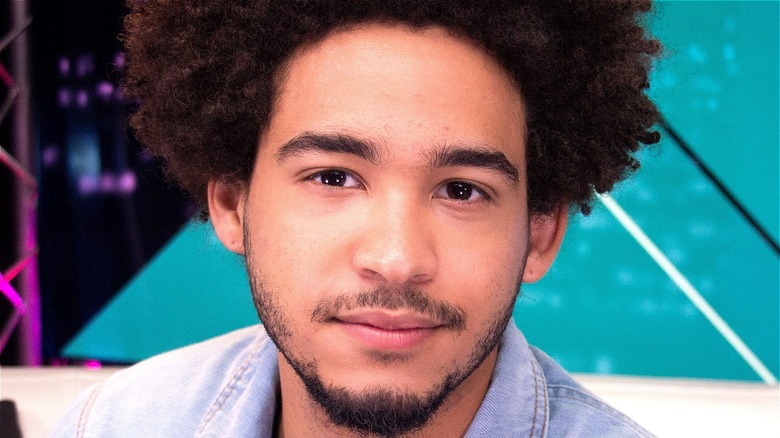 Young Hollywood/Getty
Not every actor can receive top billing in a movie, but a supporting role in a popular tentpole blockbuster or critically acclaimed gem can still propel careers to new heights. Jorge Lendeborg Jr. is a bit-part player in the Marvel Cinematic Universe's "Spider-Man" movies, but his performance as Jason Ionello, Peter's classmate and burgeoning news reporter, has captured the imaginations of Spidey fans all the same. As Lendeborg told The Hollywood Reporter, Ionello is the type of teenager who'll sit at home and play video games while the world is falling apart. But that's just part of the character's charm.
That being said, Hollywood has taken notice of the young actor's talents and potential in recent times. He's shown that he's capable of being a leading man in his own right, and "Spider-Man: No Way Home" will undoubtedly boost the rising star's profile even more. The future looks bright for Lendeborg, which is why now is the perfect time to revisit the roles that got him to the dance.
Jorge Lendeborg Jr. got his big break in The Land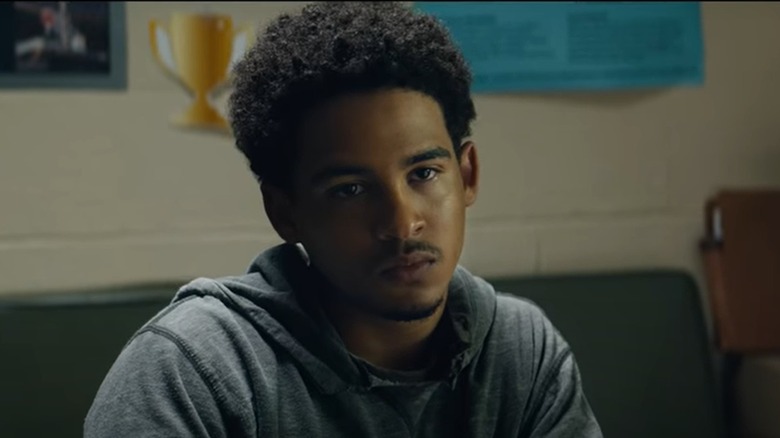 IFC Films/YouTube
Jorge Lendeborg Jr. made his feature-length debut in the 2016 film "The Land," the sophomore feature of "Creed II" and "Transformers: Rise of the Beasts" director Steven Caple Jr. 
"The Land" centers around a group of inner-city teens who dream of escaping poverty and becoming professional skateboarders. Unfortunately, entering tournaments and competitions costs money, and they turn to crime to come up with the cash. This leads to the boys getting in over their heads and incurring the wrath of a local drug lord, ultimately bringing an end to their youthful innocence while testing their friendship. Lendeborg plays Cisco, one of the boys at the heart of the drama.
While "The Land" doesn't rewrite the formula that many coming-of-age tales follow, it's a strong effort that was hailed by critics, as evidenced by its 70% fresh rating on Rotten Tomatoes.
Jorge Lendeborg Jr. is a great friend in Love, Simon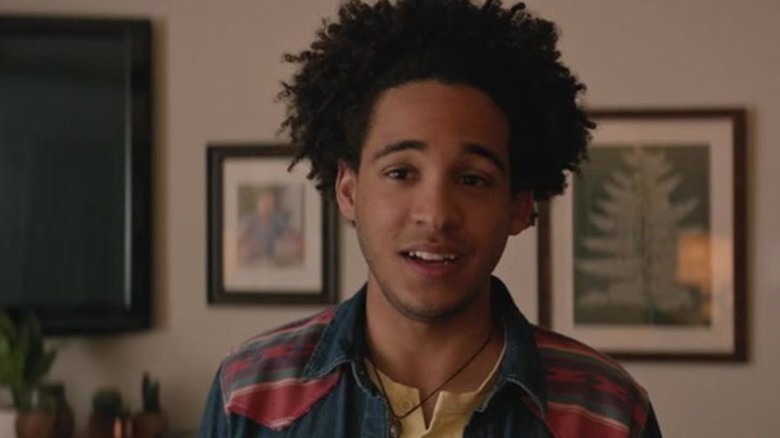 20th Century Studios
Most YA romcoms tend to be easygoing crowd-pleasers that provide sappy, feel-good love stories and plenty of laughs. They explore themes and topics such as love, growing up and adolescent awkwardness in a way that's easy to digest and lighthearted. "Love, Simon" doesn't buck that trend, but the movie is unique in the sense that it's one of the few mainstream releases to tell this type of story through an LGBTQ lens.
Based on Becky Albertalli's novel "Simon vs. the Homosapiens," the story follows Simon (Nick Robinson), a teenager who struggles to tell his friends and parents about his true sexual orientation. He finds comfort in a mystery pen-pal, but when a blackmailer threatens to expose his secret, Simon must learn how to come to terms with his true self and confide in those around him.
Jorge Lendeborg Jr. plays Nick, Simon's best friend alongside Abby (Alexandra Shipp). As we'll discover later, the young actor has developed a knack for playing the best pal in movies.
Bumblebee was a dream come true for Jorge Lendeborg Jr.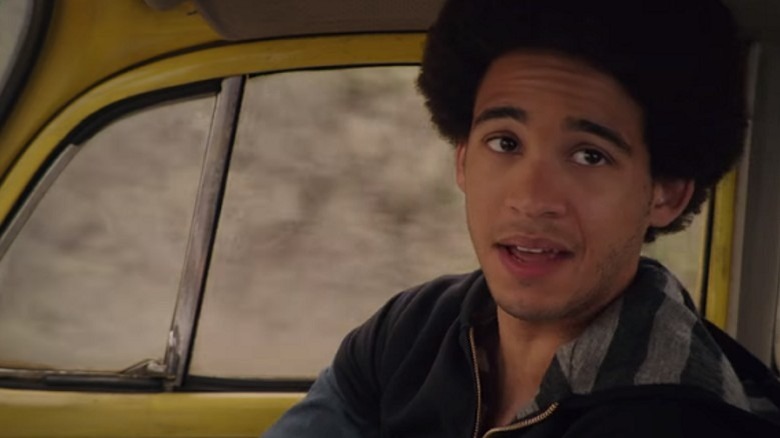 Paramount
Jorge Lendeborg Jr. helped make Hollywood history when he starred in 2018's "Bumblebee," the first movie in the "Transformers" franchise that moviegoers and critics seemed to enjoy. Currently boasting a 90% fresh rating on Rotten Tomatoes, "Bumblebee" was praised for bringing "fun and a sense of wonder to a bloated blockbuster franchise." Basically, Travis Knight's spinoff has more in common with the heartfelt stories of Amblin movies than the mindless "Bayhem" that informed its predecessors.
"Bumblebee" sees Lendeborg play Memo, the nerdy next-door neighbor of the protagonist Charlie (Hailee Steinfeld). Together, they must evade dastardly Decepticons and government agents while attempting to rescue the titular shape-shifting machine from the clutches of a secret agency known as Sector 7.
Joining the "Transformers" saga was a dream come true for the actor, as he grew up a fan of the Michael Bay movies. Furthermore, he was able to channel that appreciation into his performance. "As a fan, I feel Memo was definitely a fanboy type of figure in that universe," he told Metro back in 2019.
Jorge Lendeborg Jr. was a futuristic criminal in Alita: Battle Angel
20th Century Studios
Jorge Lendeborg Jr. is still a relative newcomer, but he's already worked with some of Hollywood's biggest blockbuster auteurs. In 2019, he continued that trend when he teamed up with director Robert Rodriguez ("Sin City") and producer James Cameron ("Titanic," "Avatar") for "Alita: Battle Angel," a sci-fi action film based on popular manga series of the same name.
"Alita: Battle Angel" is a futuristic adventure about a cyborg (Rosa Salazar) with the soul of a human teenager. Upon meeting a boy named Hugo (Keean Johnson), she develops a crush and penchant for combat, the latter of which comes in handy when it comes time to throw down with a vicious crime lord and the city's thugs.
Lendeborg plays Hugo's best friend — and petty criminal — Tanji. Despite his status as a supporting player, he's involved in one of the most memorable scenes in the movie. Let's not spoil the gruesome moment for anyone who hasn't seen "Alita: Battle Angel" yet, but it'll certainly go down in history as one of the more brutal scenes in a PG-13 rated blockbuster.
Jorge Lendeborg Jr. became a leading man in Night Teeth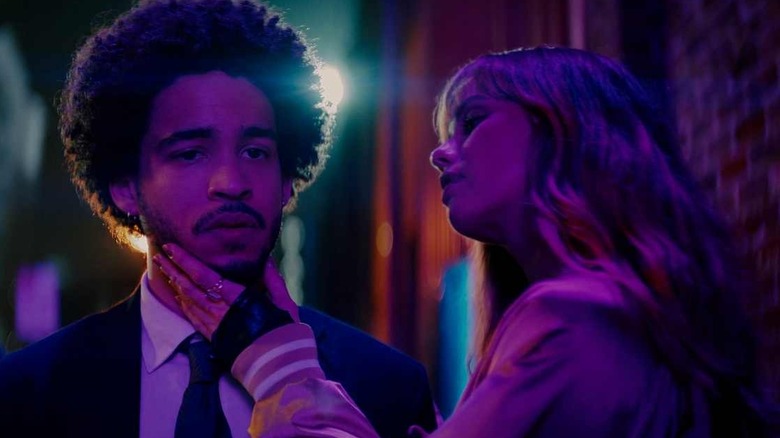 Netflix
Are you one of those viewers who watched Michael Mann's "Collateral" and thought a dangerous hitman wasn't scary enough? If so, "Night Teeth," which is currently available to stream on Netflix, might be the movie for you.
In his first bonafide leading man role, Jorge Lendeborg Jr. plays a college student who moonlights as a chauffeur to make some extra bucks. It's a good gig — until he picks up two party-hopping clients with bloodthirsty intentions. "Night Teeth" puts a vampiric spin on the concept introduced in Mann's 2004 thriller, and Lendeborg sinks his teeth into the role of an action hero who must fend off creatures of the night.
According to Lendeborg, "Night Teeth" allowed him to play a part that appealed to his tastes and personal sensibilities. "The idea of a driver kind of, to me, harkens back to movies that I liked and actors that I looked up to," he told Distractify. "I felt like a lot of those elements were there, and I thought that the ground for vampires was a field that hadn't been used a lot, especially for characters that look like myself."