Spider-Man: No Way Home Is Blowing Critics Away
For the next 48 hours, it couldn't be a more terrifying time to be a Spidey fan. With the official press premiere of "Spider-Man: No Way Home" come and gone, the tangled web that is social media is already rife with enough spoilers to have fans crying, "Spider-Man no more!" That being said, there's no denying that the early critical response to Tom Holland's third solo outing as the iconic web-slinger could set a precedent for the reaction to the most eagerly anticipated film of the year.
Following the endless rumors, theories, and web-shots in the dark at just how Peter Parker's dimension jumping adventure will impact the MCU (and our mortal brains), critics have given their final say on the closing to the Spider-Man "Home" trilogy. As we all hoped, it's enough to get our senses, spider or otherwise, well and truly tingling.
While Rotten Tomatoes may have only hauled in 45 reviews for the film so far, it's enough of a beaming consensus to stamp "No Way Home" with the highly sought-after 100% fresh, albeit not quite "certified." If the perfect ranking stays as it is, it'll be the be the best-reviewed entry in Holland's term as the wall-crawler to date, taking the lead ahead of "Spider-Man: Homecoming" at 92% and well ahead of the last sequel, "Spider-Man: Far from Home" at 90%. 
So what is it that puts "No Way Home" apart from what came before? Well, if the cryptic critiques from some reviews suggest, it's that it pays respect to precisely that and more.
Spider-Man: No Way Home is crushing in early reactions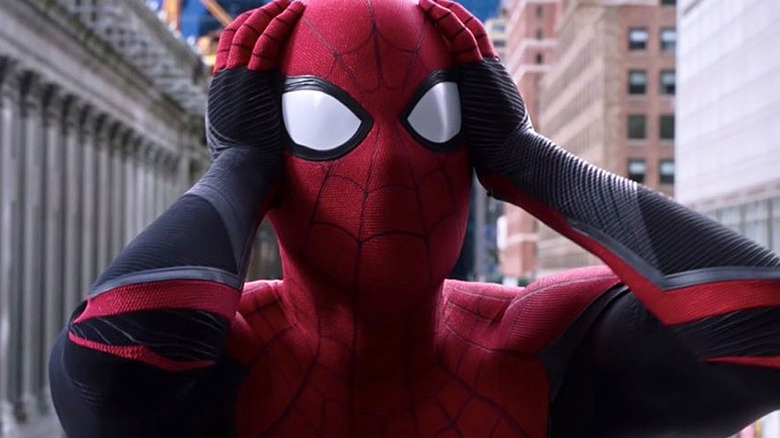 Sony Pictures/Marvel Studios
The Daily Beast stamped "No Way Home" with the gauntlet-chucking title of "the finest wall-crawling MCU effort to date," whereas Deadline described it as a movie that "does what the best movies always do: They thrill you and move you and make you want to cheer in a crowded theatre." It's something that comes as no surprise, given that the closest film to have built this level of hype was "Avengers: Endgame," which upon release was followed by live reactions to the iconic portal scene. "No Way Home" sounds like it's certainly going to follow suit, with The Mary Sue saying it "understands Spider-Man fans like no other Spider-Man film before it."
In relation to those previous films, there are of course enemies that make a comeback in "No Way Home." Thankfully, it's a guest list that director Jon Watts appears to have handled just right. The Verge ensured fans, "Each villain gets his moment in the sun (some briefer than others) and long-time Spider-Man fans will get a thrill of getting to see Doc Ock smash his way through a highway of cars, a devilishly grinning Green Goblin cackling his way from scene to scene, or Jamie Foxx's Electro not having to be a blue CGI Doctor Manhattan knock off."
That being said, this praise still comes with a few issues in what sounds like a near-perfect comic book movie. One that still gets caught in a web of hero issues.
Critics are splitting webs over No Way Home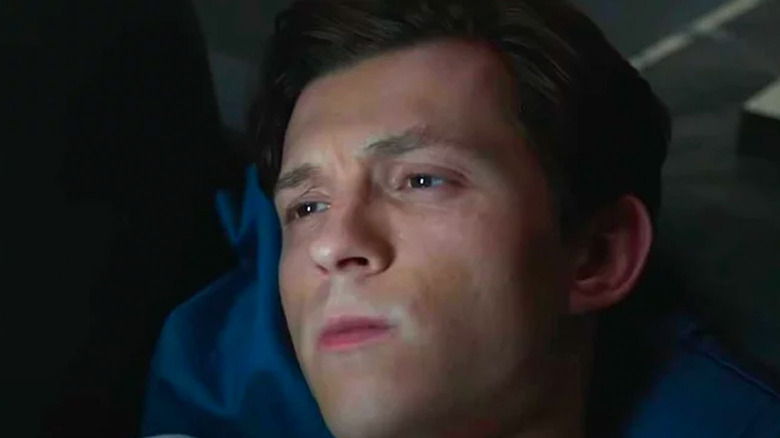 Sony Pictures/Marvel Studios
As much as Spidey's latest effort appears to be a 'spectacular' one, "No Way Home" doesn't look to be without a few minor issues — namely the heavy dose of fan service and familiar issues that come with comic book outings. The Hollywood Reporter described it as "catnip for hardcore Spidey-heads, but less fun than its predecessors."
The film also earned a relatively positive review from IGN, which is reassuring, but the popular outlet also dinged the Spidey three-quel for having Parker make decisions that "will undoubtedly see resolution in later films. But, for now, they're annoying."
Of course, one thing that most of these reviews are dodging around is major spoilers for a film that's been (mostly) kept secret. Multiple Spider-Men appearances or not, one unanimous bit of praise falls on this era's current Spider-Man and the role that he's made his own. CBR said, Spider-Man still sticks it out as one of Marvel's best heroes, "thanks in large part to Tom Holland's performance as Peter Parker." 
Vanity Fair also praised the actor, whose return to the role remains uncertain after this outing: "Holland has built a legacy that will long linger in the Spider-Man firmament."
It's amazing to think that after all this anticipation, the film that built up this much excitement and anticipation is finally living up to expectations. We'll finally see what all the fuss is about when Spidey's biggest and potentially best adventure finally hits our screens in epic superhero fashion on December 17.