Yellowstone Stars React To Jimmy's Infamous Horse Scene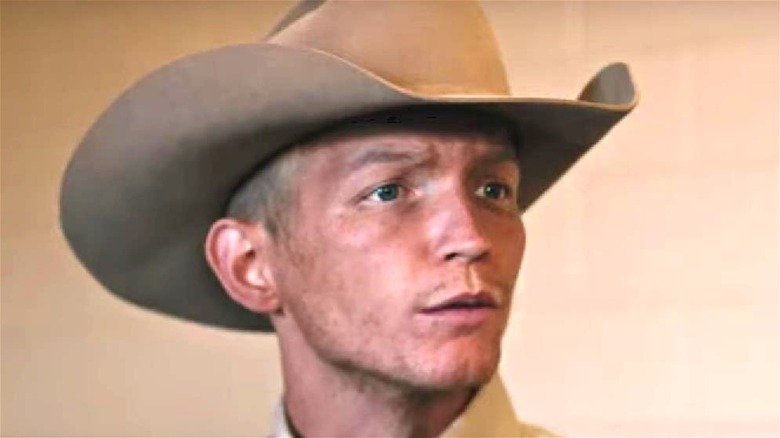 Paramount Network
As the latest season of the Western drama continues to heat up, "Yellowstone" fans were surprised by one scene in the show's latest episode, titled "Keep the Wolves Close." The gritty series is not afraid of getting down and dirty in order to accurately depict ranch life on-screen, but Jimmy Hurdstrom's (Jefferson White) first assignment at the 6666 Ranch took things to a new level.
After being sent away to Texas following a near-fatal rodeo injury, Jimmy is forced to see the harsh realities of his new life in "Keep the Wolves Close," when veterinary technician Emily (Kathryn Kelly) leads him into a building where he obliviously asks, "Is this some kind of exercise room?" A stallion is subsequently led into the room, and Emily instructs Jimmy to "put this sleeve over his penis and hold it." Naturally, he's shocked to learn what "collecting" is, and his eyes practically bulge out of his head when the process ensues. Emily, meanwhile, tells him to get used to it because they have several more collections lined up for the day.
"Yellowstone" fans took to Twitter to express how caught off-guard they were by the graphic scene, with many saying they felt sorry for Jimmy. However, here's what the cast of "Yellowstone" thought about the now-infamous scene.
One Yellowstone star was 'low-key freaking out' filming Jimmy's horse scene
Jimmy Hurdstrom's arrival at the Four Sixes Ranch ties into the plot of the upcoming "Yellowstone" spin-off, "6666," so fans can likely expect to see more scenes dedicated to furthering the character's horse breeding education. For his part, Jefferson White called it a "very serious, big deal industry" in the "Behind the Story" featurette for "Keep the Wolves Close." In the same featurette, White and Kathryn Kelly also shared their reactions to the episode's awkward horse scene.
"Collecting, um, some things from horses is very normal for someone who works on a ranch every day," Kelly said, laughing. "It was not normal for me, however."
"On the outside, I was trying to keep it together and be like, 'You are used to this, you've seen this a hundred times before,' but on the inside, I was low-key freaking out," the actor admitted. White, however, praised Kelly's performance in the episode and said it was "such an incredible gift" to work with her.
Despite the not-so-romantic circumstances of their first encounter, sparks are already flying between Jimmy and Emily too. Now, "Yellowstone" fans will have to keep watching to not only see what's next for the new coworkers, but also whether or not any romance blossoms between them in the near future.