How Jimmy's Accident Will Affect His Relationship With Mia In Yellowstone Season 4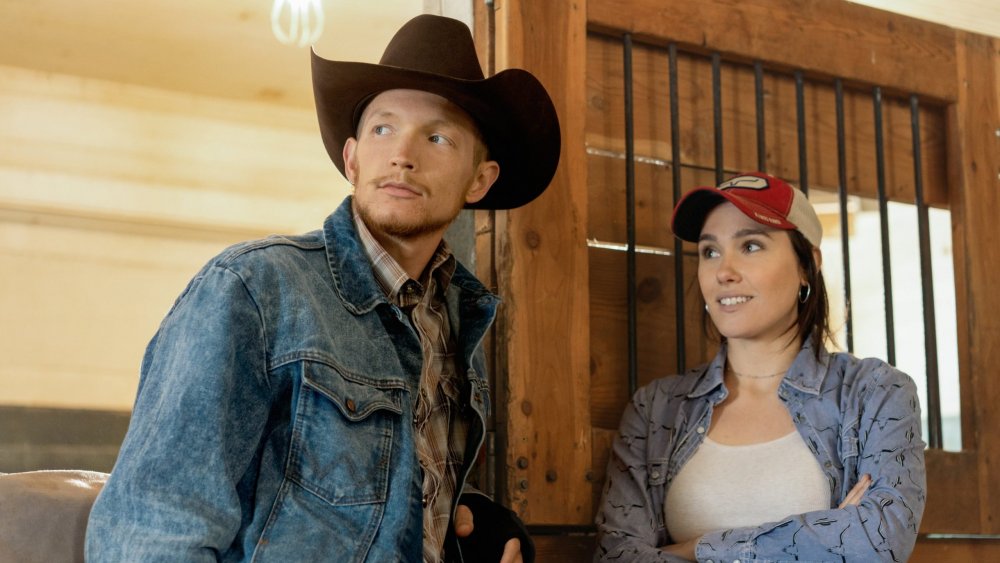 Paramount Network
Season 3 of Yellowstone ended with pretty much everyone in a state of flux.
The first question from the finale that comes to fans' minds involves who's ultimately responsible for the attack on the Dutton family. The final moments of the season showed John (Kevin Costner), Kayce (Luke Grimes), and Beth (Kelly Reilly) targeted by coordinated attacks. Their fates hang in the balance over the hiatus, with fans forced to wait until season 4 premieres to find out whether the Duttons make it out alive. 
Among all of the chaos, it would be easy to overlook another incident that occurred in the finale, too. From the moment the two characters meet, Mia (Eden Brolin) sets her romantic sights on Jimmy (Jefferson White). Jimmy seems to reciprocate Mia's advances — so much so that he loses his concentration during a bull-riding event, causing him to be thrown off his steer and hospitalized with serious injuries. Mia stays by his side through his recovery, but it's John Dutton (Kevin Costner) who actually intervenes to pay Jimmy's hospital bills. He does this on the condition that Jimmy never rides a bucking horse in the rodeo again. Jimmy hastily agrees, but in season 3, Mia makes it pretty clear that she doesn't want to be with the kind of man who lets another man (Dutton) own him like that. 
The intimation is pretty clear here: Either Jimmy gets back on that horse, or Mia walks. As we head into season 4, a lot hangs in the balance, but a recent interview with Eden Brolin may help give fans an idea of what could happen between the two young lovers going forward. 
Eden Brolin doesn't think Mia's 'beating herself up' over Jimmy's accident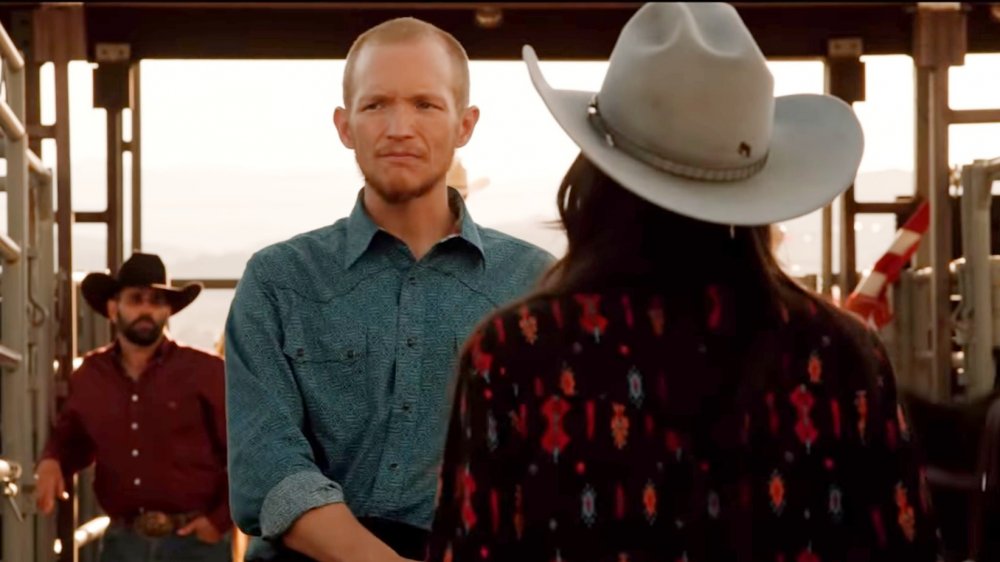 Paramount Network
Mia first became attracted to Jimmy when he started working in the rodeo, so the question remains: Would Mia be okay with Jimmy staying a ranch hand?
According to an interview actress Eden Brolin did with Parade, she doesn't think Mia's the kind of person who would stick around if something wasn't working out. Brolin said, "If it really was something that wasn't going to work for her life and if she wanted Jimmy to have his happiest life, then she would be able to be like, 'Let him go and do what he needs to do to fulfill his own life.'" It sounds like Mia's not going to compromise on what she wants, so if it doesn't work out with Jimmy, then she probably wouldn't lose much sleep over it. 
Naturally, there's the question of how Mia's feeling after Jimmy's accident. She's the reason Jimmy got distracted and got kicked off in the first place. Again, Eden seems to posit that Mia isn't someone who would dwell on that, insisting, "She wouldn't start beating herself up for that. She'd probably just turn it back around to him and say, 'Well, it was your fault for not focusing.' That would be my guess, but she probably knows that she had a little something to contribute to that moment."
Many fans worried that the season 3 finale indicated Jimmy's untimely death, and while Brolin has her ideas of how Mia will proceed, it's ultimately up to the writers. One thing's for certain: a lot of questions will be answered when Yellowstone season 4 premieres sometime in 2021.