The Hidden Meaning Behind Gil's Sickness In CSI: Vegas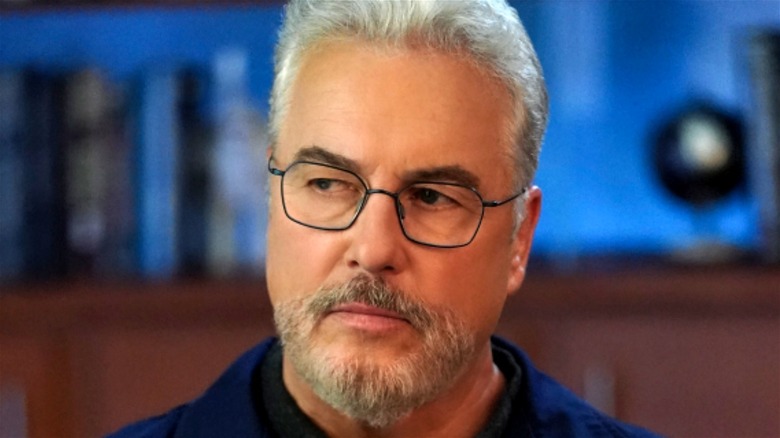 Sonja Flemming/CBS
Not only did the "CSI: Crime Scene Investigation" spin-off "CSI: Vegas" bring us back to the original show's stomping grounds, it also saw the return of the beloved couple known to fans as GSR (or, Grissom Sara Romance). Otherwise known as Gil Grissom (William Petersen) and Sara Sidle (Jorja Fox), the couple's on-again-off-again relationship was a highlight of the original show's long run.
In "CSI: Vegas," Grissom and Sidle come out of retirement to help save the Las Vegas Crime Lab's reputation and clear up a former colleague's name. As they get back into their old routines alongside a new team of investigators, however, they realize that the forensics field has changed in their absence.
On top of adjusting to the updates, Grissom and Sidle must get used to being back in the bustling city after years of living and working on a boat. Grissom repeatedly brings up how he feels ill, chalking it up to a bad case of land sickness. He admits to Sidle that it's like he "never left the boat."
However, an executive producer for "CSI: Vegas" revealed that Grissom's sickness is more than just him struggling to regain his land legs.
Gil's land sickness is a metaphor
In the series finale of "CSI: Crime Scene Investigation," Gil Grissom and Sara Sidle sail away together to start anew. Naturally, after acclimating to life on the open water, it takes time to get used to being back on solid ground. However, Grissom's land sickness isn't just about being off the boat.
"CSI: Vegas" executive producer Anthony Zuiker spoke to TV Insider about the couple's return to their former workplace and offered insights on whether or not fans should be concerned about GSR's future. "The land sickness is a metaphor for the relationship between Gil and Sara," Zuiker told the outlet. "One character wants to be on the water where he's comfortable, and one person is getting her feet back on the land, which is Sara."
He explains that Grissom is also wondering where he belongs, saying the character has to parse between being "back in [his] comfortable place on the sea where [he has] a compass of what tomorrow is or [...] on land where [they] built this monument of truth."
"The sickness does come and go as his opinions of where he belongs comes and goes," he added. Fortunately for Grissom, Sidle is by his side and willing to help him work through these anxieties.