The Ending Of CSI: Vegas Season 1 Explained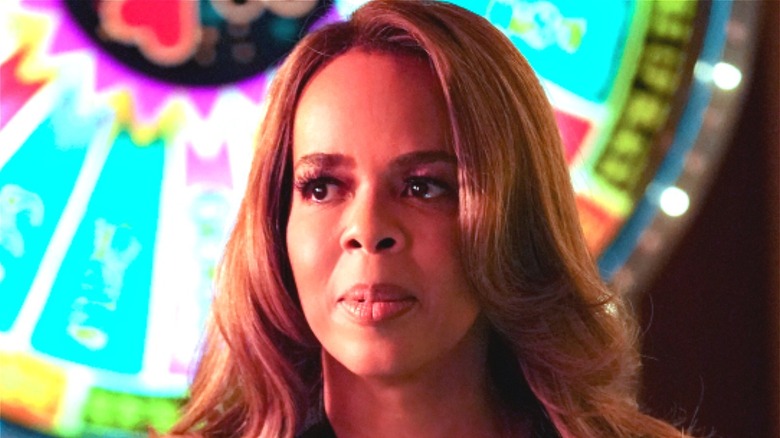 Sonja Flemming/CBS
Obviously, spoilers abound for Season 1 of "CSI: Vegas." You've been warned.
After 10 episodes filled with a variety of grizzly murders, the first season of "CSI: Vegas" has come to a close in typical franchise fashion. The big bad of the inaugural season is locked away and our heroes are free to frolic the Las Vegas Strip with the variety of special amenities available to inhabitants of Sin City. With the season at an end, there are certainly plenty of reasons to celebrate. 
In addition to allowing for the rescue and exoneration of David Hodges (Wallace Langham), the work of Gil Grissom (William Petersen) and Sara Sidle (Jorja Fox) means that Maxine Roby (Paula Newsome) is restored to her previous position as head of the CSI lab. The entire team's efforts also ensure that the hundreds of convictions secured throughout the original run of the series will remain in effect. This means that hundreds of guilty murderers throughout Las Vegas will stay behind bars.
However, these happy outcomes are not easy for the team to come by and there's always reason to believe the peace and quiet won't last long. Here's an in-depth look at where all the central characters end up at the end of Season 1 and, more importantly, how they get there.
David Hodges is rescued by a smell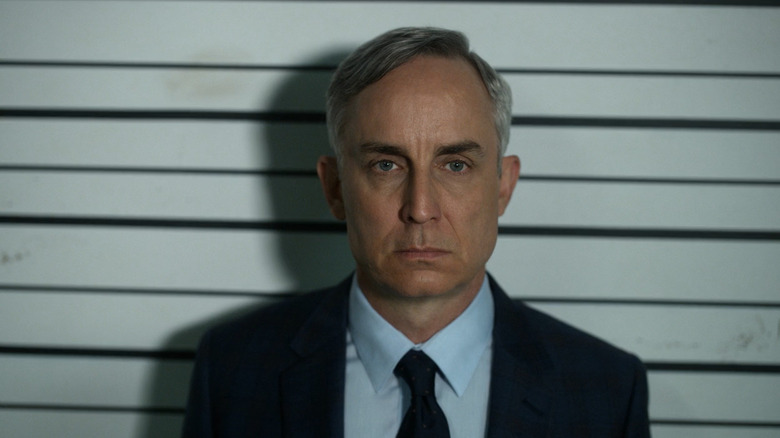 CBS
Having worked their way through a plethora of other killers throughout the prior nine episodes, the members of the famous Las Vegas criminal investigative unit are finally able to take down Anson Wix (Jamie McShane), the big bad of the season, and rescue David Hodges (Wallace Langham), whose reputation is severely damaged in the series premiere amid claims that he falsified evidence throughout his time on the original series. In the penultimate episode of "CSI: Vegas," Hodges confesses on camera to his crimes and appears to go on the run, but in reality, the former CSI has been kidnapped by men employed by Wix and is forced to make a taped confession. 
In the season finale, Wix leaves Hodges for dead in an abandoned hotel. Lucky for Hodges, his former colleagues fight tooth and nail to find him, going so far as to trace the origins of a scented fragrance used in casinos. While the search of an active hotel doesn't turn up anything, the team eventually manages to rescue Hodges from an abandoned hotel that attempted to replicate the fragrance used in the other casino. Peering up at his colleagues, an exhausted Hodges jokingly says, "Took you long enough." One certainly has to wonder if it would actually be that simple to directly identify a smell or do any of the other myriad miracles of forensic work accomplished in "CSI: Vegas."
Langham appeared as David Hodges in a total of 247 episodes of the original "CSI: Crime Scene Investigation" (via IMDb). Unlike fellow returning cast members like William Petersen and Jorja Fox who appear in every episode of the new series, Langham only appears in four episodes of "CSI: Vegas." Despite appearing in less than half of the episodes, Hodges is certainly an integral part of this season.
Allie and Josh's future is uncertain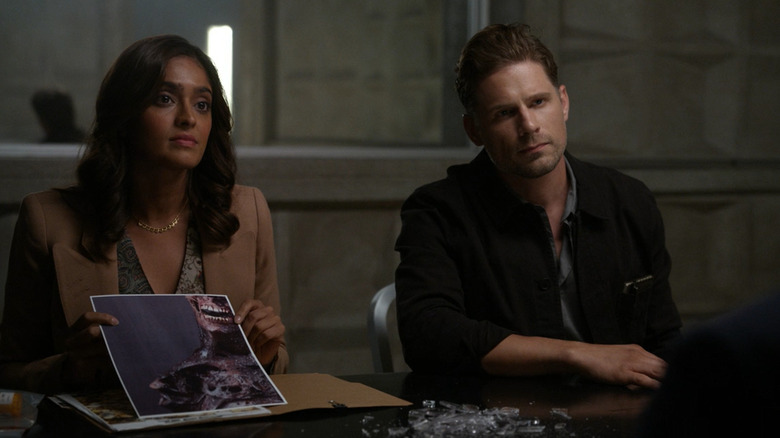 CBS
With the entirety of the season finale focusing on the hunt for Hodges and the team working to take down Wix, even Allie Rajan (Mandeep Dhillon) and Josh Folsom (Matt Lauria) get in on the main investigation, instead of another crime of the week. In one scene, the crime-investigating duo take apart pieces of a crushed vehicle when Allie makes a sudden admission about a realization she made about her boyfriend, Mark, during a prior case. 
Back in the season premiere, the team investigates a murder at a pawn shop and the investigation requires that Josh melt down a number of weapons in order to accurately measure the heat required to remove serial numbers from a firearm. Sometime later, Allie's boyfriend, Mark, asks her to move in with him and, according to Allie, she has an impulse to throw Mark's key in with the rest of the melting metal, though she ultimately refrains from such action. The story clearly has an impact on Josh. However, Allie says, "Hugo said that you're never going to talk to me about Mark because you're too professional," before adding, "Don't worry. I'm going to be more professional too."
In the final moments of the Season 1 finale, Allie discovers that her key to Mark's apartment has been damaged and she simply smiles in response. It is heavily implied that Josh is responsible for the damage. Perhaps this could mean that another love story in the same vein of GSR (the popular acronym used for "Grissom / Sara Romance," rather than the more typical "Gun Shot Residue") could blossom at some point in the future?
Grissom and Sara go for a roller coaster ride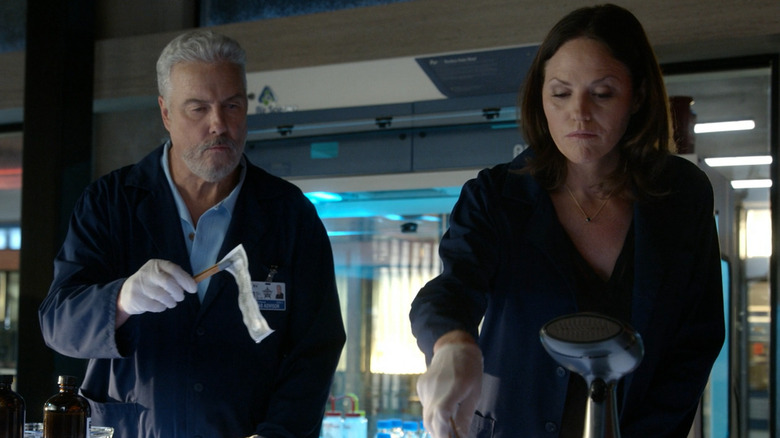 CBS
One of the most fondly remembered subplots of the original "CSI: Crime Scene Investigation" series is the romance between Grissom and Sara that develops over the course of many seasons. While their love story begins in the earliest seasons of the series, the two do not officially tie the knot until shortly before the Season 10 premiere. The couple is said to have split up in Season 13, but they ultimately reunite at the end of "CSI: Immortality" and have appeared in all ten episodes of "CSI: Vegas" as a married couple (via IMDb).
After successfully rescuing Hodges and confirming that Wix is likely to spend the rest of his life behind bars, Grissom and Sara partake in a celebratory activity that longtime fans of "CSI" will remember that Grissom famously enjoys. Grissom has been known to enjoy a ride on a roller coaster, specifically after a particularly difficult moment (via Today). In the last moments of the "CSI: Vegas" Season 1 finale, the married couple share a kiss on the way to the top of a rollercoaster and are quickly thrilled by the ride's many twists and turns.
Since Grissom and Sara only returned to the crime lab for the purposes of clearing Hodges's good name, it will be interesting to see if the two return to a possible second season. During a post-finale interview with TVLine, "CSI: Vegas" showrunner Jason Tracey admitted that "there's no expectation on them" to return, but added that "the door will always be open to a couple of legends."