The Future Of Spider-Man In Doubt After Confusing Comments From Sony Pictures CEO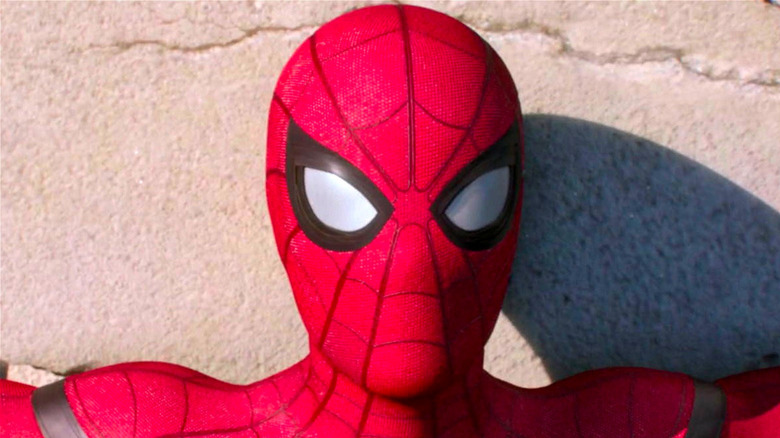 Sony Pictures/Marvel Studios
The last time anticipation for a comic book movie was this great was when Steve Rogers (Chris Evans) picked up a certain mystical hammer. "Spider-Man: No Way Home" is days away from swinging into cinemas and potentially tearing the Marvel Cinematic Universe a new one. That's all well and good, but the question remains: what will become of our hero next? The uncertainty of whether or not we'll be seeing Tom Holland back in the iconic underoos for another future joint venture with Sony and Marvel has felt as uncertain as, well ... whether we'll be seeing any other former Spider-Men in them, for that matter. However, this cause for question appears to be mostly thanks to those calling the shots behind the scenes rather than with Holland himself.
Following the release of the second trailer for "No Way Home," Amy Pascal announced that plans were already in motion for Holland's next adventure as the iconic hero, putting fans at ease regarding the future of Spider-Man. However, a new wrinkle in the story is revealing that might not actually be the case.
According to Tom Rothman, 'nothing has been determined' but 'everything is still possible'
During a chat with Variety (via Twitter) on the red carpet for the premiere of "Spider-Man: No Way Home," Sony Pictures Chairman and CEO Tom Rothman followed up on Pascal's comments from the last few weeks, and ultimately, he sounded a little less assuring. "I will confirm that my dear sister-in-arms, Amy, is a very optimistic person," said Rothman. "That's what I will confirm. The reality is nothing is set. Nothing has been determined. But on the other hand, everything is still possible."
While Rothman isn't exactly singing from the same song sheet as Pascal, it hasn't totally shot down hopes for our hero swinging back into action. As always, Marvel films (co-produced by Sony or not) end with a cliffhanger to keep us guessing. All we can do right now is wait and see whether the ending of "No Way Home" gives us a clue either way. 
You can see for yourself (not like you need reminding) when "Spider-Man: No Way Home" arrives in cinemas on December 17.