This Is Who Plays Bex In Ted Lasso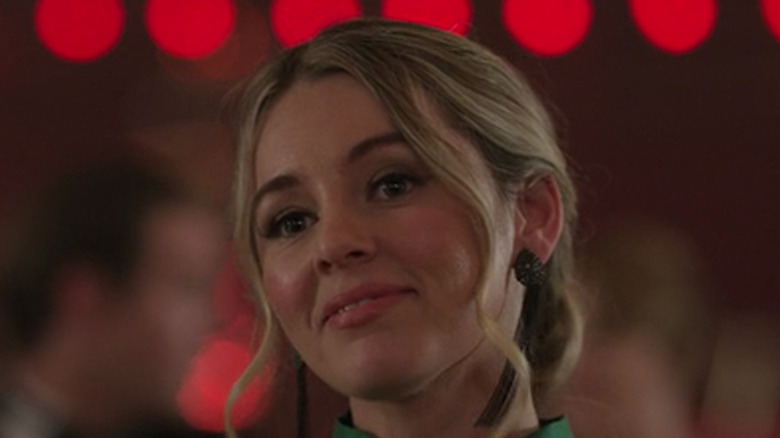 Apple TV+
The Apple TV+ series "Ted Lasso" is renowned for its much-talked-about creative writing choices (via BBC). In the pilot episode, the eponymous character for which the series is named travels to the United Kingdom to become a football coach, despite not having one bit of relevant experience with the sport. What could have turned into a bumbling ripoff of Inspector Clousseau from "The Pink Panther" franchise, however, has turned into one of the world's most beloved modern comedies. Filled with more positivity and optimism than anyone thought could fit into a streaming series, the writing on "Ted Lasso" has simply brightened up the world in the years that it has been on the air so far. However, while the writing is certainly one of the most important aspects related to the success of the series, the cast is also undeniably important.
The series is led by Jason Sudeikis, Hannah Waddingham, Brett Goldstein, Brendan Hunt, Nick Mohammed, Jeremy Swift, Phil Dunster, Juno Temple, Toheeb Jimoh, and a plethora of other stars, all of whom have made the series one of the streaming network's most popular comedies (via NPR). Additionally, fans of the series have fallen in love with a number of recurring characters, such as Flo 'Sassy' Collins (Ellie Taylor). Another character that some fans are clamoring to see more of is Bex, who first appears at a charity auction in Season 1 and returns in Season 2 as the new wife of Rupert Mannion (Anthony Head). Some may have recognized Bex during any of her four appearances on the series, but for those who haven't yet placed her, we have you covered.
Bex is played by Keeley Hazell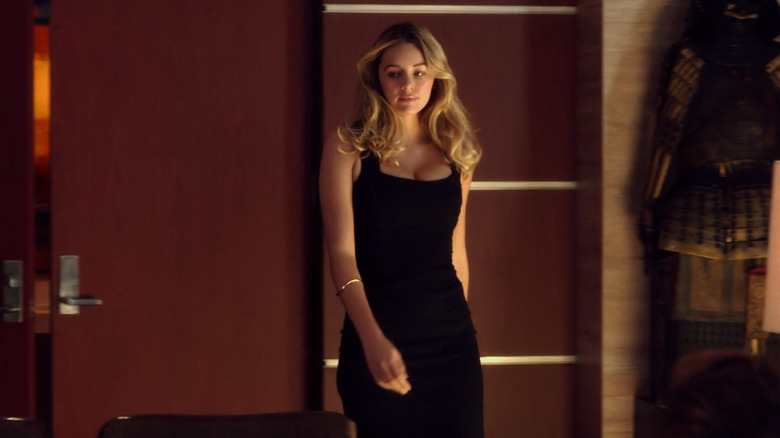 Warner Bros. Pictures
Keeley Hazell's job on "Ted Lasso" is easily the most visible of her roles so far and though Hazell hasn't appeared in a wide variety of work at this point in her career yet, she does have a few additional notable credits to her name. According to IMDb, Hazell's first acting role came in 2006 when she appeared in a film called "Cashback," in which she played a girl only credited as "Frozen Girl in Sainsbury's" and her longest-running role yet came in Seasons 2 and 4 of "The Royals," in which she plays Violet.
Others may remember Hazell from her brief, but memorable role in "Horrible Bosses 2." In the "Horrible Bosses" sequel, Hazell plays an employee of Rex Hanson (Chris Pine), the son of Bert Hanson (Christoph Waltz). Early in the film, Rex is attempting to impress the trio of lovable idiots that lead the franchise in an effort to gain their confidence. As a part of his sceheme, Rex presses a button and says, "Miss Lang, Will you come in here a moment please?" As soon as Miss Lang (Keeley Hazell) enters the room, Kurt Buckman (Jason Sudeikis) is astonished at her beauty (much like he is in the original "Horrible Bosses" with a certain FedEx delivery girl later turned Duchess of Sussex). Rex says, "Sweetheart, we were racking our brains. What's a beer can made out of?" In response, Hazell's character simply says, "Do you mean... Aluminum?" in an English accent. If Kurt was attracted to her before, he is now officially in love with her. However, her character quickly departs the scene and is not seen in the film again.
We have to wonder what the odds are that we'll see Bex back for Season 3 of "Ted Lasso."