Riz Ahmed Explains His Technique For Getting Into His Encounter Character - Exclusive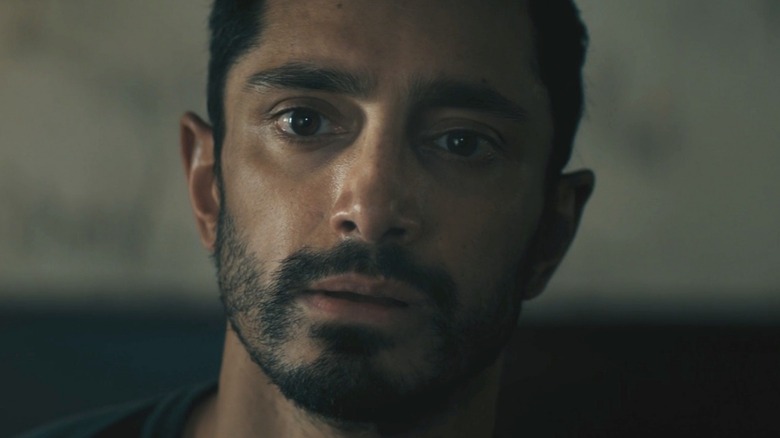 Amazon Studios
When we last saw Riz Ahmed in 2020's outstanding "Sound of Metal," he was playing a heavy metal drummer who has to recalibrate his entire life after losing his hearing. To prepare for the role, according to the New York Times, Ahmed took drum lessons and learned American Sign Language, spending two hours a day on each while also working with his acting coach and personal trainer over the course of eight months.
In other words, Riz Ahmed is an actor who prepares — deeply and wholeheartedly — for the roles he plays, whether it's an Imperial defector turned rebel fighter in "Rogue One: A Star Wars Story," a college student turned hardened prisoner in "The Night Of," or a homeless man who assists a depraved crime scene photojournalist in "Nightcrawler."
In his new movie, "Encounter," Ahmed portrays Malik Khan, a decorated former Marine with ten tours of duty under his belt who sets out on a personal mission: to transport his two young sons to safety from a secret alien invasion. He's gotten advance word of their arrival and it may have already claimed the lives of people around him and his family.
In preparing to play the role of Malik in director Michael Pearce's genre-bending thriller, Ahmed went through the same kind of rigorous research and groundwork that he did for "Sound of Metal." That included picking up skills he had never had experience with before. "Learning how to do anything opens up different sides of you," Ahmed tells Looper. "And it helps unlock your connection to different characters, particularly like physical activities or learning new skills."
Speaking to real-life soldiers was an eye-opener for Ahmed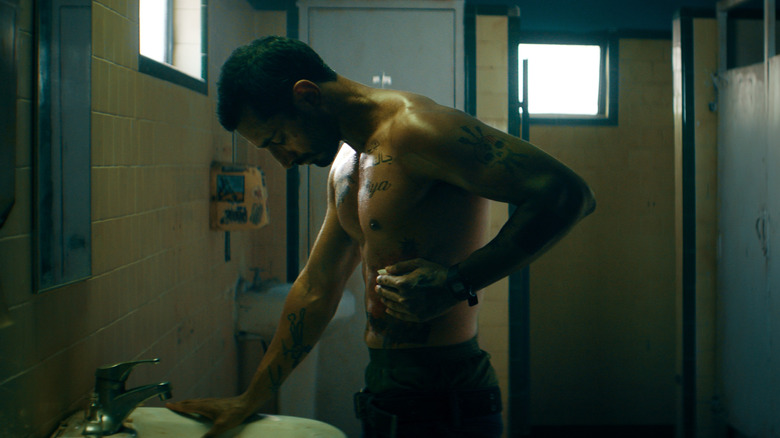 Amazon Studios
Riz Ahmed says he took the role of Malik because he hadn't "really played anyone like this before," adding, "I didn't think I probably could, so I thought it'd be a good challenge — try and play a dad, try and play a soldier, do something more physical."
For starters, Ahmed spoke to real-life members of the armed services to get into the mindset of a veteran like Malik who had dedicated so much of his adult life to fighting for his country. "I learned a lot," he says about those meetings. "I don't know how to summarize it really, but I learned that most people fighting a war aren't really fighting for a flag or an idea. They're fighting for the people to their left and right, they're fighting for this uniformed family they have, and often fighting for a sense of belonging and dignity within that."
Although he describes himself as a "pacifist at heart," Ahmed says that doing the research he did to play the character of Malik "did force me to have a bit more empathy for people who find themselves in those situations," noting that he came away with a better understanding of "the amount of damage that there often is in people's lives, how scarred some people are, and how they're tempted by a sense of belonging and family to go and do these things that end up damaging them even more, frankly."
Firearm training and accent coaching helped Ahmed with his role
Amazon Studios
Riz Ahmed also focused on several other aspects of Malik's life to immerse himself in the character. The first was training, both in the physical sense and in using firearms. "It's not something that I've got a lot of experience in," says the actor about the latter. "Malik is a character who's handled a lot of firearms and has been in conflict situations, so it was important to kind of dig into that."
Next, the British Ahmed also worked on Malik's American South accent. "I work always with my (acting) coach, Gregory Berger-Sobeck," says Ahmed about getting the accent down. "I also worked with an accent coach for the first time, Liz Himelstein. But honestly, a lot of it comes from recording interviews as well, from just speaking to people, recording them, listening to the recordings and ... allowing yourself to absorb something."
While Ahmed cites legendary actor Michael Caine's opinion that acting with an accent "just takes up so much bandwidth," he also feels that it can help him delve further into the character he's playing.
"If you do give it that time, it can also help unlock a lot of things," he explains. "I think a lot of our character is in the way you connect with the world, the way you carry yourself in the world. That's about physicality. That's about vocalization. So it is kind of like, 'Oh my God. I've got to spend so much time being conscious of this extra layer of thing. It gets in the way of the emotion.'"
Whatever Ahmed is doing, it works, as one can see from the body of acting credits he's already amassed. You can check out his latest work now in "Encounter," which is streaming on Amazon Prime video.