We Finally Know What Happened To Eddie's Chickens In Venom: Let There Be Carnage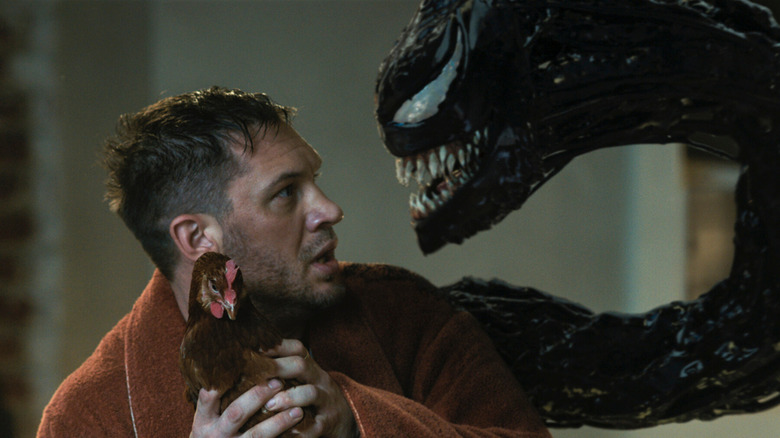 Sony Pictures
In the most recent installment in the Venomverse, "Venom: Let There Be Carnage," Eddie Brock (Tom Hardy) and his other half, symbiote Venom, have been having difficulties getting along. Brock has discovered that his ex-fiance Anne (Michelle Williams) is getting married, and falls into a depression. Venom is hungry and wants to eat bad guys, while Brock keeps preventing him from killing anyone. To help satiate Venom's hunger for brains, Brock brings home two chickens for him to eat. But then Venom decides he can't eat Sonny and Cher — his nicknames for the chickens. Why not? "They're best friends," he tells Brock.
Soon, the growing resentment between the odd couple erupts, and Venom and Brock have a huge, violent fight. After literally destroying their apartment, Venom takes off, leaving behind the two chickens. And that's the last we see of Sonny and Cher. So what happened to them? A deleted scene, exclusively provided to Collider, finally shows their fate.
Brock let Sonny and Cher go free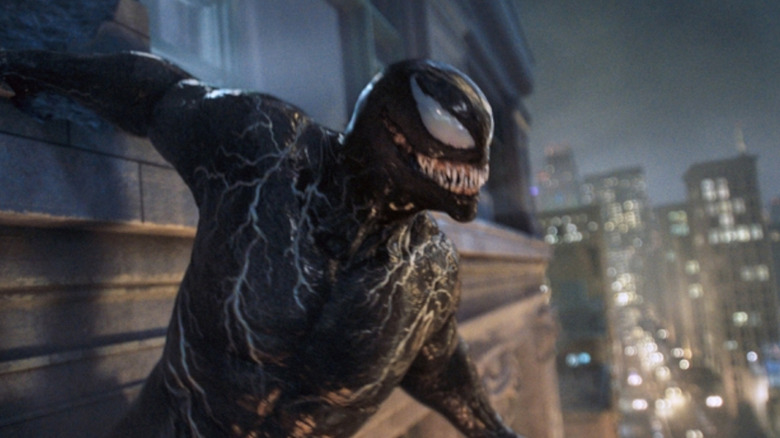 Sony Pictures
The deleted scene shows Venom jumping out the window and bonding with a bicyclist, riding awkwardly away. Brock slowly begins cleaning up the wreckage of his apartment, patching holes in the ceiling with plastic wrap and duct tape, and shoving mounds of debris into bags. Then he glances over at the clucking chicken duo and tells them, "You two are being evicted." The scene ends with Brock leaving them on a grassy area, telling them, "Don't look at me that way, it was never going to work out."
Despite a mediocre 59% rating on Rotten Tomatoes, "Venom: Let There Be Carnage," has been one of the most successful post-pandemic movies so far. In November it crossed the $200 million mark for its domestic box office gross, making it just the second movie to do so since the pandemic hit (via EW). One of the factors that definitely boosted ticket sales for "Venom: Let There Be Carnage" was the post-credits scene, which showed Venom and Brock watching TV before being mysteriously transported to a room where the MCU's Spider-Man (Tom Holland) appears on the news. 
Fans who had been waiting impatiently for years for this crossover to happen went nuts when Marvel Studios president Kevin Feige acknowledged they were trying to figure out how to merge the two worlds (via Collider). Now that it's finally happening, and Holland has reportedly agreed to appear in more films, we can't wait to see what Marvel and Sony have in store for Spider-Man and Venom (via Variety) — and if Sonny and Cher will make another appearance.