Watch The First Seven Minutes Of Venom: Let There Be Carnage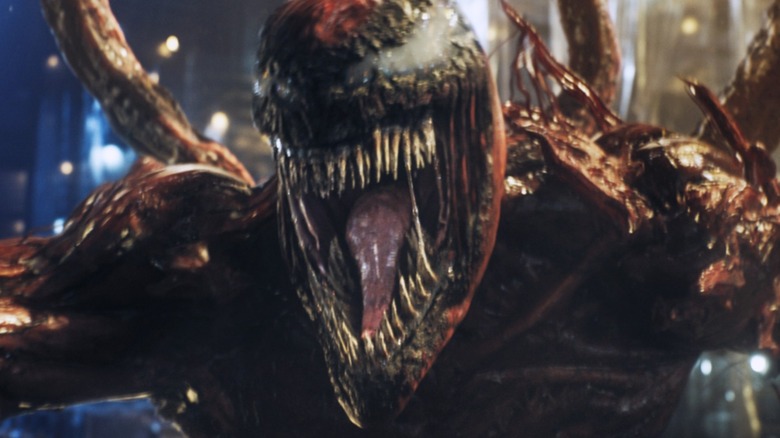 Sony Pictures Releasing
Everyone's favorite symbiote returned with a vengeance in 2021's "Venom: Let There Be Carnage." Now, you'll soon be able to have Venom and Eddie Brock (Tom Hardy) in the comfort of your own home when the action flick gets released on 4K Ultra HD, Blu-Ray, and DVD on January 3, 2022 (via Digital Spy).
Whether you saw the film in theaters or wanted to wait until you could check it out in the comfort of your home, there are many reasons why you may want to own this movie. But in case you need a little more persuasion, Sony Pictures Entertainment has dangled one heck of a carrot in front of fans' noses. The studio has just put out the first seven minutes of the film on YouTube that you can watch completely for free. It's a great way to see if the movie's tone is something up your alley before you commit to spending your hard-earned cash on the flick.
Watch Cletus Kasady's origin in a new clip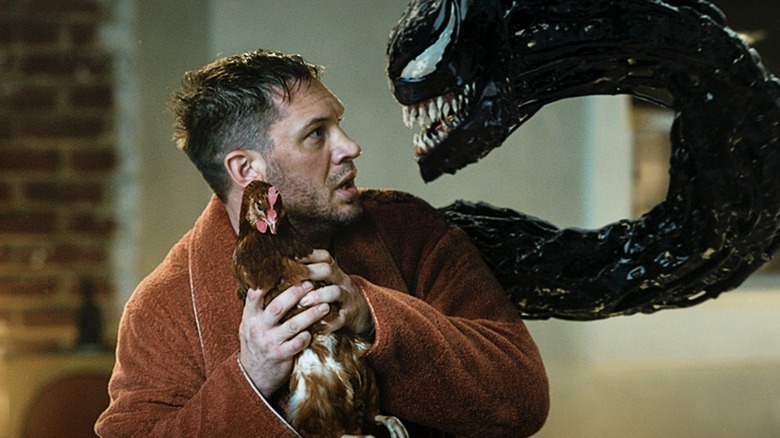 Sony Pictures Releasing
Considering "Venom: Let There Be Carnage" only has a runtime of about 90 minutes, 7 minutes of free footage is pretty significant. And it's a great way to dip your toes into the story without having to pay a cent. 
The sequence kicks off with our introduction to Cletus Kasady (Woody Harrelson). It turns out Eddie Brock isn't the only person with a dysfunctional relationship in the film as Cletus is utterly ruined when his beloved Frances Barrison (Naomie Harris) is taken away from him and locked up at Ravencroft many years ago. Even before he became infused with a symbiote, namely Carnage, Cletus was not someone you wanted to upset. From there, the film transitions to Eddie working alongside the San Francisco police department to get more information out of Cletus in the present day.
The clip perfectly encapsulates the movie's tone. It's a little dark, a little wacky, and entirely appropriate for what audiences expect out of a "Venom" film. Check out the first seven minutes now, and if it tickles your fancy, the rest of the movie's there to satiate whatever appetite for carnage you might have.