The Chicago Med Behind-The-Scenes Reunion That Had Fans Tearing Up
The high-stakes drama keeping fans engaged on the smash hit medical series "Chicago Med" isn't just limited to heroic doctors and nurses saving patients' lives on a regular basis. Sometimes it's what's going on with the staff itself that takes center stage. It must be said, however, that in the case of the show's Dr. Ethan Choi (Brian Tee), fans have had more than their usual share of anxious moments regarding the doctor's recent storyline.
As it turns out, Dr. Choi had been missing in action for six long weeks following a particularly devastating interaction with another doctor's patient. The unexpected incident took place in the Season 6 finale when the distraught patient attempted to shoot Dr. Dean Archer (Steven Weber) but instead hits Choi, severely wounding him. After weeks off-screen in physical therapy, Choi finally made it back to the E.D. in Season 7, Episode 7, where the show's characters reacted joyfully to his return. In addition to that happy on-screen moment, though, the show's producers also recorded the reunion with behind-the-scenes footage that had "Chicago Med" fans tearing up in response.
The cast's reunion with Brian Tee was a true tear-jerker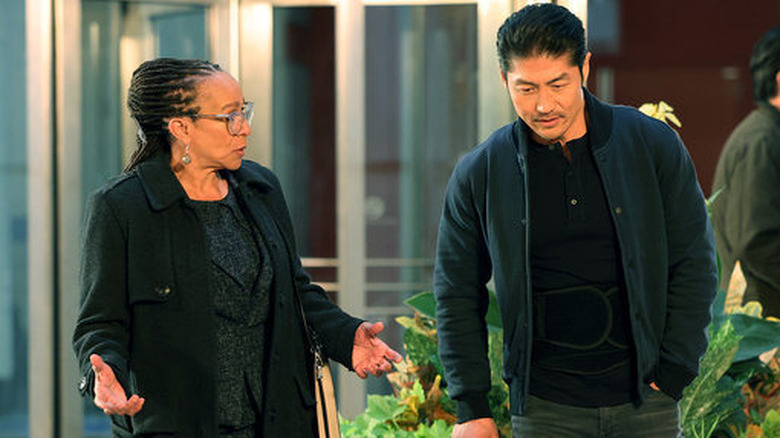 George Burns Jr./NBC
Captured on film as actor Brian Tee entered the "Chicago Med" set, the sequence featured many of the show's regulars gathering around to greet their returning colleague. The brief video clip, which was posted on the Wolf Entertainment Twitter feed, offered an intimate glimpse of the "Chicago Med" team welcoming one of their own, with the attached text saying, "Brian Tee has returned to our #OneChicago family, and we're all so excited to see him!" The caption went on to describe Tee catching one actor in particular totally off-guard by his unexpected reappearance, saying, "Here's him surprising @s_epatha on his first day back on the #ChicagoMed set!" Tweeting her reply, S. Epatha Merkerson (familiar to fans as Dr. Sharon Goodwin) responded, "I LOVE ME SOME BRIAN TEE! He has been missed!"
Reacting to Merkerson's obvious glee at seeing Tee again, Twitter user @theoddgirl18 tweeted, "Your reaction when you saw Brian was priceless the love the Chicago Med cast has for each other is truly beautiful..." while another Dr. Choi fan chimed in with "...I really miss him and it made me cried [sic] when he got shot in the show..." All that being said, it seems clear that if the emotions expressed online are any indication, this is one behind-the-scenes "Chicago Med" reunion that gave fans a perfectly understandable reason for tearing up.