A New Hawkeye Episode 5 Spot Features This Popular MCU Character In Action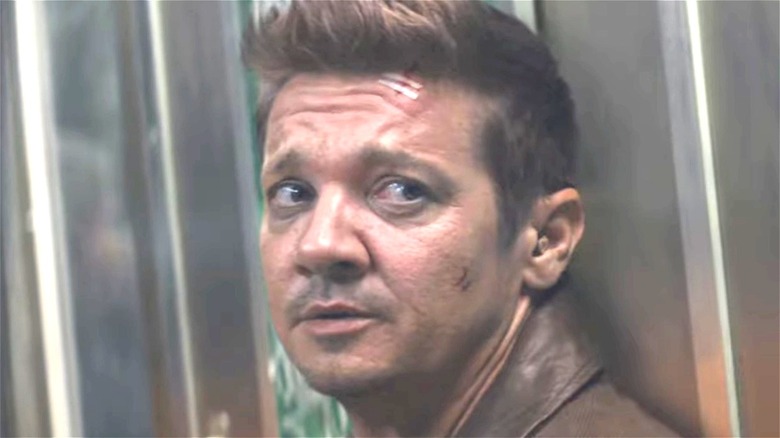 Marvel Studios/Disney+
The critical response to "Hawkeye" has been largely positive up to this point, and the series has proven to be pretty popular with Marvel Cinematic Universe fans, thanks largely to its overall charm, general faithfulness to the comic arc that inspired it, and action-packed but character-driven style. Indeed, Marvel fans have already begun to fall in love with Kate Bishop (Hailee Steinfeld)  — and they're definitely in love with Lucky the Pizza Dog. 
Now, the "Hawkeye" producers are giving the series' viewers another treat by bringing a familiar MCU character into its story. Although the character is a fairly new face to the MCU as well, she's already been warmly welcomed by fans of the franchise.
The show's newest cast member can be seen several times in the latest "Hawkeye" teaser, and it looks like she's gunning for both Clint Barton (Jeremy Renner) and Kate. Indeed, with only two episodes left to go in "Hawkeye," it's safe to say that Kate and Clint's problems have just gotten a whole lot worse.
Yelena Belova has arrived in New York City
Yelena Belova (Florence Pugh) was introduced in Marvel's "Black Widow" as Natasha Romanoff's (Scarlett Johansson) adopted sister. Sharing the same deadly skillset as Natasha but knowing little of her history with Clint, Yelena was tricked at the end of "Black Widow" into believing that Clint is the one responsible for Natasha's death in "Avengers: Endgame." Now, coming off Yelena's "Hawkeye" debut in the show's fourth episode, it's clear that the character is about to cause some major trouble for Clint and Kate, and may even seriously disrupt the former's plans to get back in time to spend Christmas with his family.
The latest "Hawkeye" promo heavily features the young, former Black Widow. She can be seen easily catching a projectile thrown at her by (presumably) Clint or Kate, and engaging in more than her fair share of combat. "I'm here to kill you, Clint Barton," she promises at one point in the trailer, and it's clear that she means it. In other words, Clint and Kate really are going to have to, among other things, start making use of their trick arrows — and soon.
While it's unknown at the time of this writing if Yelena will succeed in her misguided revenge mission or not, the show's newest teaser confirms that fans should probably expect to see a whole lot more of Florence Pugh's MCU assassin before "Hawkeye" comes to an end.