Tom Cruise Nearly Fell Out Of A Helicopter On The Mummy Set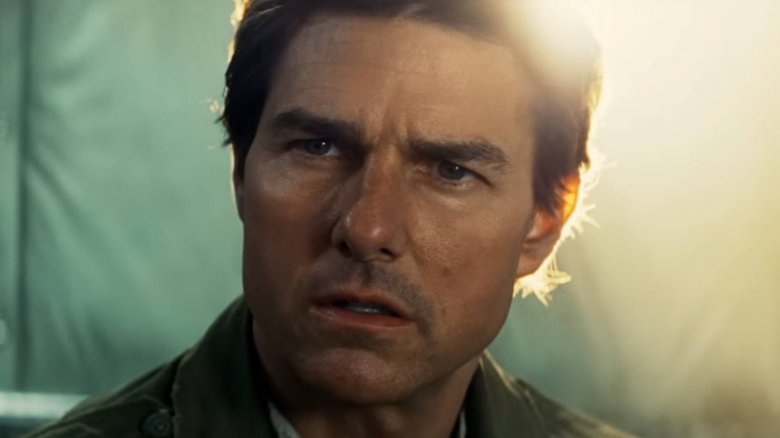 Tom Cruise didn't just do his own crazy, zero gravity stunts for The Mummy: he also risked life and limb taking an epic selfie while doing them. The actor, who is well-known for doing his own ridiculously elaborate and dangerous stunts, revealed in a recent interview with USA Today just how much he clowned around on the Mummy set, including hanging out the window of a moving helicopter to take a selfie.
The helicopter was flying 2,000 feet over the Namibian desert when Cruise got the idea to dangerously document the moment, something the star treats like it was a totally normal thing to do. "I just wanted a different kind of shot," he said. "So I had my seat belt just [loose enough] to hang out. It was fun."
Co-star Courtney B. Vance witnessed the feat, and said that Cruise defied orders in taking the photo. "They told everyone, 'Don't take any pictures,'" he said. "We get up in the helicopter and [Tom is] like, 'Wanna take some pictures?' He's funny. He was hanging out of the helicopter, taking selfies and pictures of us. Crazy!" Annabelle Wallis, who plays Cruise's love interest, added that he loved to take his phone out during dangerous situations. "I'd look for my phone and be like, 'Oh my god, he's going to kill himself doing that!'" she said.
According to director Alex Kurtzman, this kind of stunt is just emblematic of Cruise's surprising sense of humor. "He's very serious and very intense, but what people don't know is that he really does like to play jokes," Kurtzman said. "There were moments when we were shooting in an underwater tank and [he and Wallis] kept dunking each other in the water. And I kept looking at him like, 'This is not the image people have of Tom Cruise.'"
Sofia Boutella, Russell Crowe, and Jake Johnson also star in The Mummy, which is based on a script from Jon Spaihts (Prometheus) and Christopher McQuarrie (Edge of Tomorrow). The film will be released on June 9; while we wait, see some of the other future remakes and reboots that will blow everyone away.