What The Cast Of Stargate Looks Like Today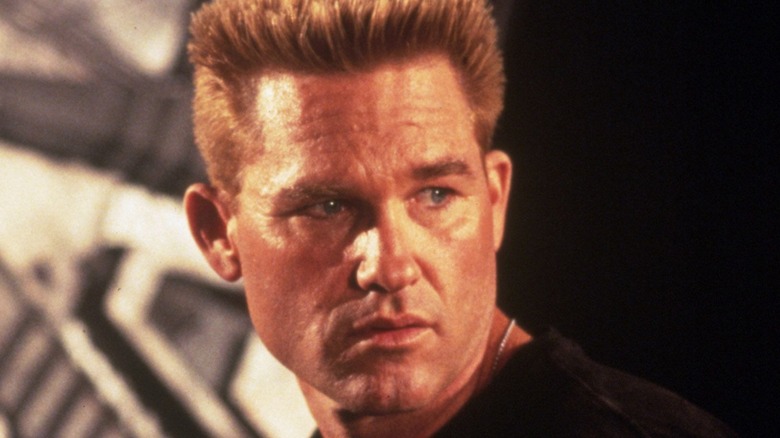 MGM
It never reached the same heights as the likes of "Star Trek" and "Star Wars," but "Stargate" still managed to carve out a place for itself in the crowded science fiction genre, and it did so by rendering the spaceship redundant. The franchise's titular devices — portals that make rapid travel between distant planets via wormholes possible — made "Stargate" stand out among the many space-based sci-fi properties of the day. They were first seen in Roland Emmerich's film "Stargate," which was released to mixed reviews in 1994. It was a different story at the box office, however.
"Stargate" set a new opening weekend record for October on its way to a worldwide haul of almost $200 million, which was enough for MGM to greenlight a trilogy. Of course, that trilogy never materialized (not yet, at least). Emmerich went off to make "Independence Day," and MGM decided to go down the TV route instead. "Stargate SG-1" came first, and was followed by "Stargate Atlantis," "Stargate Universe," and the prequel series "Stargate Origins." The shows went on to spawn their own fandoms, but what's notable about them (and the half dozen direct-to-DVD movies that have come out) is that they featured precious few original cast members.
Only two people from Emmerich's original "Stargate" film crossed over to the small screen, with the rest choosing to take different paths, to varying degrees of success. Where is the cast of "Stargate" today, and how much have they changed over the decades? Let's take a look.
James Spader is a versatile veteran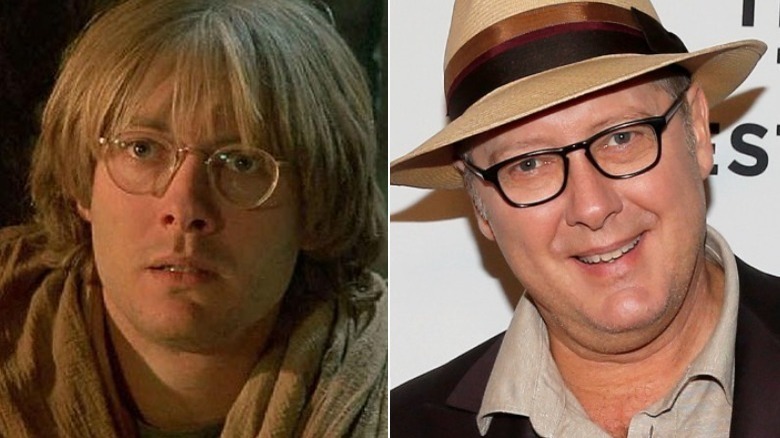 MGM, Dominik Bindl/Getty Images
The part of hyper-intelligent Egyptologist Dr. Daniel Jackson was played by Michael Shanks in the "Stargate" spinoffs, but James Spader originated the role on the big screen. It's Spader's character that unlocks the secrets of the Stargate, deciphering some hieroglyphics that turn out to be coordinates based on the constellations. He agrees to accompany Kurt Russell's Colonel Jack O'Neill and his men through the wormhole he helped open, stepping onto an arid planet ruled by the Egyptian god Ra, who is actually an ancient alien. Spader manages to make all this seem borderline believable, a testament to his ability as an actor.
Spader broke out almost a decade before "Stargate," putting in a scene-stealing performance as elitist bully Steff in John Hughes classic "Pretty in Pink." He was in danger of being typecast as a silver-spoon brat in the '80s, but he proved his versatility the following decade. After "Stargate," Spader starred in David Cronenberg's kinky thriller "Crash," and, more recently, he voiced the titular villain in "Avengers: Age of Ultron." Nowadays, he's best known for his TV work — he's played Raymond "Red" Reddington on NBC's "The Blacklist" since 2013. The show got delayed during the coronavirus pandemic in 2020, which allowed him to spend some quality time with his youngest son. "We'd go out and line up beer cans on the big rock out on the far end of the garden and shoot at them with BB guns," Spader told Jimmy Fallon.
Jaye Davidson went back into fashion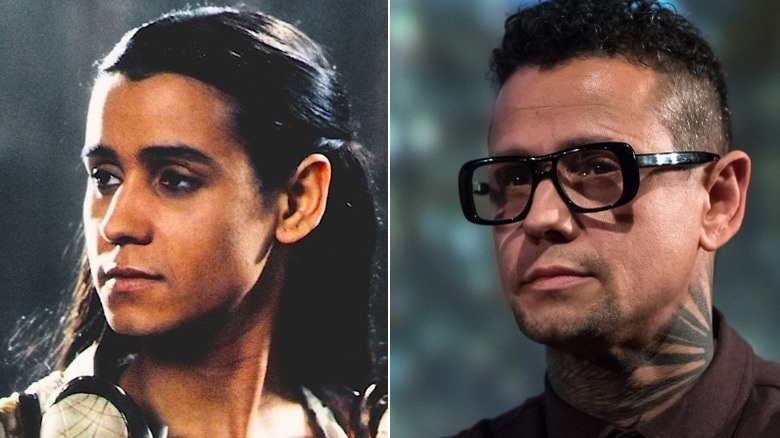 MGM, Tim P. Whitby/Getty Images
The character Ra has been featured in numerous pieces of "Stargate" media over the years. The androgynous Egyptian god (whose body, it turns out, is simply a host for a Goa'uld, sentient extraterrestrial parasites in the "Stargate" world) showed up in episodes of "Stargate SG-1" and "Stargate Origins," and also played a part in direct-to-DVD movie "Stargate: Continuum." Ra's most iconic appearance is in the first "Stargate" movie, however, and that's largely down to the mesmerizing Jaye Davidson, a dressmaker who got close to tasting Oscar glory after being spotted by a film scout in a bar one night.
Despite not being an actor by trade, Davidson was cast as the transgender character Dil in 1992's "The Crying Game." The film was nominated for Best Picture the following year, and Davidson was up for Best Supporting Actor, just two of the six Academy Awards that Neil Jordan's gripping drama was in contention for. The Oscar buzz made Davidson an overnight star, and the pressure quickly became too much for him. He decided to quit acting, but when the part of Ra came along and the studio agreed to pay him a million dollars (a demand he was sure would make them look elsewhere), he gave it another go. Davidson turned in yet another terrific performance as Ra in what would be his last major appearance — he popped up in a TV movie called "Jiggery Pokery" and then promptly returned to his first love: fashion.
Erick Avari is still playing mysterious types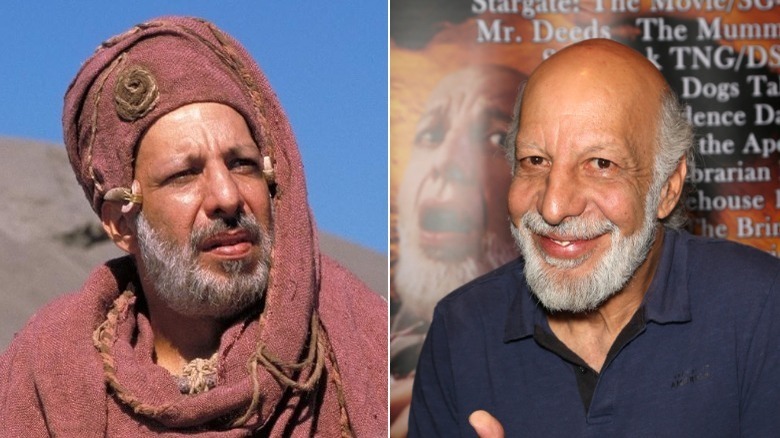 MGM, Gabe Ginsberg/Getty Images
Indian-American character actor Erick Avari has one of those faces that you've definitely seen before, though you're not entirely sure where. In "Stargate," he plays village elder Kasuf, who welcomes the explorers warmly when they arrive on Abydos. He's particularly fond of James Spader's Dr. Jackson, who unknowingly agrees to take his daughter's hand in marriage (luckily, they end up falling for each other anyway). Avari is one of the few who went on to reprise his "Stargate" role, playing Kasuf in three seasons of "Stargate SG-1" in the late '90s/early '00s.
Avari stuck with Roland Emmerich after making his debut as Kasuf, following him onto his next big sci-fi epic, "Independence Day," in which he popped up briefly as a scientist. He landed a far more substantial role in the Brendan Fraser-led action adventure "The Mummy" a few years later, appearing as Dr. Terrence Bey, curator of the Cairo Museum of Antiquities and boss of Evelyn Carnahan (Rachel Weisz). He also played an ill-fated human in Tim Burton's "Planet of the Apes," a lawyer in Adam Sandler comedy "Mr. Deeds," and a hot dog cart vendor in Richard Gere's "Hachi: A Dog's Tale," among many other roles.
Video game fans will no doubt recognize Avari's distinctive tones from 2014's "Destiny" and 2017's "Destiny 2," in which he voiced Master Rahool. In his most recent role, he played mysterious biblical figure Nicodemus in "The Chosen," a crowdfunded TV series about the life of Jesus Christ.
Mili Avital continued her career in Israel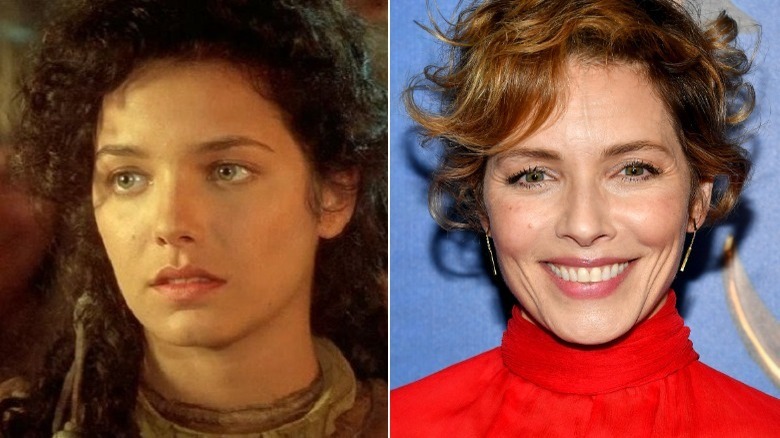 MGM, Amy Sussman/Getty Images
Kasuf's daughter Sha'uri — the one who gets offered up to Dr. Daniel Jackson — was played by Israeli actor Mili Avital in the "Stargate" movie (Vaitiare Bandera took over the role for "Stargate SG-1," which changed the character's name to Sha're). The unlikely pair fall for each other as they battle Ra, and when his rule comes to an end, Jackson opts to stay behind on the newly liberated planet. If you cut out the part where Sha'uri is basically given away as a gift (which the planned movie reboot would be wise to do), it's a fairytale ending done sci-fi style.
Avital was a newcomer in Hollywood when she scored her "Stargate" role. It was just her third appearance on the big screen, and, despite the mixed reviews, the film opened doors for her. She worked tirelessly in the latter part of the 1990s, appearing in no less than nine movies between 1995 and 2000. Her most notable credits from the time include the Jim Jarmusch Western "Dead Man," in which she played a former prostitute, and the rom-com "Kissing a Fool," in which she has to choose between David Schwimmer and Jason Lee.
She spent time in Morocco and Turkey working on ABC's lavish miniseries "Arabian Nights," then returned to Israel to continue her career at home. She still pops up on American screens every now and again, however, most recently in a 2015 episode of "Law & Order: Special Victims Unit."
Alexis Cruz is a dad now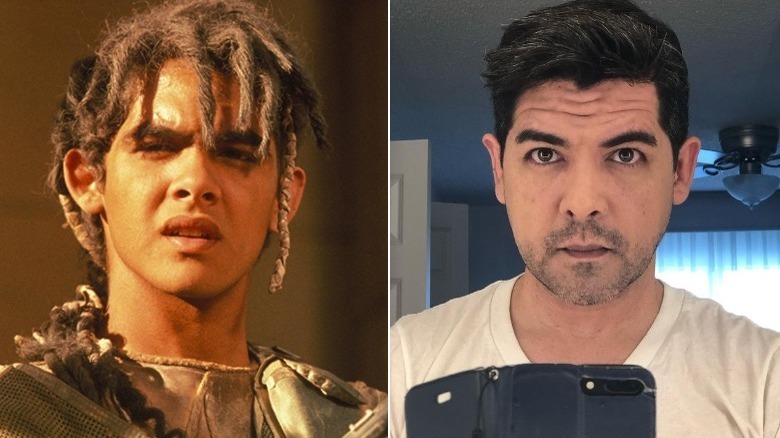 MGM, Instagram
Erick Avari's Kasuf has a son in "Stargate," played by Alexis Cruz. Like Avari, Cruz reprised his role in "Stargate SG-1," but he made his first appearance as Skaara in Roland Emmerich's original film. He's heavily involved in the uprising against Ra, but his most memorable scenes are the ones shared with Kurt Russell's Captain O'Neill, who is still grieving the loss of his child when we enter the "Stargate" story. O'Neill's son Charlie tragically died after getting hold of his pistol; spending time with Skaara (who, in turn, sees the captain as something of a father figure) helps him do some healing while on the mission.
Cruz made his movie debut in 1987's "The Pick-up Artist," a rom-com starring Robert Downey Jr. and Molly Ringwald. "Stargate" was the biggest opportunity of his then-fledgling career, and his time in the franchise remains the thing he's best known for. He has, however, proven himself to be a versatile performer over the years. He's appeared in movies like "Why Do Fools Fall in Love" and Sam Raimi's "Drag Me to Hell," and he's plied his trade on a number of big TV shows, including "ER," "NYPD Blue," and "American Family." He's been busy in recent years, both in his personal and professional life — he welcomed a son in 2019, returned to TV in an episode of Anna Kendrick's HBO series "Love Life" the following year, and, in 2021, he guest starred on CBS procedural "FBI."
Djimon Hounsou is a superhero movie regular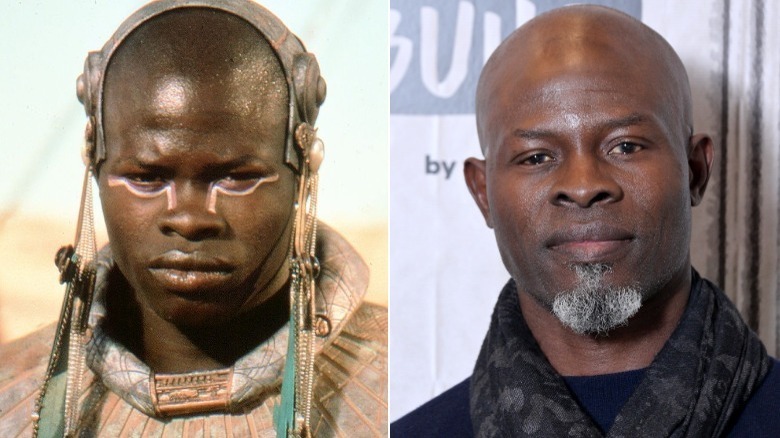 MGM, Michael Loccisano/Getty Images
Benin born model and actor Djimon Hounsou has been in a bunch of huge movies, but back when he appeared as Ra's guard Horus in "Stargate," he was still an unknown. He began his career in music videos, acting in Tina Turner's "I Don't Wanna Lose You," En Vogue's "Hold On," and Janet Jackson's "Love Will Never Do (Without You)." Roland Emmerich's "Stargate" was his first feature film, and while it wasn't the one that made him a star, Hounsou didn't have to wait very long for that.
The West African newcomer was in three films in 1997, one of which earned him a Golden Globe nod. He didn't get nominated for an Oscar for his turn as slave revolt leader Joseph Cinque in Steven Spielberg's "Amistad," but the historical drama put him firmly on Hollywood's radar. Hounsou would receive his arguably overdue recognition from the Academy for later appearances in 2002's "In America" and 2006's "Blood Diamond," being considered in the Best Supporting Actor category for both pictures.
In recent years, Hounsou has become a regular in the superhero genre, working on numerous Marvel projects. After voicing T'Challa in the animated "Black Panther" miniseries, he appeared as Korath in "Guardians of the Galaxy" and "Captain Marvel," a role he'll reprise in the animated Disney+ series "What If...?" He's got some DC characters on his resume, too. Hounsou played Midnight in "Constantine," voiced King Ricou in "Aquaman," and portrayed the Wizard in "Shazam!"
Leon Rippy reprised one of his best known roles in a TV movie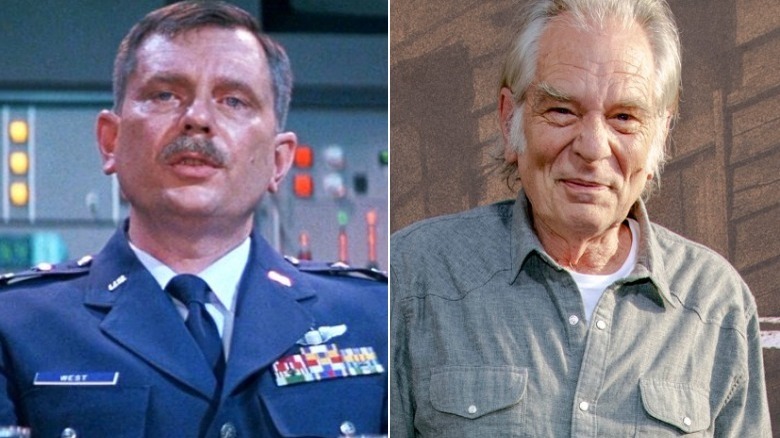 MGM, Shutterstock
Character actor Leon Rippy didn't get the chance to reprise the role of commanding officer Lieutenant General W. O. West in "Stargate SG-1," which replaced him with Don S. Davis' Lieutenant General George S. Hammond. Davis ran Stargate Command for seven seasons on the spinoff show, but Rippy (who made his first onscreen appearance on the CBS miniseries "Once Upon a Murder" in 1983) was the man in charge when Dr. Jackson discovered how to actually use the portal devices in Roland Emmerich's original movie.
The South Carolina native was already a favorite of Emmerich's when the filmmaker started casting for "Stargate," having appeared in his previous films "Moon 44" and "Universal Soldier." He would go on to appear in a further three Emmerich movies after "Stargate," popping up in "The Patriot," which Emmerich directed, as well as "The Thirteenth Floor" and wacky monster horror "Eight Legged Freaks," which he produced.
Rippy has only appeared in a handful of movies since then (the most notable being Gore Verbinski's "The Lone Ranger") and is better known for his TV work today, having recurred on shows like "Deadwood," "Saving Grace," "Leverage," "Alcatraz" and the Stephen King adaptation "Under the Dome." He reunited with "Stargate" co-star James Spader when he joined the cast of "The Blacklist" in 2016, and, in a more recent credit, he reprised his "Deadwood" role in a TV movie of the same name, released in 2019.
French Stewart is still funny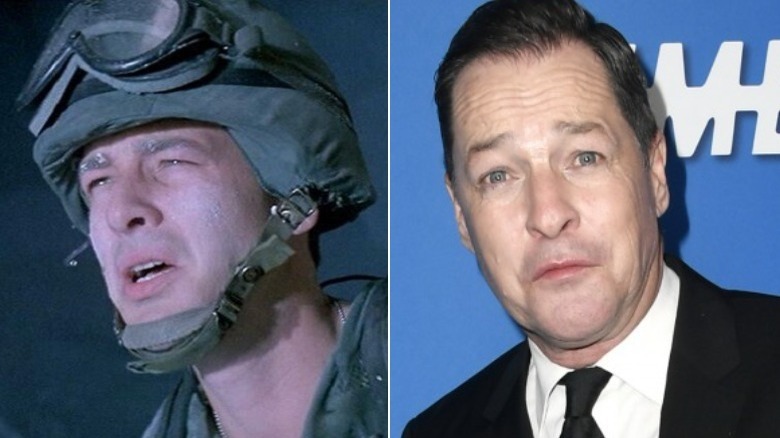 MGM, Frazer Harrison/Getty Images
He would get famous playing the idiotic Harry Solomon on "3rd Rock from the Sun," but funnyman French Stewart had a pivotal role in "Stargate" before he was a sitcom star. The actor made his feature film debut in Roland Emmerich's sci-fi adventure, playing Lieutenant Ferretti (another character that was carried over to "Stargate SG-1," in which he was played by Brent Stait). He's left in charge of the second unit when the soldiers arrive on Abydos, though he's forced to retreat into the temple of Ra during a massive sandstorm, which, of course, turns out to be a big mistake. The men under Ferretti's command are taken down by Ra's guards one by one, before he himself is captured.
Stewart made his debut as Harry Solomon on "3rd Rock from the Sun" in 1996 and would remain on the show until it wrapped in 2001. He went on to become a dependable TV actor, appearing in the likes of "That '70s Show," "Ally McBeal," "Bones," "Days of Our Lives," "Community," and even "Stargate Universe," in which he played a new character, Dr. Andrew Covel. He went on to recur as Principal Cameron on ABC's "The Middle," but in recent years he's become known for the CBS sitcom "Mom," appearing as Chef Rudy in dozens of episodes. He's also in Michael Lembeck's retirement home comedy "Queen Bees," scheduled for release in 2021. The film stars Ellen Burstyn and James Caan.
Derek Webster jumped ship to Star Trek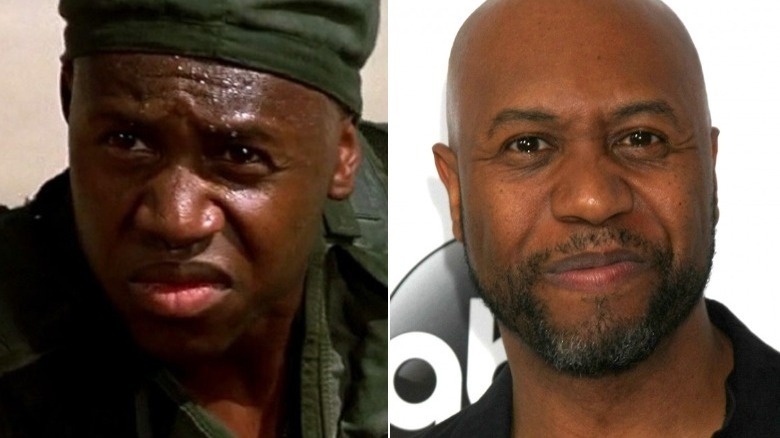 MGM/Shutterstock
It wouldn't be sci-fi without some members of the exploration party being picked off by the enemy, and that was the fate of Derek Webster's Lieutenant Brown in "Stargate." He was assigned to the Stargate Program after fellow Berkeley graduate Dr. Daniel Jackson cracked the constellation code, and he remained with Colonel Jack O'Neill's squad when the team split up after arriving on Abydos. He's with Jackson and O'Neill when they make contact with the locals, and he even gets to sample some Abydonian food before he's killed by one of Ra's guards.
Webster made his debut playing a bodyguard in 1981's "Enter the Ninja," a low-budget martial arts flick. He would appear in "Star Trek" before "Stargate," showing up in a 1993 episode of "Star Trek: The Next Generation" as Lieutenant Sanders. He became a go-to character actor for Roland Emmerich after "Stargate," joining him on "Independence Day" (he's the guy flying the helicopter that gets blown up during Operation Welcome Wagon, mankind's ill-fated attempt at communicating with the alien invaders) and again for "Godzilla" (in which he captains nuclear-powered submarine the USS Utah).
He established himself as a solid TV actor in the '00s with roles in the likes of "JAG," "Nip/Tuck," "Bones" and "Boston Legal," and he's still active today. Webster played DA Jackson Holt in "Ray Donovan" between 2016 and 2017, and in 2020 he returned to the "Star Trek" franchise as a Romulan guard in "Star Trek: Picard."
John Diehl has a grey beard now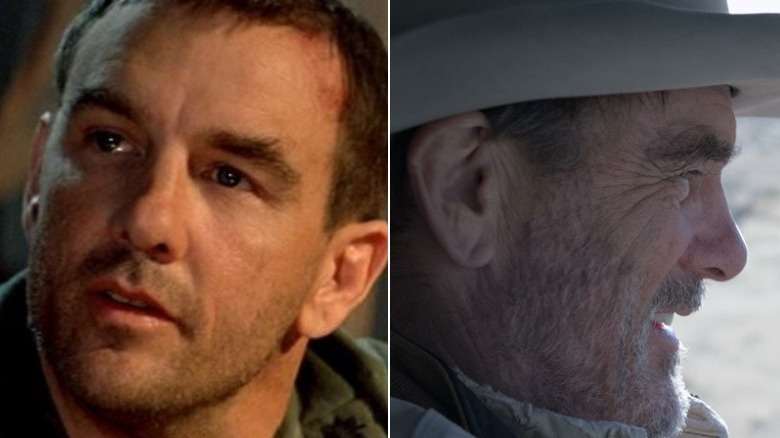 MGM, SP Distribution
As Colonel Jack O'Neill's right hand man, John Diehl's Lieutenant Kawalsky (a character that later popped up in "Stargate SG-1," played by Jay Acovone) helps keep the team together when they are ambushed by Ra's guards and taken captive aboard his ship. Diehl was an experienced character actor long before he appeared in "Stargate," having established himself in the early 1980s. He actually shared the screen with Kurt Russell in his second movie appearance, playing a punk in John Carpenter's "Escape From New York." He went on to recur as Detective Larry Zito on "Miami Vice" and appear in Joel Schumacher's "The Client" (a crime drama starring Susan Sarandon and Tommy Lee Jones) before Roland Emmerich cast him in his sci-fi epic.
Diehl has been seen in numerous feature films since "Stargate," usually in a smaller or supporting role. He's worked on everything from "A Time to Kill" and "Nixon" to "Jurassic Park III" and Michael Bay's "Pearl Harbor," and in recent years he's taken to old-guy roles, growing out his grey beard for the likes of "Out of the Wild" (he played an alcoholic cowboy looking for redemption in the ranch-set Western). He also played Colonel McDonald on the FX show "Snowfall" including the 2021 episode "Say a Little Prayer." His other notable television credits include "NYPD Blue," "The West Wing," "The Shield," and "Point Pleasant."
Kurt Russell is cooler than ever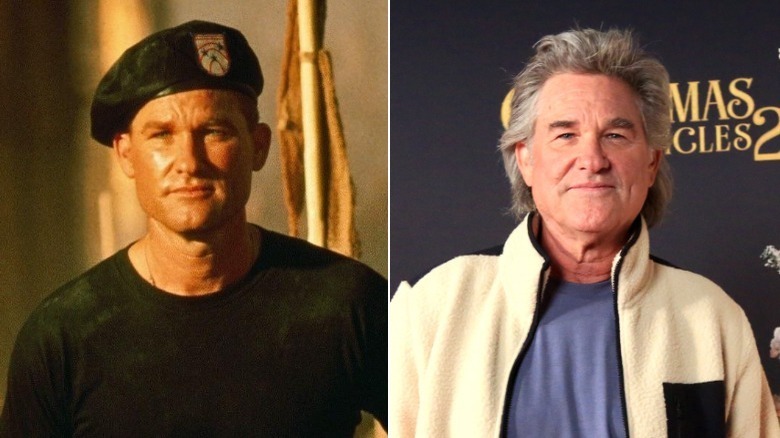 MGM, Jesse Grant/Getty Images for Netflix
The actor that plays the lead role of Colonel Jack O'Neill in "Stargate" really needs no introduction. Massachusetts native Kurt Russell began his career as a child actor, signing a contract with Disney after impressing with his performance in 1966's "Follow Me, Boys!" Walt Disney reportedly dealt with the contract personally and would remain a big fan of the young star up until Disney's death (one of the last things he wrote in his office was a list that had Russell's name on it). He was already well known when he took on the role of special ops expert Jack O'Neill years later, having fronted the likes of John Carpenter's "Escape From New York," "Big Trouble in Little China," and "Tombstone," in which he portrayed Wyatt Earp.
The part of O'Neill was passed over to Richard Dean Anderson for the spinoff shows. Russell, meanwhile, continued to establish himself as one of Hollywood's most reliable actors. He experienced what the Toronto Sun described as "a spectacular career revival" following his turn as a brutal bounty hunter in Quentin Tarantino's "The Hateful Eight" in 2015, appearing in a number of big films, most notably "Guardians of the Galaxy Vol. 2." He was Star-Lord's villainous father Ego the Living Planet in the Marvel movie. More recently, Russell has starred as Santa Claus in Netflix's popular "Christmas Chronicles" movies, and he reunited with Tarantino for "Once Upon a Time... In Hollywood," playing stunt coordinator Randy Miller.