Why Brie Larson's Cryptic Tweet Has MCU Fans So Hyped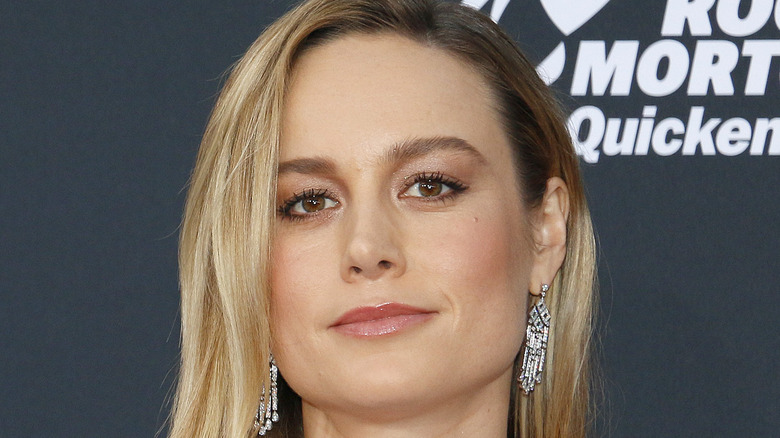 Tinseltown/Shutterstock
Brie Larson made her entrance into the Marvel Cinematic Universe (MCU) as Carol Danvers AKA Captain Marvel in 2019, proving herself to be among the franchise's strongest heroes. "Captain Marvel" went on to make over a billion dollars at the box office (via BoxOfficeMojo), cementing Larson's place alongside MCU stalwarts like Robert Downey Jr. and Chris Hemsworth. But since then, her character has taken a bit of a backseat in the MCU, showing up for the final battle in "Avengers: Endgame" and making a cameo appearance in "Shang-Chi and the Legend of the Ten Rings," both of which served to let audiences know that Carol is still around doing something, well, somewhere.
That said, characters with connections to Captain Marvel have shown up in recent MCU properties. For instance, the shape-shifting Skrulls appeared at the end of "WandaVision" to pass a message to Monica Rambeau (Teyonah Parris), the daughter of Captain Marvel's best friend, Maria Rambeau (Lashana Lynch). Meanwhile, actor Iman Vellani is set to play the titular role in Marvel Studios' upcoming "Ms. Marvel" series on Disney+ and will return as the character in the "Captain Marvel" sequel.
But today, the Captain Marvel news drought ended when Brie Larson tweeted a photo of a pendant with a very interesting logo that was captioned, "2-17-2023." Here's what Larson's photo may mean, and why it has fans of her Marvel hero jumping for joy.
Brie Larson has shared an exciting new tease for The Marvels
The "Captain Marvel" sequel was officially titled "The Marvels" in May 2021. It will include both Monica Rambeau and Ms. Marvel, while actor Zawe Ashton has been cast as the film's villain.
Larson's tweet appears to reveal a new logo for the sequel's heroic trio, with the photo's central pendant featuring a red-and-gold eight-pointed star with sharp, blocky designs filling the star's interior. It is possible that this symbol was made by amalgamating the logos for the film's three lead heroes. The photo's caption, meanwhile, is most likely the film's release date. If so, that means "The Marvels" will land in theaters on February 17, 2023. That's a ways off from now, meaning fans still have plenty of time to continue speculating about the film's characters and plot.
On Twitter, fans went bonkers for Larson's tweet. @avngrswft wrote, "SCREAMING I CAN'T WAIT. HOLY TRINITY HERE WE COME," while @soCATes_meow exclaimed, "It's not a want it's a NEED." Clearly, fans have been waiting a long time for a "Captain Marvel" sequel, which means that February 2023 can't come soon enough.