The Internet Has A Lot Of Thoughts About Captain Marvel 2's Official Title
Marvel Studios
Happy Monday! Marvel Studios kicked the week off right by dropping an exciting new video that reminds us of the journey the Marvel Cinematic Universe has taken us on over the course of the last decade-plus while also highlighting the upcoming films of Phase 4. And while it's always fun to revisit the now-iconic moment in which all of our beloved heroes who'd been erased from existence by Thanos (Josh Brolin) returned to fight his army in "Avengers: Endgame," the hints at what's still to come have everyone buzzing.
In addition to yet another look at the upcoming "Black Widow" standalone film hitting theaters July 9, more scenes from September's "Shang-Chi and the Legend of the Ten Rings," and the very first footage from Oscar winner Chloe Zhao's "Eternals," which hits theaters on November 5, the new video also revealed titles to a couple of movies — including the "Captain Marvel" sequel, which will be directed by Nia DaCosta.
The announcement of the official title of "Captain Marvel 2" now has everyone talking.
Captain Marvel 2 promises a trio of exciting women at its center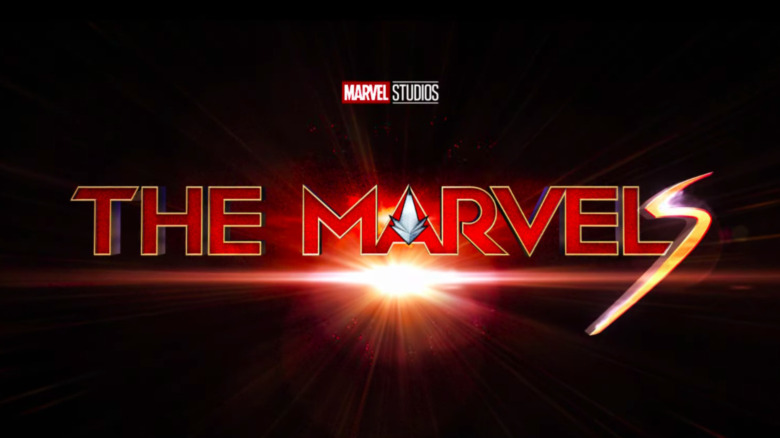 Marvel Studios
The first "Captain Marvel" film was set in the 1990s and told the origin story of Brie Larson's Carol Danvers, who becomes part human, part Kree following an explosion that fuses her DNA with that of the shape-shifting alien race. The highly anticipated sequel — which will be set in the present day and hits theaters November 11, 2022 — will be titled "The Marvels."
This makes a lot of sense in the wake of Monica Rambeau (Teyonah Parris) — who went by the Captain Marvel moniker (among other names) in the comics — developing powers after passing through the walls of the Hex multiple times in the Disney+ series "WandaVision." The comic book character Kamala Khan, aka Ms. Marvel, portrayed by Iman Vellani in the upcoming Disney+ television series "Ms. Marvel," will also be involved in the movie.
So yes, "The Marvels" is a good title for the film. And some fans, like @Bork_22, are ecstatic about the news. "So Captain Marvel 2's been renamed as 'The Marvels'?? That's...really badass," they wrote on Twitter alongside photos of Larson, Parris, and Vellani in costume.
Echoing that sentiment, @Magnetrixz wrote, "The power they hold!! Carol, Monica, and Kamala in The Marvels, cant wait to see them kick some a**."
Others were even more vocal about their excitement. Dropping a ton of F-bombs we won't republish here, Twitter user @AnneComics said the news made this the best day of their lives. Elsewhere, @noradominick wrote, "Captain Marvel 2 is officially named The Marvels and I am going to need 10-15 business days to process this information holy s***."
It seems safe to say that fans everywhere are more than a little excited about "The Marvels," and we can't blame them. It's going to be epic.