Who Plays The Wife In The Jake From State Farm Commercial?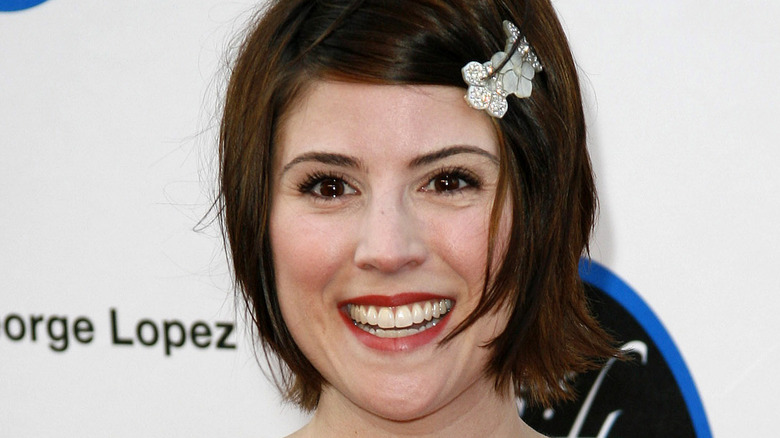 Tinseltown/Shutterstock
It used to be that whenever you saw an actor in a commercial, you had no idea who they were. It was most likely one of their first acting jobs, something to help pay the bills until a television show or film came along. Nowadays, it's not uncommon to see J.K. Simmons promoting Farmers Insurance, or Samuel Jackson and Jennifer Garner asking, "What's in your wallet?" in the Capital One commercials. Starring in commercials no longer means you're a nobody or that you can't get any other acting jobs. It simply means — like Melanie Paxson — you found another way to earn income.
Paxson is well-known to people everywhere as the Glad Girl from the GladWare commercials, who makes you feel like you really need those plastic containers (via Apple TV). She's also been in Target, Serta, and Red Robin commercials. But out of all the lines Paxson has spoken in commercials, perhaps "What are you wearing, Jake from State Farm?" is her most memorable. People loved her as the disgruntled wife who thinks her husband is on the phone having an affair, when he's really just talking to his khaki-wearing insurance agent. But who is Paxson?
The Jake from State Farm commercial goes viral
The Jake from State Farm commercial went viral after it played during the 2011 Super Bowl (via Chicago Tribune), and the original Jake — who was an actual State Farm employee — had to be recast. But even before this commercial, Melanie Paxson was already an accomplished actress. She received her B.A. in Theater at the University of Missouri, before going on to study at Second City in Chicago and perform with the Steppenwolf Theatre. Her filmography over the past two decades is packed with TV shows like "Cupid," "Happy Family," and the popular "Descendants" series. She also has a few films scattered in, the most well-known being the comedy-drama "Saving Mr. Banks," starring Tom Hanks. Of course, Paxson's also starred in many, many commercials.
Paxson's unique, high-pitched voice has definitely helped fans recognize her and her work over the years. According to her mother, Gay Moore (via News-Gazette), "People who know her say when she's appearing in a TV commercial and they're in another room, they run in to see it because they recognize her voice." It's no doubt that Paxson's excellent comedic timing has also helped her build her prolific resume. Paxson can be seen most recently as the Fairy Godmother in the "Descendants" TV movie series, and the Amazon Prime show, "Dealbreakers."