Who Are The Stars In The Capital One 'Dad Mode' Commercial?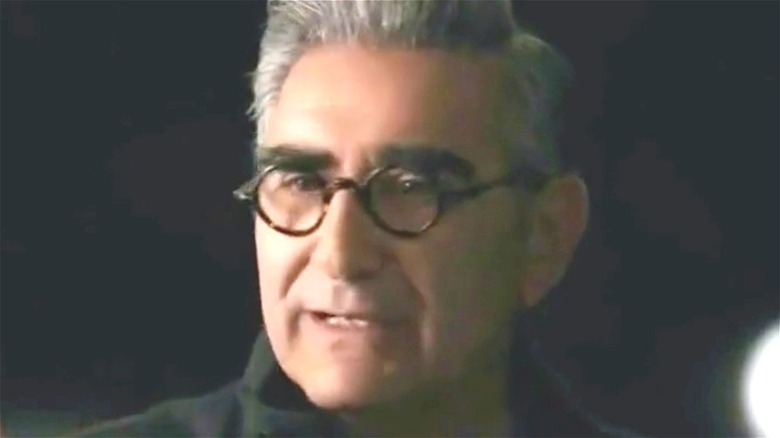 Capital One/YouTube
Capital One loves casting celebrities in its commercials — Jennifer Garner is a regular favorite — but the company's new "Dad Mode" commercial takes things to another level by making the ad a celebrity family affair. The commercial kicks off with a dad knocking on his daughter's door at 4 a.m. to help her begin the process of buying a new car. However, she already has things covered thanks to the Capital One Auto Navigator, a new service that makes buying a car easier.
But that's not just any old dad-daughter duo in the ad; it's Eugene and Sarah Levy of "Schitt's Creek" fame. Since "Schitt's Creek" had a clean sweep at the 2020 Emmys, there's an excellent chance comedy fans instantly recognized the real life father and daughter pair. However, if you haven't watched the hit comedy, Eugene is also known for his roles in the "American Pie" franchise, "Splash," and "Best in Show," among other projects.
No matter what film or television show he's in, Eugene's wry sense of humor always shines through, and it's even on display in the ad. When Sarah turns down his offer for help, he quickly asks, "Who wants French toast?" Which leaves Sarah to say the company's famous tagline, "What's in your wallet?"
The moment manages to be both sweet and funny thanks in large part to the chemistry between Eugene and Sarah, but then again, these two are old pros at working together at this point.
Before teaming up for Capital One's "Dad Mode" commercial Eugene and Sarah Levy were Schitt's Creek stars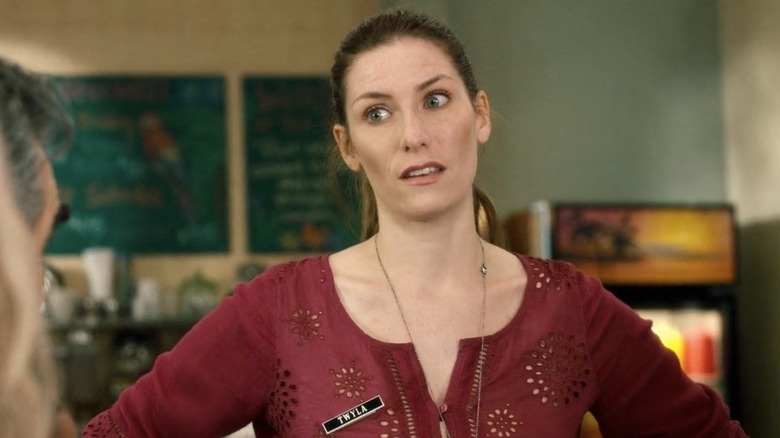 CTV/Pop TV
While Sarah may not be as instantly recognizable as her father and brother (Daniel Levy) — at least not yet — fans of "Schitt's Creek" know she's every bit as talented as the rest of her famous family. The comedy, which focused on the wealthy Rose family moving to the small Canadian town after losing their fortunes, featured Sarah in the role of cheerful diner waitress Twyla. And even though Twyla was a supporting character, the actress proved to be a scenestealer.
But interestingly, some viewers never realized Sarah was Eugene's daughter. In a January 2017 interview with Hello, the actress explained that she was actually glad she was cast as Twyla, rather than as the Roses' daughter, Alexis. "When the show first came out, everyone assumed I was the sister," she said. "I love that that wasn't the case, because it has fully removed me from the hubbub of Daniel and Dad being father and son on screen. I loved that people didn't know that I was related in any way, because I was able to do my own thing."
In that light, Eugene and Sarah's Capital One commercial becomes all the more special, because it marks the first time they've played dad and daughter on screen. (And hopefully, it won't be the last.)