The Best Comics Of 2021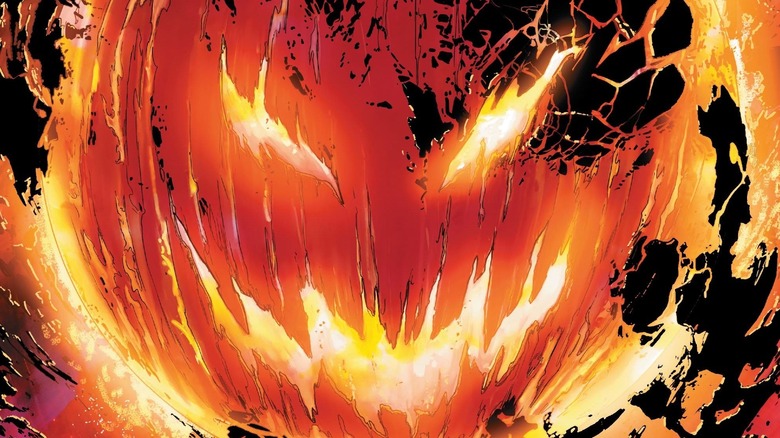 Marvel Comics
After COVID-19 forced everybody to go a few months without new comics in 2020, this year saw a welcome return to the (mostly) dependable weekly publication of fresh sequential art magazines. 
Meanwhile, the distribution side of the biz experienced some significant upheaval. While Diamond Comic Distributors formerly oversaw the dispersal of new product to comic stores for DC Comics and Marvel Comics, as of October, Marvel's direct market distribution is overseen of Penguin Random House Publisher Services. DC switched to Lunar Comics Distribution in 2020.    
As far as important imaginary stuff goes, one-time Superboy and current Superman Jonathan Kent came out as bisexual this year, and the X-Men conquered Mars. Disturbingly, Fox News produced multiple segments on Superman's personal life, yet never mentioned the imminent threat to the American way of life presented by Krakoa now that the mutant nation has gained political supremacy as the new premiere species of the solar system. Where are your priorities, cable news?    
Anyway, here are the best comics of 2021 ... Well, the best direct market comics, anyway. Granted, focusing on monthly, non-digital floppy issues leaves a lot of stuff on the table, but give us a break — we're doing the best we can here.  
Batman: The Imposter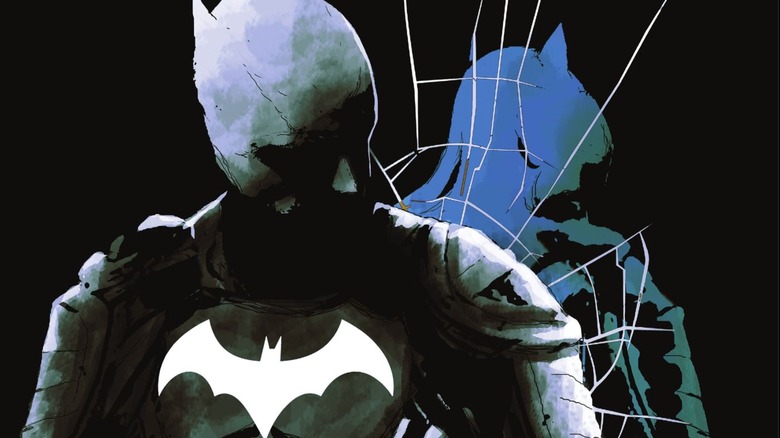 DC Comics
The opportunity to read a Batman story by the same writer behind 2022's Matt Reeves-directed "The Batman" made a heck of a selling point for this three-issue mini-series. However, artist Andrea Sorrentino's concrete nightmarescape and its sprawling, spiraling page layouts are what truly set "The Imposter" apart and ahead of this year's non-canonical Bat-books. 
Set during the early years of Bruce Wayne's secret war against crime, "The Imposter" borrows an idea from Darwyn Cooke's "Batman: Ego" and repurposes it in a much more literal context. Someone other than Bruce is running around Gotham City in a Batman costume killing suspected criminals. Even if we set aside the obvious moral questions, the real Batman's implicit truce with the Gotham City Police Department (GCPD) all hinges on his vigilantism stopping short of homicide. 
Meanwhile, an unrelated set of incidents forces Bruce to undergo routine therapy appointments with Dr. Leslie Thomkins, and an intrepid GCPD detective sets about the unenviable task of uncovering the true identity of The Batman. Will she figure out that it's celebrity millionaire Bruce Wayne? We'll see...
Dead Dog's Bite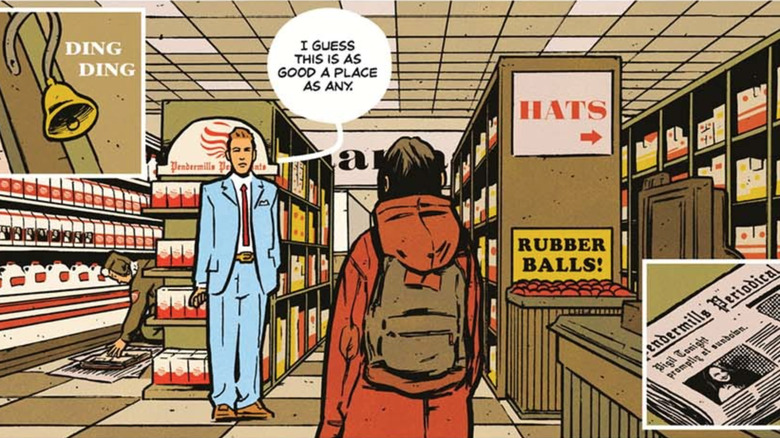 Dark Horse Comics
One part outsider teen coming-of-age saga, one-part small town America dark comedy in the spirit of the Coen Brothers and/or David Lynch, "Dead Dog's Bite" unfolds the story of a teenager searching for her missing best friend, set in a rural candy factory town. While the plot and characters could carry the four-issue series perfectly fine, the book's ability to convey a sense of nagging dread with generally non-threatening imagery is what truly makes this a brilliant read. 
Written and illustrated by "4 Kids Walk into A Bank" and "What's The Furthest Place From Here?" artist Tyler Boss, "Dead Dog's Bite" implies a disturbing secret under the surface of the mundane community of Pendermills. Oddly enough, it actually builds suspense around that secret without anybody's face exploding or reality collapsing in on itself on every other page. 
But why does "Dead Dog's Bite" need a narrator when narrative blocks are a staple of the comics medium? Hmm...it looks like we've stumbled upon yet another mystery.
The Department of Truth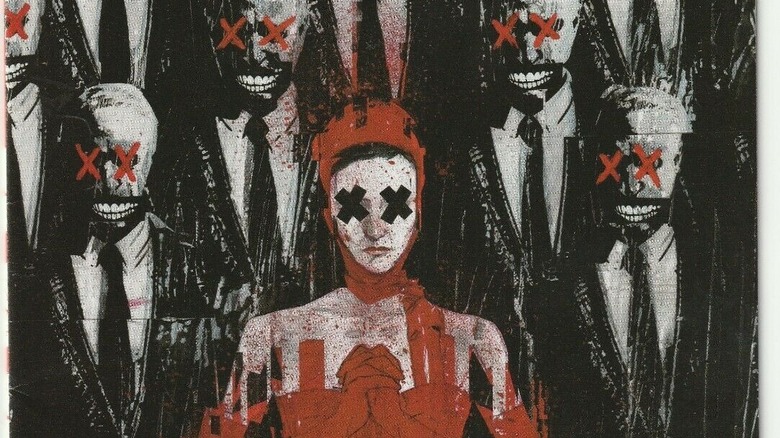 Image Comics
James Tynion IV was busy this year. The onetime "Batman" writer quit DC superheroes to pursue a new slate of creator-owned projects for his Substack newsletter; launched the acclaimed sci-fi/horror series "The Nice House On The Lake"; oversaw the Batbook-wide event "Fear State"; and saw his Boom! Studios ongoing book with artist Werther Dell'Edera, "Something Is Killing The Children," become an in-development Netflix series. But the best work he did all year was probably the thing about Bigfoot. 
Tynion and artist Martin Simmonds' "The Department of Truth" — which might also be a TV show at some point — dives deep into an unsettling American history of espionage, ritual magick, and strategic reality warping. But the series is at its strongest when it zeroes in on oblivious bystanders cut down amid the perpetual shuffling of cloaks and daggers.
Partially presented in seemingly handwritten text, "A Hunter's Diary" chronicles the devastating tale of a family destroyed by an obsession to repeat and validate a supernatural encounter. The two-issue story we could casually refer to as "The Bigfoot arc" feels like a spiritual sequel to 2020's gut-wrenching third issue — in which a grieving mother begins to believe the conspiracy theory that her murdered son was a crisis actor, and therefore still alive.
Without the sense of outrage over human tragedy at its core, "The Department of Truth" might simply disappear down its own rabbit hole; instead, it's one of the most essential reads on the shelf. 
Detective Comics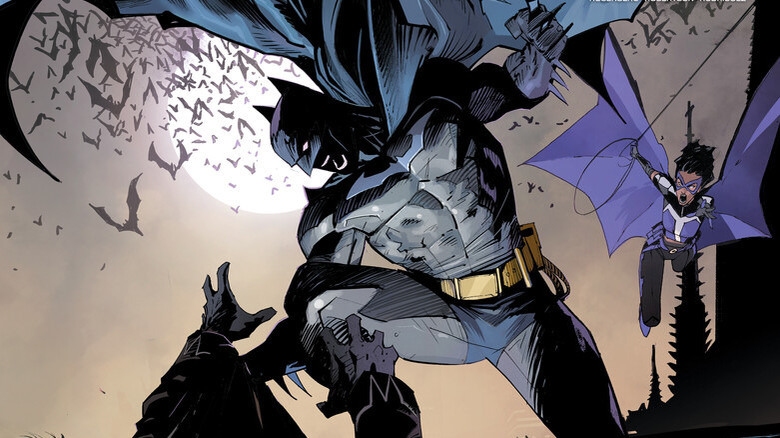 DC Comics
James Tynion IV did a lot of crazy stuff this year, but he didn't write the best ongoing Batman comic. In contrast to titans of the genre like Grant Morrison and Tom King, whose runs with the Caped Crusader explore Big Ideas like the meta-textural nature of serialized fiction or the constant struggle of the traumatized mind, Mariko Tamaki virtually reinvents Bruce Wayne as a rich guy who secretly fights crime in a pointy-eared mask and a cape.   
That's not to imply Tamaki's Gotham lacks metaphor — the sentient insectoid rage parasite Hue Vile surely carries societal implications of some sort. However, her Batman take resonates less like an overwhelmingly important abstract concept and more like the main character in, well, a detective story. 
Artist Dan Mora carries on the down-to-earth Bruce Wayne he doles out in "Future State Batman: Dark Detective," while adding the style of mucky sci-fi/fantasy creatures also seen in his "Once and Future" output. 
Die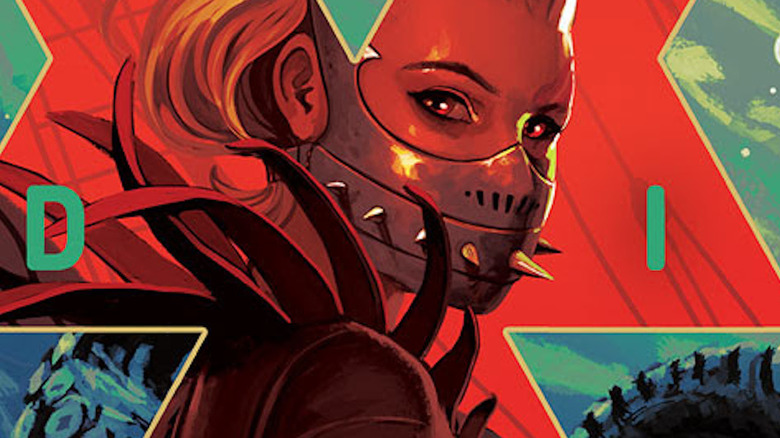 Image Comics
"'WHAT AM I FOR?' asks the amoral god at the end of time to the adventuring party...." So begins the 20th issue of "Die" — with an instant contender for best opening line to appear in a 2021 comic book. 
This installment also concludes "Die" — a tale sometimes described by writer Kieron Gillen as "goth Jumanji," involving Gen Xers trapped for years in a terrifying other dimension that mirrors their tabletop RPG. 
Before it ends — and before we find out if the party ever return home and put their lives back together – an all-powerful deity in a cape and suit of armor with a literal 20-sided die for a head muses aloud about the purpose of it all. After you see it on the page, you can't imagine this series ending any other way.   
As he managed in 2019 with the closure of "The Wicked + The Divine," Gillen demonstrates a remarkable knack for pulling together an arguable excess of story threads into an emotionally satisfying conclusion. Grim and foreboding though they may be, artist Stephanie Hans' fantasy realms retain their sense of wonder via stellar characterizations. The ability to illustrate distinct, expressive faces is an underappreciated skill amongst comics artists, to be sure. 
Guardians of the Galaxy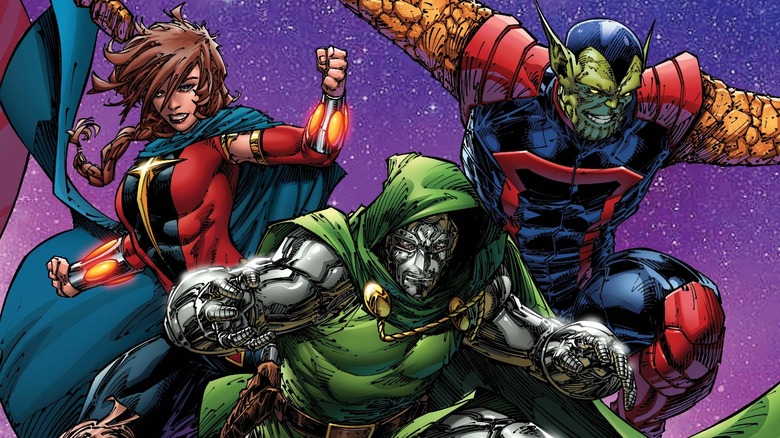 Marvel Comics
Yeah, okay, maybe Doctor Doom's addition to the team didn't add a truckload of substance to the final arc of Al Ewing's "Guardians of the Galaxy." But maybe — especially in the moonstruck whizbang realm of cosmic Marvel — not everything needs a watertight reason to happen? Maybe Doctor Doom in the Guardians of the Galaxy is totally awesome, and that's enough rationalization? 
Plus, there's still room for a spare sales-goosing indulgence or two in "The Last Annihilation" — a solidly executed event conjured by Ewing, artist Juan Frigeri, and a handful of others. This "Annihilation" links up "Guardians," Ewing's "S.W.O.R.D." and characters from The Intergalactic Nation of Wakanda. Their mission: foil Dormammu The Living Planet's agenda of moving the entire galaxy into the severely unpleasant Dark Dimension in which he normally resides. 
This is a welcome instance of a Marvel Event that resonates like a sufficiently cosmos-altering crisis, without demanding the participation and preoccupation of every other Marvel title. It's a nice change of pace! 
Hellions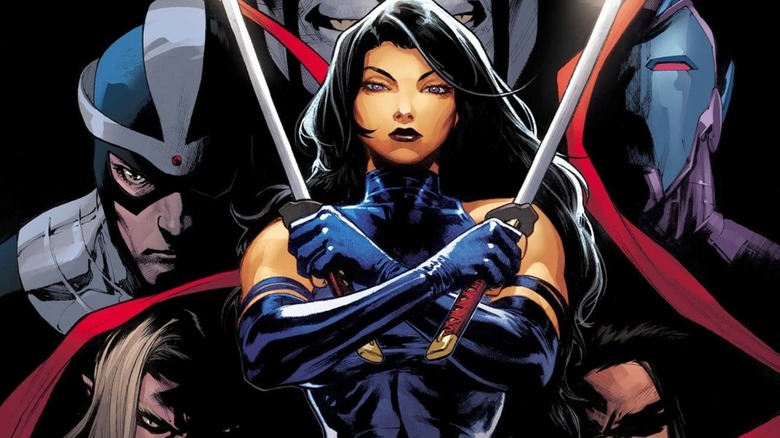 Marvel Comics
It was a pretty weird year for X-Books. The Hellfire Gala event — culminating in the mutant nation of Krakoa annexing the planet Mars and rechristening it Arakko — dominated the summer season. The August announcement that Jonathan Hickman would be stepping away from the line certainly felt like a disappointment for those of us whose minds remain blown by his pair of 2019 mini-series with Pepe Larraz and R.B. Silva, "House of X" and "Power of X."
Meanwhile, the Krakoan era's answer to DC's Suicide Squad hacked, stabbed, and blasted through slightly off-kilter adventures more-or-less under the radar. With headlining characters Mr. Sinister and Psylocke — that's Psylocke the ex-assassin Kwannon, not Betsy Braddock, fyi — Zeb Wells and artist Stephen Segovia pull a handful of problematic mutants together in hopes of them functioning in a mutually redemptive capacity. Their missions include deterring the evil plans of Arcade, Master Mind, Tarn the Uncaring, and...uh, Mr. Sinister.     
One of the prevalent criticisms of Hickman's X-stuff is its reliance on high-concept sci-fi themes, arguably at the expense of the multi-faceted character interactions that truly make an X-team pop. This series — which, to our disgruntlement, ends with issue #18 — has its team do a little more than interact. And by "a little more than interact" we mean they murder each other.
Home Sick Pilots
"Home Sick Pilots" is a haunted house story about feuding high school rock bands set in the '90s. It contains a monster with a massive horseshoe for a head, and a different monster made entirely of VHS tape. In the second arc, we're introduced to a suit of blood that functions roughly like a Marvel symbiote; an Evangelion-style mech suit; and a giant ball of screaming, dead Nazis. 
This series can be a lot, and part of its appeal over the last few years has simply been seeing what kind of wild mindpluckery writer Dan Watters and artist Caspar Wijngaard have in store this time around. 
If we had to criticize the first volume of "Home Sick Pilots," we'd admit it occasionally feels like a bundle of gleefully deranged visuals and cultural reference points in constant danger of collapse. However, this year's slate of "Home Sick Pilots" — collected under the banner "I Wanna Be A Walking Weapon" — doesn't share its predecessor's lack of cohesion. 
Technically, "I Wanna Be A Walking Weapon" contains just as much sci-fi/horror mayhem as the first arc – so "Home Sick Pilots" isn't easier to follow because it became simpler. We suspect putting a few of its adorable punks on a train-hopping expedition tethers the series to a needed sense of relatability. Most of us haven't encountered a sentient haunted house, but we all recognize teen angst.  
The Many Deaths of Laila Starr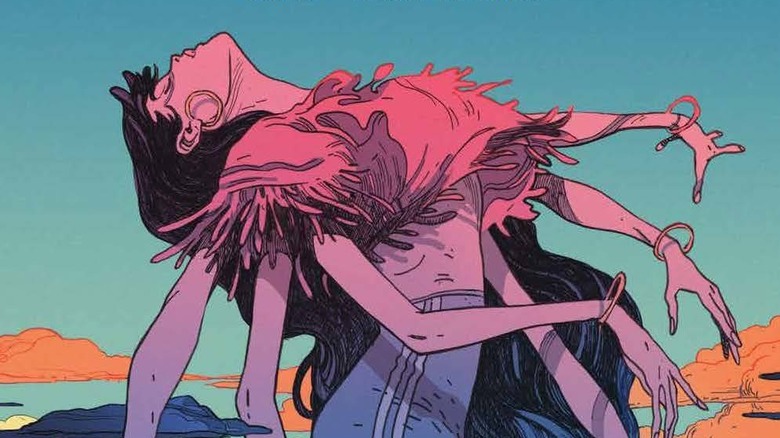 Boom! Studios
Between "Swamp Thing," "Catwoman," a handful of other projects for DC, plus co-authoring the new "Venom" with Al Ewing over at Marvel — Ram V has had a prolific year in Big Two superhero scribing. On the creator-owned side of 2021, V delivered the multi-era-spanning folk tale "The Many Deaths of Laila Starr" alongside artist Filipe Andrade — who Marvel nerds may recognize from his work on Kelly Sue DeConnick's "Captain Marvel."
A scientist in Mumbai, India, is destined to discover the secret of immortality. Obviously, this presents a problem for the sentient entity of Death. In the form of a long-deceased young woman named Laila Starr, Death stalks the scientist throughout his existence in hopes of undermining his efforts and maintaining her position.
If that sounds like the plot of a horror comic, let's just say this version of Death is little less Ingmar Bergman, and a little more Neil Gaiman. Essentially, it's a story about a character going to tremendous lengths to avoid getting laid off. For that matter, it's also a celebration of life's magic...even though (or is it "because"?) the main character is the embodiment of Death.
Primordial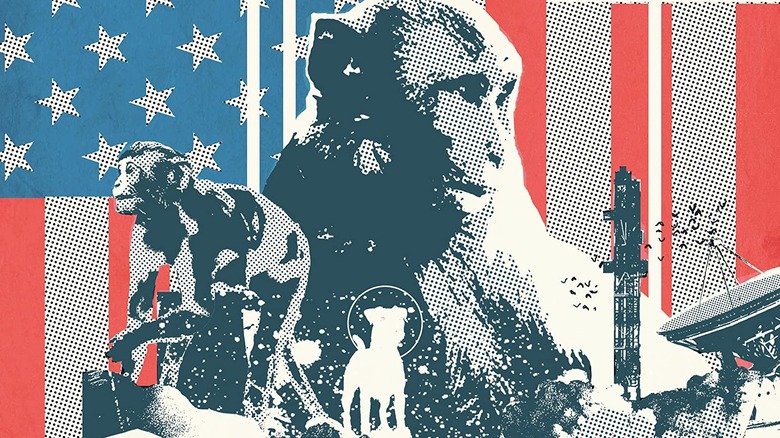 Image Comics
Our reflex is to draw comparisons between Jeff Lemire and Andrea Sorrentino's "Primordial" and the classic cyborg tragicomedy "We3" by Grant Morrison and Frank Quitely — because of the talking animals in otherwise serious-ish sci-fi. 
There's certainly a connection to be made — both series prominently feature non-humans placed in extraordinary, extremely dangerous circumstances by humans who weren't concerned about hashing out their knowledge or consent before the fact. However, while "Primordial" is inspired by real-life history surrounding the 1960s space race and Cold War, it gazes upwards towards a psychedelic outer cosmos. The energy here is very "2001: A Space Odyssey." 
With only three of its six issues currently on the shelf, it's too soon to guarantee an optimistic conclusion for the unwitting test pilot pals of "Primordial." But even though Laika the dog plus Abel and Baker the chimps were shot into space and presumed dead by their respective governments, maybe they'll pull through and become the furry, friendly, terrifying gods of time and reality?    
Supergirl: Woman of Tomorrow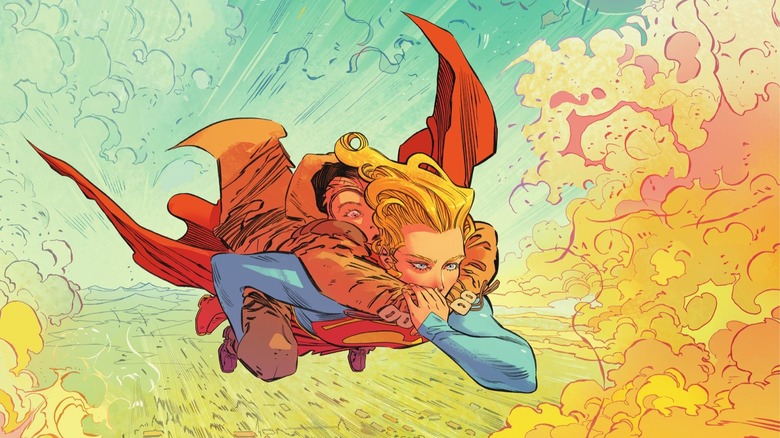 DC Comics
Having written 2017's landmark "Mister Miracle" series — potentially the greatest superhero story of the millennium thus far — and plenty of stuff that wasn't as good, Tom King is a fairly polarizing entity. His stories tend to approach capes and costumes from an emotionally grounded, everyman perspective. Clearly, he seems like a bad choice to write a space opera-style adventure starring one of the publisher's least grimdark main characters, drawn by fantasy-specialist Bilquis Evely — but sometimes, appearances can be deceiving.
In "Supergirl: Woman of Tomorrow," a "True Grit"-type scenario unfolds when a cosmic ne'er-do-well slays a young girl's father and wounds Krypto the Superdog. Kara Zor-El and the recently orphaned Ruthye embark upon an intergalactic road trip to confront the attacker, told in retrospect from the memories of a much older Ruthye. Essentially, it's Supergirl meets "Star Wars" with a literary twist. 
While "Woman of Tomorrow" feels a little out of sync with the rest of the DC Comics line, we're not sure that's a problem. Fans of the recently concluded "Supergirl" WB show looking for a new source of Zor-El might find this miniseries' self-containment more welcoming than an ongoing series. Also, basically every other Batman story takes place out of continuity, and nobody seems to mind.
Superman and the Authority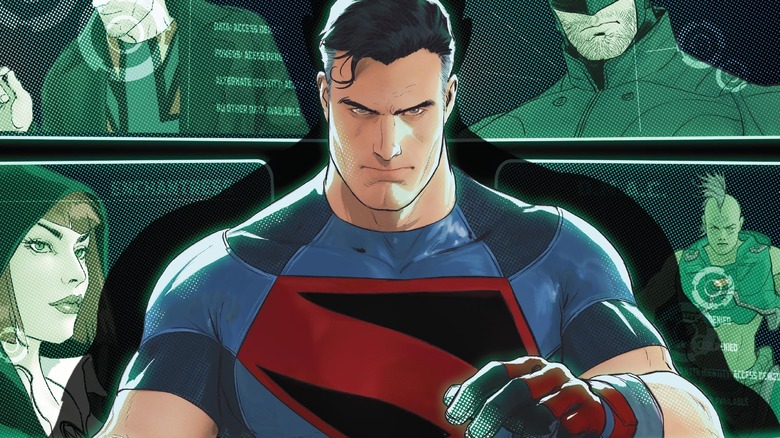 DC Comics
In a year when Phillip Kennedy Johnson sent Kal-El to War World for the showdown to end all showdowns against Mongul, and Jonathan Kent triumphantly soared across a barrier under the guidance of writer Tom Taylor, does Grant Morrison and artist Mikel Janin's "Superman and The Authority" deserve accolades as this year's best title featuring the Man of Steel? 
Isn't Morrison mostly just playing the hits with this mini-series centered around a Superman who feels (we should emphasize, "feels") like a universal, out-of-continuity interpretation, forming a new team alongside a foulmouthed British telepath who'd feel right at home amongst The Invisibles? Aren't we falling into an early '00s nostalgia trap? 
Well, so what if we are? But after their polarizing run with Green Lantern, maybe Morrison going back to the well — if only for four issues — is like a "Ghostbusters: Afterlife" for people who have read "All-Star Superman" 10 times. 
Fighting back against the traditionalist urge, "Superman and The Authority" blends classic archetypes with the newer models — including Apollo; Midnighter; Enchantress; and Natasha Irons, the current Steel — then carries on directly into "Action Comics" #1036. It's as if the best ideas from the past actually work better with modern concepts, instead of in opposition to them.