Sabrina Will Come To Riverdale In A CW Crossover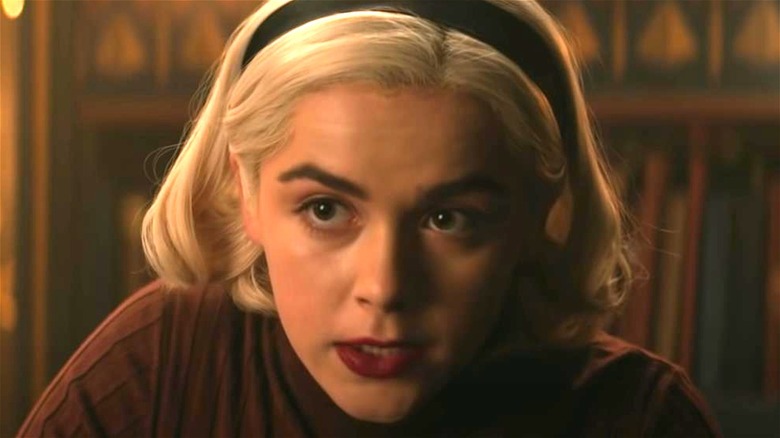 Netflix
The CW has made crossover events must-see TV for comic book fans in the last few years thanks to the Arrowverse's propensity to throw all its heroes together to face huge threats. The network is back at it again with its Archie Comics TV shows, "Riverdale" and "Chilling Adventures of Sabrina." Fans have wanted to see characters from the two shows together for quite some time, since the two towns of Riverdale and Greendale exist in close proximity to each other.
In fact both shows name drop the other on multiple occasions — Archie Andrews (K.J. Apa) and Jughead Jones (Cole Sprouse) even take a trip to Greendale for Penny Peabody (Brit Morgan) in Season 2. Although "Riverdale" Season 5 recently finished — and it'll return for Season 6 — "Chilling Adventures of Sabrina" wasn't so lucky. The supernatural series was canceled by Netflix back in 2020, thanks to the ongoing pandemic. It's a huge shame, since Sabrina Spellman (Kiernan Shipka) dies in the Part 4 finale, leaving her in the afterlife with Nick Scratch (Gavin Leatherwood).
But Sabrina's death in the series isn't stopping her from appearing on "Riverdale" in Season 6, and we already know what role she's going to play in the special episode.
A Spellman and Blossom alliance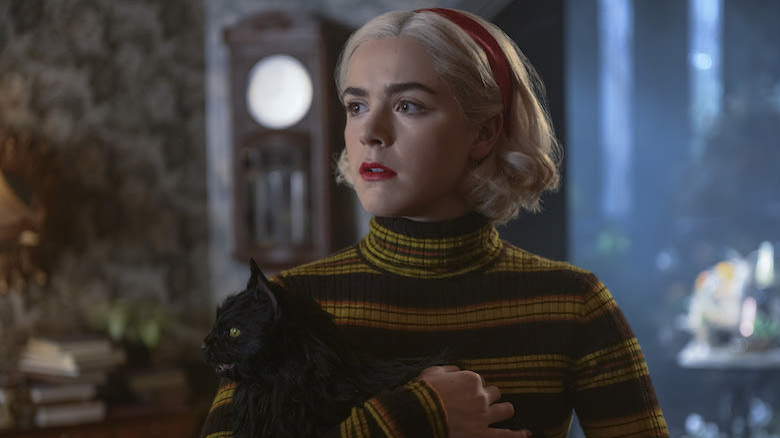 Netflix
Entertainment Weekly recently revealed that Sabrina will appear in "Riverdale" Season 6, Episode 4 "The Witching Hour(s)." The Season 5 finale reveals that Cheryl Blossom's (Madelaine Petsch) ancestor was burned at the stake for being a witch, setting the stage for Cheryl's own witchy abilities to come forward. As per EW, the logline for the episode explains "Cheryl is performing a dangerous spell, one that may mean the difference between life and death for a beloved member of the Blossom family." So it seems like Sabrina might step in to give Cheryl a helping hand with her spell.
Showrunner Roberto Aguirre-Sacasa told the outlet that the crossover has been in the works for quite some time, saying, "We've been talking about having Sabrina visit 'Riverdale' since season 1, so it's thrilling that this is finally happening, as part of our 'Rivervale' special event." He also went on to say, "It's also perfect that she shows up to help Cheryl Blossom during her hour of greatest need." 
Sabrina Spellman herself, Kiernan Shipka, also got fans excited with a post on Instagram of herself dressed in black on the Riverdale set. The episode will be a part of the "Rivervale" five-episode event, which starts on November 26, and has a darker tone. Roberto Aguirre-Sacasa recently told TVLine, ​​"Things are a little bit darker, a little bit weirder, a little more twisted in Rivervale." 
So at least there isn't long to wait after the surprising Season 5 finale.