The Biggest TV And Movie Twists Of 2021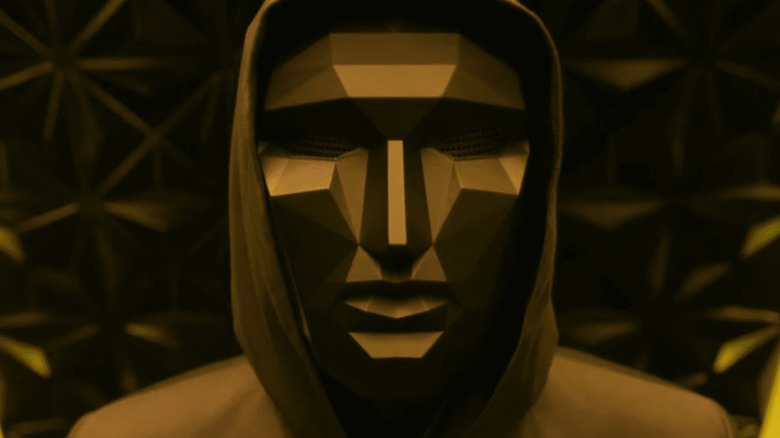 Netflix
With 2021 coming to a close, it's the perfect time to look back at the year's best movies and TV series and the moments that defined them — in particular, the biggest twists that shocked audiences and got fans talking. From the big screen to the small, 2021 featured a ton of surprising reveals and compelling mysteries, keeping viewers on the edge of their seats from January through December. But of course, not all twists are created equal, and that was certainly true this year as well.
A twist can mean different things depending on the story it is set in. Some of 2021's biggest surprises came in one-off films. whose entire plot hinged around a shocking mystery revealed in the final act. Other twists sparked massive discussion because of their larger implications — the ways they showed past storylines in new light or set up exciting possibilities for the future of major franchises. Whatever the nature of the twist, the goal is always the same: leave viewers with jaws agape, stirring up fun conversation around the deeper meaning of the story at hand.
From murder mysteries and horror flicks to cartoons and the MCU, 2021 provided audiences with plenty of surprising developments to talk about. Here are some of the biggest, spoiler-heavy twists from movies and TV shows this year that made us fall out of our chairs in shock.
Sweet Girl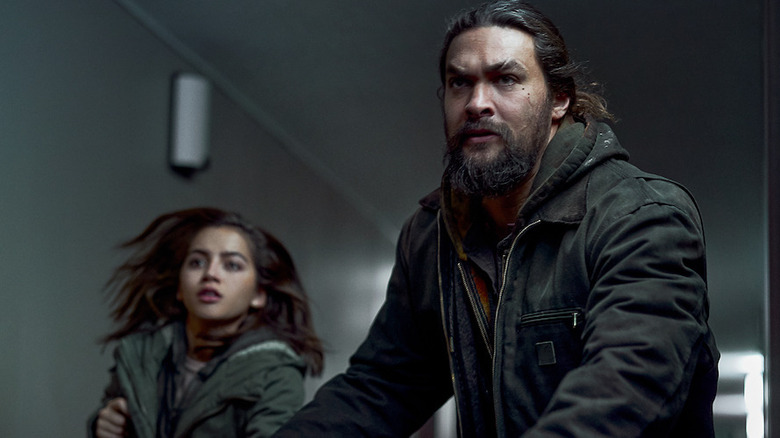 Netflix
At face value, Netflix's "Sweet Girl" looks like an unoriginal but entertaining revenge thriller. Jason Momoa is the perfect star to helm such a project, and the trailers teased a topical storyline about the inherent cruelty of corporate greed in the American pharmaceutical industry. While some of those elements remain in play throughout the final film, "Sweet Girl" is run completely off the rails by a third-act twist of Keyser Söze proportions — albeit, with a significantly worse critical reception.
For those who haven't seen "Sweet Girl," it is revealed late in the story that Ray Cooper (the protagonist played by Momoa) actually died early on in the movie. His daughter Rachel (played by Isabela Merced) is revealed to have hallucinated his existence for most of the movie, overwhelmed by the trauma of losing him just shortly after the death of her mother. While "Sweet Girl" has been critically panned, it earns a spot on this list simply by the sheer boldness of this twist at its core. Does it make the movie better? No, absolutely not. But does it make "Sweet Girl" one of the most memorable films Netflix released in 2021? For sure.
Masters of the Universe: Revelation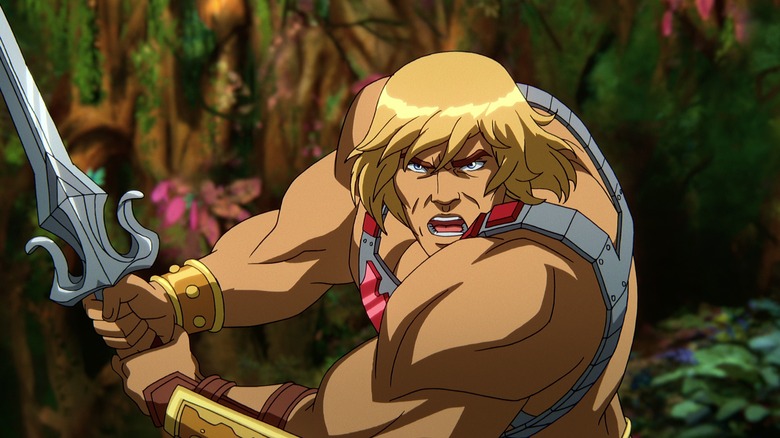 Netflix
Any time an old franchise returns from the depths of inactivity, there's bound to be a mixed reception. Some fans will always prefer to leave the classics in their original time and avoid any efforts to update them for new generations. Others are simply excited at the prospect of new stories set in their favorite universes. Leading up to its release, "Masters of the Universe: Revelation" looked like a home run. The tone seemed to perfectly balance the cartoon energy of the original show with more mature thematic ideas, the animation was gorgeous, and it had a true fan helming the project in Kevin Smith. But when the first season of the show was released on Netflix, one big twist became a major sticking point.
Of course, the twist in question is He-Man's death — which takes place at the end of the very first episode of "Revelation." Even though Prince Adam remains a core part of the story as he journeys to a mystical afterlife and returns to continue the battle against Skeletor, lots of viewers simply couldn't get over the franchise's lead protagonist biting the dust so early on. The twist became the dominant point of conversations surrounding the whole show, which is a shame given how critically-acclaimed "Masters of the Universe: Revelation" has become. The series' stellar 90% critical rating and lackluster 42% audience rating on Rotten Tomatoes are testament to how intensely divisive "Revelation" has been. Hopefully, now that Part 2 has been released, some of those same viewers can return to the series with fresh eyes and more open minds.
Malignant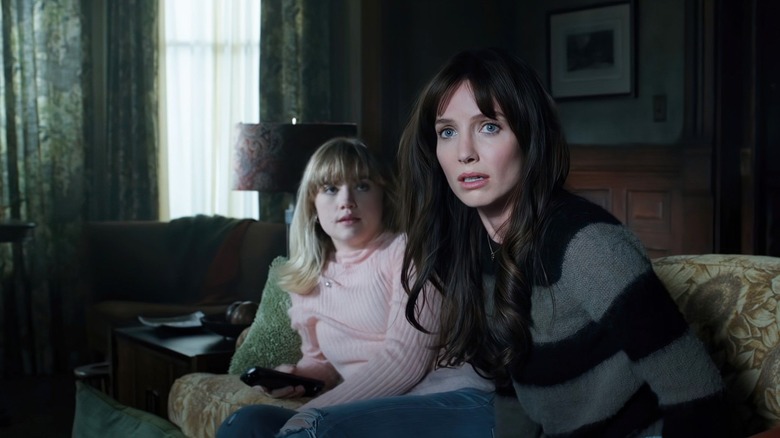 Warner Bros. Pictures
2021 saw contemporary horror auteur James Wan return to the genre with "Malignant," a stylishly unsettling film about a mysterious killer with supernatural powers haunting a woman named Madison Lake. The first half of the film follows a pretty typical pattern for the genre, with Madison experiencing strange, dreamlike connections to Gabriel — her childhood imaginary friend, who suddenly appears to be real and goes on a murderous spree. Then halfway through "Malignant," a huge twist reveals that there's more to Gabriel and Madison's connection than meets the eye.
Explaining all the ins and outs of the "Malignant" twist is a challenging proposition, but here's the gist: Gabriel is actually Madison's twin brother, born as a sentient teratoma tumor protruding from her back and sharing her brain. Surgery removed most of Gabriel from Madison's body, but left him present in her brain, explaining why she heard him as an imaginary friend growing up. Though he went dormant after Madison's childhood, he reawakens after she suffers head trauma at the hands of an abusive partner.
The reception to the "Malignant" twist was somewhat mixed upon release. Some viewers loved the extreme nature of the reveal and praised Wan, while others found Gabriel's true identity more confusing and distracting than compellingly creepy. Regardless, "Malignant" will surely be remembered as having one of the biggest twists of 2021.
Spiral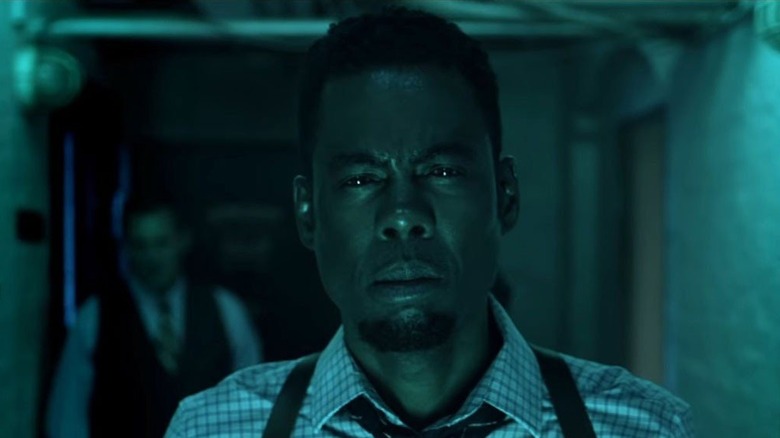 Lionsgate
For years, the "Saw" franchise reigned as one of the biggest horror movie brands in the world, promising plenty of twists and turns each Halloween season whenever new films were released. That trend went on hiatus from 2010 to 2017 (during which time no new "Saw" films were produced), and again from 2017's "Jigsaw" to 2021's "Spiral" –- a spinoff film set in the same universe as its predecessors, but which crafts a more independent story.
Spinoff or not, no "Saw" film is complete without some big twists at the end, and "Spiral" does the series proud in that regard. Detective Zeke Banks' (Chris Rock) hunt for a Jigsaw copycat killer culminates in a climax where the culprit is revealed to be his former partner William Schenk (Max Minghella). The twists don't stop there, however, as Schenk gives Banks a final ultimatum of killing him or saving his father (Samuel L. Jackson). 
Banks takes the second option — but before his father is completely safe, police backup arrives, mistaking Banks Sr. for being the suspect and shooting him dead as he appears to be wielding a deadly weapon. Schenk escapes, concluding the film on a devastating note filled with sequel potential. It's not the most shocking or earth-shattering twist of the year, but it does reach a certain depth as commentary on police shootings of Black men, and on a more superficial level sticks the landing as a nice return to form for a franchise that has been out of the public eye for a while, and which as a whole already sits in the plot twist hall of fame. Welcome back, "Saw."
Loki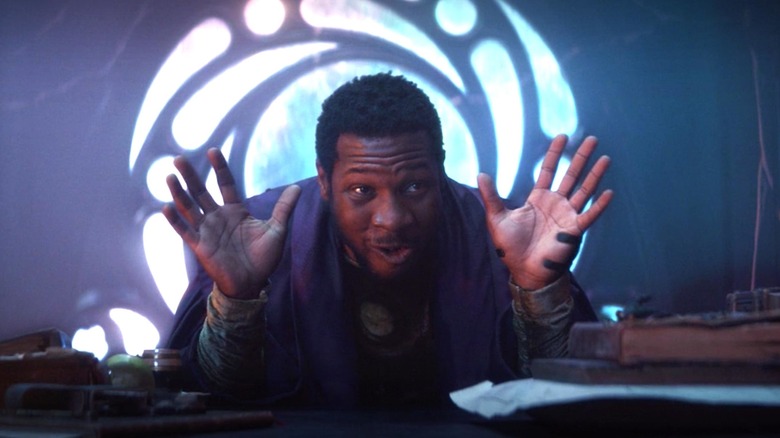 Disney
From the start, Marvel Studios' "Loki" is filled with mysteries. The MCU's third Disney+ streaming series covers a huge amount of ground in terms of world building, setting up big franchise concepts like the multiverse, new forms of time travel, and variants of preexisting characters. Even as those details revealed themselves, however, the force behind the TVA and all its temporal antics remained shrouded in darkness. That is, until the end of the series.
Loki and Sylvie's journey through time and space ultimately dropped them in a gothic estate known as the Citadel at the End of Time, inhabited by a near-omniscient figure called He Who Remains. Of course, those who keep up with MCU casting news will know that the character, played by "Lovecraft Country" star Jonathan Majors, is actually a variant of Kang the Conqueror — one of the most notorious Marvel villains. To be fair, that villain twist was predicted by a number of fans, but its impact is still massive. By killing He Who Remains, Sylvie frees the Sacred Timeline forever, creating endless possibilities for future MCU stories that have already been explored in projects like "Marvel's What If...?"
The Kang reveal in "Loki" sets up years of future storylines for the villain, essentially establishing him as the new Thanos. And the surprising way in which his confrontation with Loki and Sylvie ends has opened up all kinds of possibilities for the multiverse going forward. Since the commencement of Phase 4, the ending of "Loki" stands as one of the most important things to happen in the MCU, and its most exciting implications haven't even begun to be explored.
Venom: Let There Be Carnage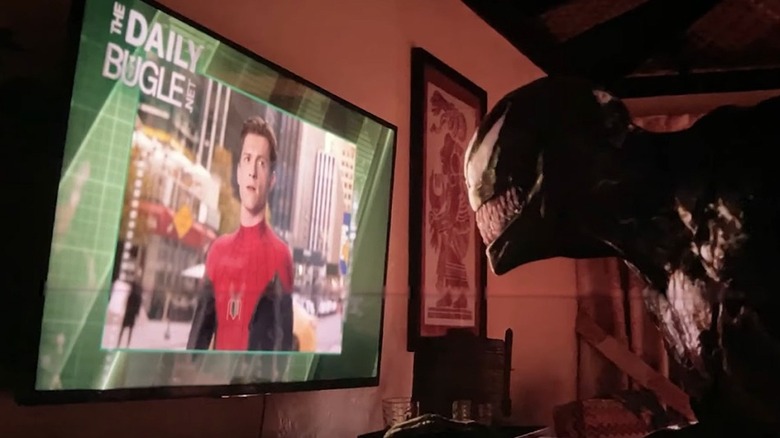 Sony Pictures
Speaking of MCU twists, the post-credits scene of "Venom: Let There Be Carnage" earns a spot on this list by the sheer absurdity of its implications. In the final moments of the film, Edie and Venom (Tom Hardy) are shown sharing some well-deserved rest-and-relaxation after vanquishing Carnage (Woody Harrelson). Suddenly there's an earthquake, and when the ground stops shaking, the two protagonists find themselves in a different room, watching a different program on the TV. That program ends up being a news show featuring J. K. Simmons' J. Jonah Jameson character, followed by a close-up shot of Tom Holland's Spider-Man.
The idea that Sony's Marvel film franchise — which is expanding dramatically in the coming years with films like "Morpheus" and "Kraven the Hunter" — is crossing over with the MCU is something most people thought was impossible. How exactly that overlap will take place still hasn't been fully revealed, but it's safe to say that the "Venom 2" twist is in the running for the most exciting post-credits scene this year.
Midnight Mass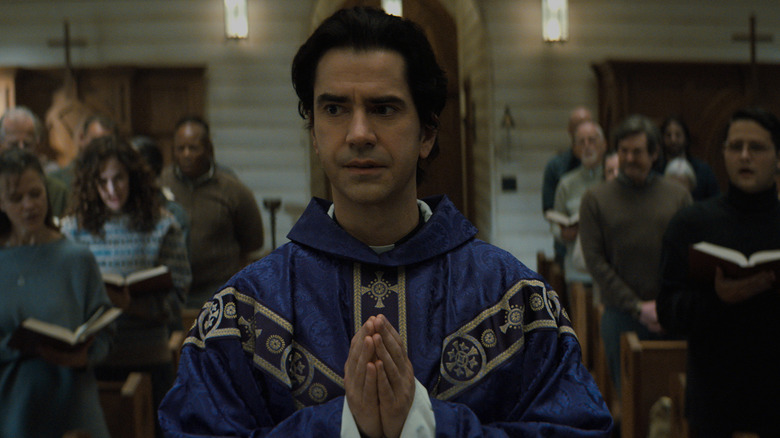 Netflix
Following the critically acclaimed "Haunting of Hill House" and "Haunting of Bly Manor," Netflix viewers waited with anticipation to see what Mike Flanagan would do next. The answer was "Midnight Mass" — a show with all the nuanced writing, high production value, stellar performances, and terrifying scares fans of his prior two series had come to expect. As one of 2021's best horror shows, "Midnight Mass" is well-deserving of a spot on this list, and though it has a plethora of twists sprinkled throughout its seven episodes, the biggest of them all might be Father Paul Hill's true identity.
The inhabitants of Crockett Island are surprised at the start of "Midnight Mass" when the young priest arrives and declares that he'll be taking the place of Monsignor Pruitt, who he says is recovering from an illness on the mainland. In fact, Father Hill turns out to be none other than Monsignor Pruitt himself, revitalized in a younger body by the blood of an angel. While the reveal of Father Hill's secret identity might not be the most graphic or climactic twist in "Midnight Mass," it's unsettling and sublime in its execution, and it sets up all the horrors that follow in stellar fashion.
Ted Lasso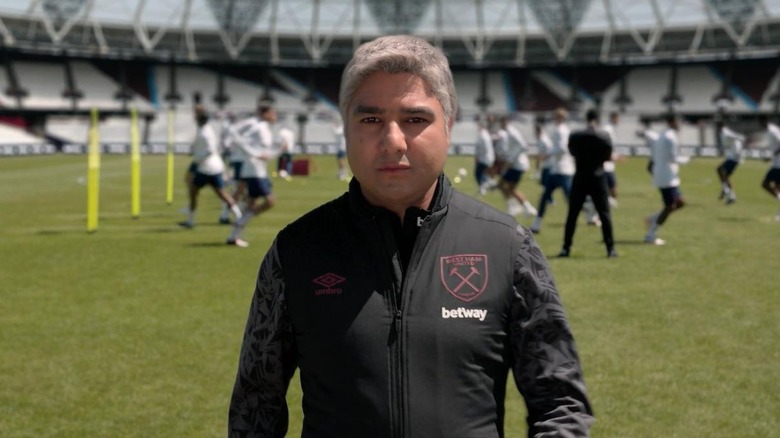 Apple
"Ted Lasso" is not the kind of show you'd expect to have major plot twists, but Season 2 delivered several in 2021. The surprise Apple TV+ dramedy hit about an American football coach (Jason Sudeikis) leading an English Premier League team stayed strong in its second season, and one of its most unexpected plotlines had underdog-turned-coach Nate Shelley (Nick Mohammed) becoming a surprise villain.
The Nate twist isn't some sudden shocker. In fact, it's been a relatively slow burn. The whole season shows the character gradually becoming more and more disgruntled with his own perceived lack of respect, pushing him to angry outbursts and questionable decisions within his own relationships. All the while, Nate's hair turns bit by bit from jet black to snow white, culminating in a painful scene of him yelling at Ted, storming out of the AFC Richmond locker room, and ultimately joining series villain Rupert Mannion as a coach for his own football club. It's possible that Nate could find redemption in "Ted Lasso" season 3, but that remains to be seen.
Rick and Morty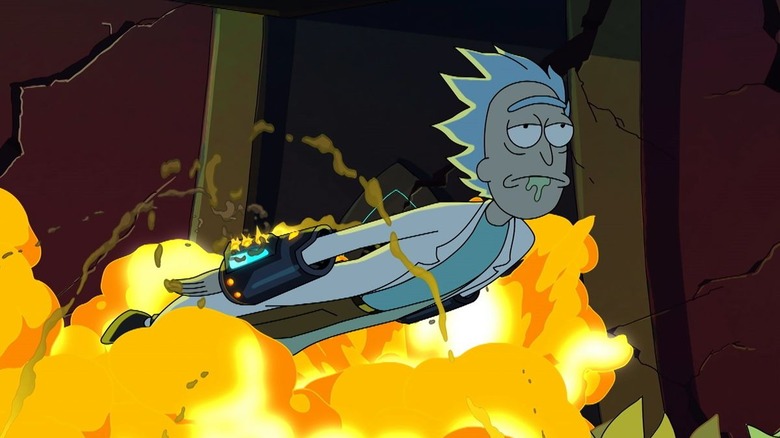 Adult Swim
Since the very start of "Rick and Morty," viewers have been clamoring for more canonical information about Rick's mysterious backstory. At different points, the show has dropped bits and pieces of the character's past, but usually without confirming whether or not the details divulged were actually true or just lies fabricated by the genius scientist. All that doubt stopped at the end of "Rick and Morty" Season 5, however, when a beautiful and tragic montage laid bare Rick's entire history leading up to the first episode of Season 1.
The Season 5 finale reveals that the sad backstory hinted at in the first episode of Season 3 was all true — a backstory that involved Rick being contacted by another Rick from another reality, refusing to join the inter-dimensional community of Ricks, and subsequently seeing his wife and daughter murdered by a bomb presumably sent by the same Rick he previously spurned. Following a period of alcohol-fueled grieving, Rick embarked on a years-long quest to find the Rick responsible for ruining his life. He killed countless Ricks, but none of them ended up being the right one. Ultimately, Rick lost his passion for vengeance and drunkenly journeyed to a reality where his daughter survived — the reality where he meets the main Morty of the show.
Getting such a complete, compelling backstory for Rick after years of waiting was a shock, and it was only magnified by other twists present in the excellent "Rick and Morty" Season 5 finale. Those include a culmination of the "Evil Morty" storyline and a reveal that Rick and Morty have only ever visited a certain subset of realities in which Rick is the smartest person in the universe. It's unclear where exactly the series will go from here, but the possibilities are incredibly exciting.
Last Night in Soho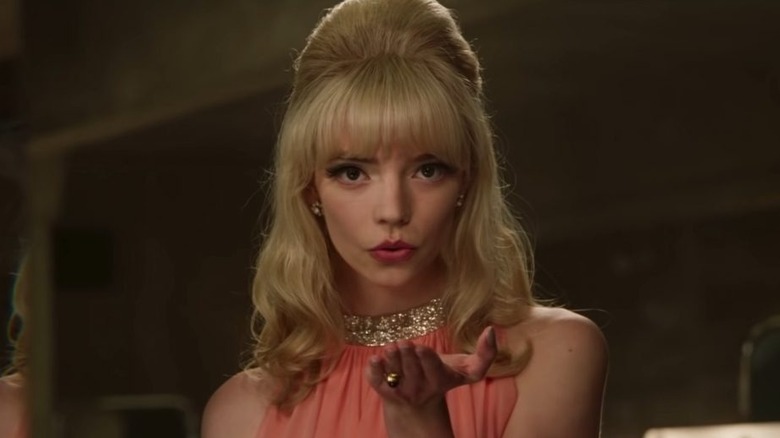 Universal Pictures
Edgar Wright's latest film "Last Night in Soho" combines mystery and supernatural thriller elements with a brilliant swingin' '60s style. It also ends with a major twist regarding Sandie, the woman who lead protagonist Eloise (Thomasin McKenzie) keeps seeing in vivid, urgent visions. Sandie's story — set decades before Eloise's own — shows her being taken advantage of and presumably killed by a cadre of deplorable and dangerous men, only for the film to later reveal that Sandie survived. Not just that, but she's actually Ms. Collins, the very woman Eloise has been renting a room from the whole time.
The blending of supernatural elements with more realistic mystery in "Last Night in Soho" is a big part of what gives the film its unique energy, and those elements are brought together beautifully (and shockingly) in the Sandie twist. The plotline still ends up tragically for her, but her return as Ms. Collins in the present day brings the story full circle, sending viewers off with a powerful final image that won't be fading anytime soon.
Invincible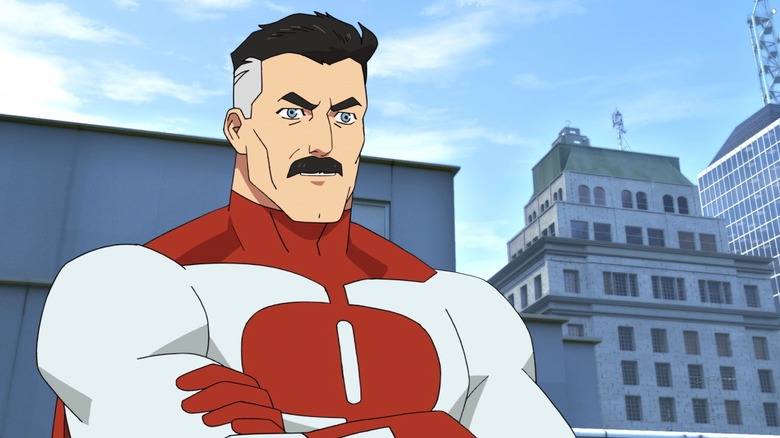 Amazon
"Invincible" plays with tropes and expectations of the superhero genre in a number of interesting, thought-provoking ways, but there's no bigger twist in the Amazon series than the one at the core of Season 1: Omni-Man's secret identity as a villain sent to conquer Earth. Rather than some late-stage shocker, the Omni-Man twist is first glimpsed at the end of the very first episode, after the Superman stand-in kills Earth's greatest heroes in a brutal display of violence. It's an unsettling scene that sets the tone for what's to come, and paints all of "Invincible" with a different energy than most modern superhero stories.
The idea of a dark Superman isn't exactly brand new, but it's pulled off particularly well in "Invincible." The relationship between Omni-Man and his son makes the villain turn that much more shocking and painful. Their push and pull throughout Season 1 is riveting to watch, culminating in an epic, intensely emotional battle at the end. There's a lot to love about "Invincible," but the Omni-Man twist stands as one of the best parts of the entire show.
Old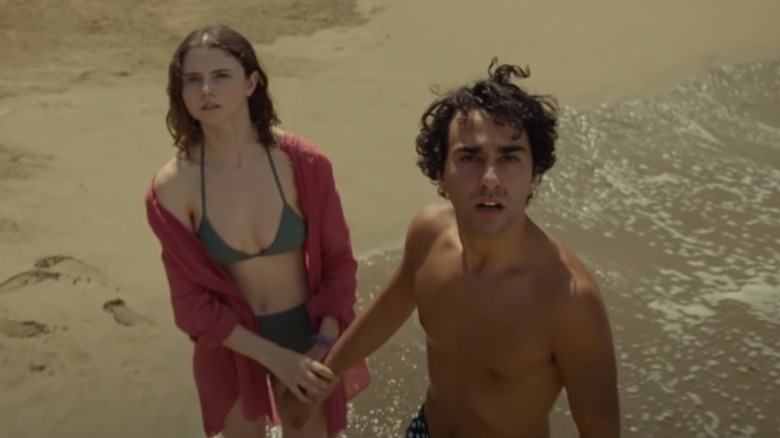 Universal Pictures
A list of twists wouldn't be complete without some representation from Hollywood's twist master supreme, M. Night Shyamalan. The "Sixth Sense" director has had as many downs as ups in recent years, and 2021's "Old" fully embodies that divisiveness. The horror thriller holds an exact 50% rating on Rotten Tomatoes, with some viewers and critics praising the film as one of Shyamalan's best, and others lambasting it.
Regardless of personal opinion, "Old" certainly has some interesting ideas running beneath its surface, many of which tie directly into the final twist of the film. After the rest of the group dies from the rapid-aging effects of the mysterious beach they're trapped on, siblings Trent and Maddox manage to escape. They discover that the beach is being used as a secret testing site by a pharmaceutical company. Because people age so rapidly while there, the villains are able to observe lifelong effects of different experimental drugs, and they lure in group after group of unwitting test subjects to die in their cruel research. Fortunately, Trent and Maddox manage to get the operation shut down after getting away, but "Old" still leaves you with a deeply unsettling taste in your mouth after the twist is revealed.
Mare of Easttown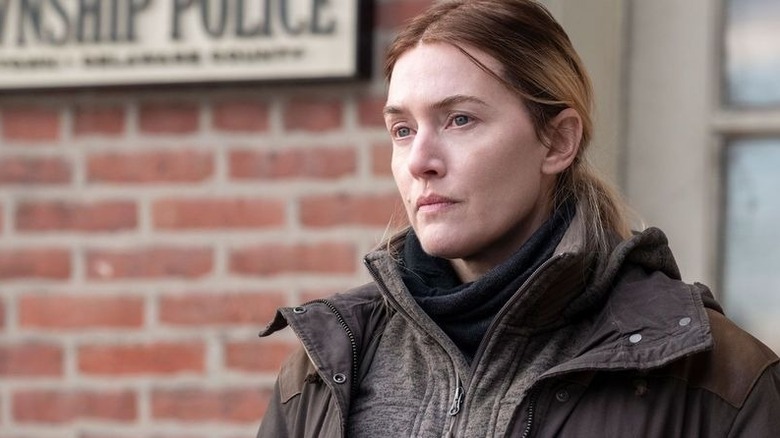 HBO
Everyone loves a good, classic murder mystery, and HBO's "Mare of Easttown" delivered just that in 2021. Following in the footsteps of shows like "True Detective" and "The Killing," the Kate Winslet-led drama follows the police investigation into the death of Erin McMenamin — a teenage mother and resident of the Philadelphia suburb of Easttown. It's a taut drama filled with numerous twists and turns, and it ends with several gut-wrenching reveals about the actual nature of Erin's death.
In the show's final episode, it's revealed that John Ross, the cousin of Erin's father Kenny (or Erin's first cousin once-removed), is actually the father of Erin's child. That alone would be enough to turn stomachs, but the case gets even messier when it's revealed that John's son Ryan was the one who shot and killed Erin. Only 13-years-old at the time, Ryan took it into his own hands to scare Erin away from this family after learning the nature of her relationship with his father. However, his attempted intimidation turned unintentionally violent, leading to his gun being fired. It's a horrifyingly tangled web of abuse, lies, and violence, and it made "Mare of Easttown" a haunting series that will remain in the minds of viewers for years to come.
The Front Man Reveal From Squid Game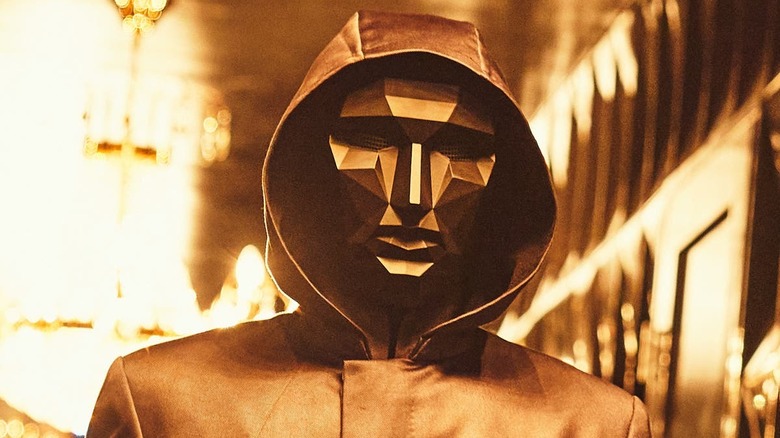 Netflix
Despite the successes of "Bridgerton," "Midnight Mass," "The White Lotus," and others, "Squid Game" has unequivocally been the biggest new series of 2021. The dystopian Korean drama about deeply indebted people participating in gladiatorial playground games shattered records as the most-viewed Netflix original series ever, pulling audiences from all around the globe into the show's dark world of desperation, betrayal, corruption, and greed. The biggest twist in "Squid Game," however, came very late in Season 1, when the identity of the mysterious Front Man character was finally revealed.
Throughout "Squid Game," the Front Man appears in a frightening hood and mask, concealing his true face. When he finally takes the mask off, we discover he's none other than Hwang In-ho, the missing younger brother of police detective Hwang Jun-ho. After participating in the Squid Game, In-ho secretly joined the organization and became one of its highest-ranking officials, all while his family believed him to have simply vanished. It's a shocking twist at the end of "Squid Game," and one made heartbreaking when In-ho shoots his brother and leaves him for dead.