Shows Like Midnight Mass That Supernatural Horror Fans Need To See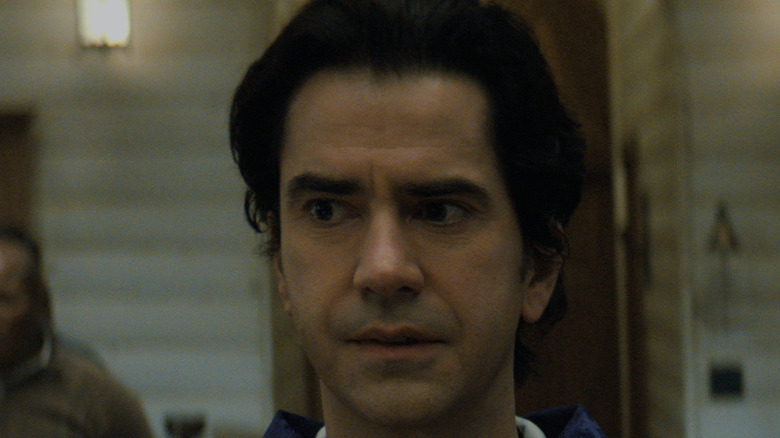 Netflix
"Midnight Mass," the latest show from horror maestro Mike Flanagan, is a mixture of old-school frights and heady ideas. Set on an isolated island where everyone knows everyone else, the Netflix series explores what happens when the arrival of Father Paul, an enigmatic new priest (Hamish Linklater), leads to strange events that some citizens see as a blessing and others as a curse. Along with beautifully written and acted scenes contemplating life, death, grief, and forgiveness, this slow-burn story is a meditation on subjects like blind faith, intolerance, and groupthink. It's a complex, layered series that masterfully demonstrates why fantasy and horror are such potent vehicles for investigating all aspects of the human experience, from the terrifying to the sublime.
Between its supernatural trappings, horror story beats, and human drama, "Midnight Mass" has a lot in common with a number of other recent shows that use the supernatural to tell scarily satisfying stories. These shows challenge our notions of good and evil while telling entertaining tales that make viewers scream, cry, and sometimes even laugh, and they all make excellent choices for your next binge. Here are 12 shows like "Midnight Mass" that supernatural horror fans should watch.
Evil (2019-present)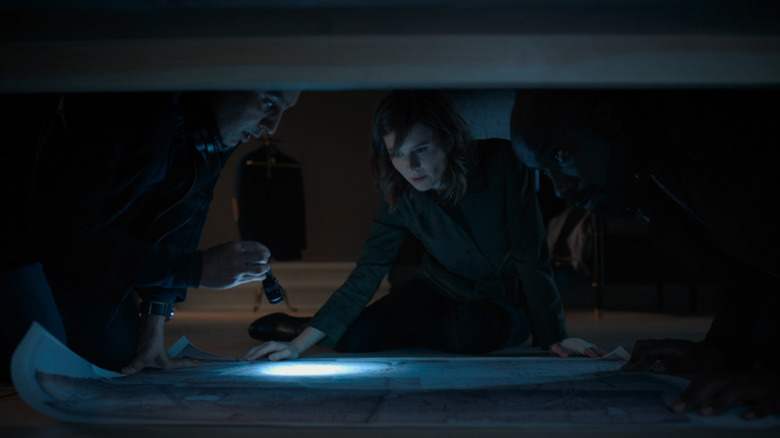 Paramount+
"Evil" centers on a team that assesses supposedly supernatural events for the Catholic Church, including possessions, miracles, and other strange occurrences. The trio includes Kristen Bouchard (Katja Herbers), a lapsed Catholic forensic psychologist, David Acosta (Mike Colter), a priest-in-training, and Ben Shakir (Aasif Mandvi), an atheist contractor. Each character has a very different perspective on the possibility of the supernatural, but in the course of their work, they often find themselves treading a fine line between belief and skepticism, a position the show uses to explore the nature of faith — and a theme familiar to anyone who enjoyed "Midnight Mass." 
"Evil" even features the appearance of some very questionable angels, which are reminiscent of the "angel" Father Paul smuggles onto Crockett Island. However, in tone, "Evil" diverges sharply from the Netflix series, with a quirky vibe that often means it's just as funny as it is frightening.
Still, the show takes its subject matter seriously, smartly pondering the question of whether faith or science can more successfully explain the presence of evil in the world. And after moving from CBS to Paramount+ in its second season, the show has been able to lean even further into the strange, often horrific nature of its premise. With exceptional performances by its three leads and a supporting cast that includes ace turns by actors like Christine Lahti and Michael Emerson, "Evil" is wickedly engaging entertainment.
Supernatural (2005-2020)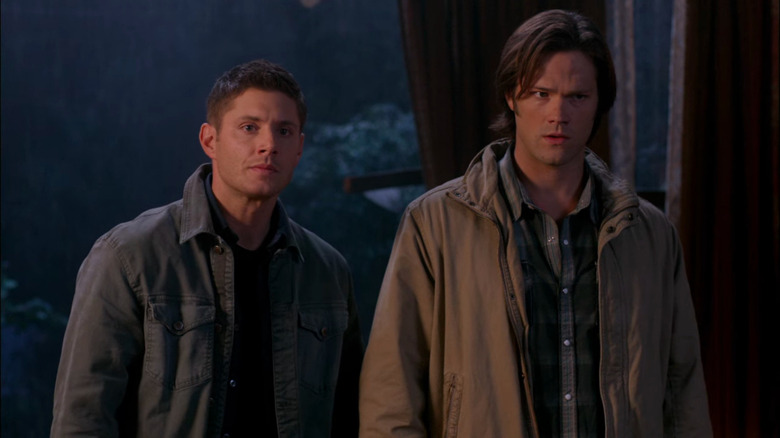 The CW
At 15 seasons, "Supernatural" is the longest running live-action genre series in American broadcast television history; while not all of those episodes was a winner, the overall quality of the series remained impressively high. 
"Supernatural" follows demon-hunting brothers Sam (Jared Padalecki) and Dean (Jensen Ackles) Winchester as they chase every kind of monster that haunts our nightmares, from witches to werewolves to vampires. But what makes the show a good option for fans of "Midnight Mass" is the way it deconstructs popular ideas about angels, and ultimately the Judeo-Christian conception of God, starting in Season 4.
While the unadulterated evil of demons is a big part of the show, in Season 4 "Supernatural" introduced a new major character in the form of the angel Castiel (Misha Collins), and from there, a legion of bickering, conniving heavenly creatures. The story was never heavy-handed in its approach, treating its angels like any other character with motivations and goals all their own. Still, the "Supernatural" approach to these characters remained consistently fascinating — and with 15 seasons under its belt, the series got to spend a lot of time exploring them, as well as the reasons Sam and Dean are compelled to protect humanity from them.
The Haunting of Hill House (2018)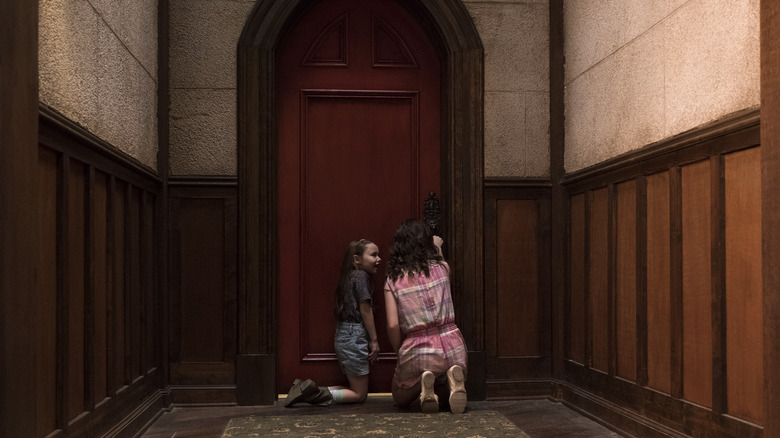 Steve Dietl/Netflix
No list of shows like "Midnight Mass" would be complete without mentioning Mike Flanagan's other Netflix horror series. The first series that brought Flanagan to wide attention was "The Haunting of Hill House," an adaptation of Shirley Jackson's famous novel of the same name. While Jackson's book has been adapted for the screen before, Flanagan's version was especially memorable, both for its carefully-calibrated horror and its complex portrait of a traumatized family. 
The story unfolds over two timelines: one in 1992 as Hugh (Henry Thomas) and Olivia (Carla Gugino) Crain move into Hill House with their five children in order to renovate and flip the mansion, and the second in the present day when Hugh (now played by Timothy Hutton) and his estranged adult children are brought back together by a tragedy.
By moving back and forth between the family's time at Hill House and the way the unsettling paranormal phenomena they experienced there continues to impact the characters decades later, "The Haunting of Hill House" created a tale both terrifying and heart-rending in equal measure. Like "Midnight Mass," the result is a chillingly spooky atmosphere that ensures you can't look away.
Chilling Adventures of Sabrina (2018-2020)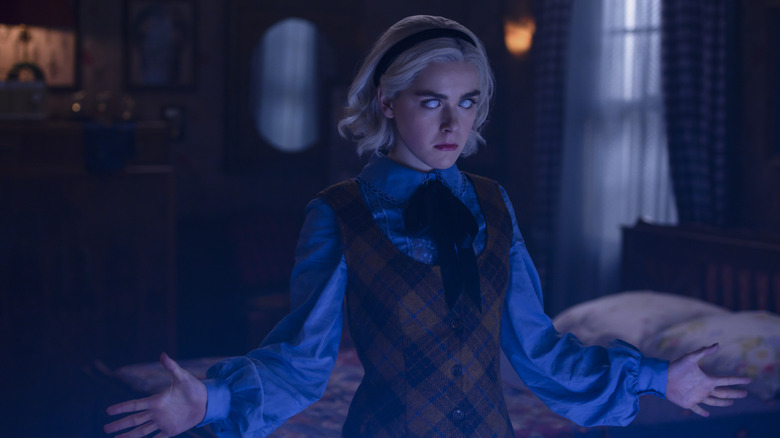 Diyah Pera/Netflix
Netflix's coming-of-age supernatural horror series "Chilling Adventures of Sabrina" may have revolved around a 16-year-old witch, but that didn't mean it was for the faint of heart. 
The show follows half-witch, half-mortal Sabrina Spellman (Kiernan Shipka) as she attempts to determine how to use both sides of her heritage to her best advantage, while becoming a powerful witch whose unique perspective and magical gifts give her the ability to protect her friends and family against a barrage of evil beings. Of course, Sabrina is a teenager, so she also navigates boy problems and making it to cheerleading practice, but at the same time she has to deal with pressing concerns like whether or not to sign her life away to the Dark Lord, aka Satan.
For those who enjoyed "Midnight Mass," the most interesting part of "Chilling Adventures of Sabrina" may be the way it examines how people exploit the church and religion for their own ends. As witches, Sabrina and her family are part of the Satan-worshipping Church of Night, which uses its religion as an excuse for everything from misogyny to human sacrifice. Like "Midnight Mass,""Chilling Adventures of Sabrina" confronts the way this provokes division, prejudice, and hate.
The Exorcist (2016-2018)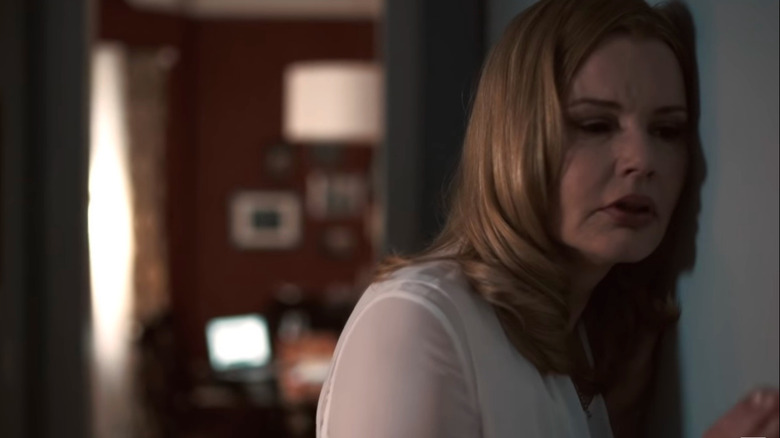 Fox/YouTube
It has been said that 1973's "The Exorcist" is the scariest movie of all time. Whether you agree or not, there's no denying the William Friedkin-directed film's place in the zeitgeist, and there's no better evidence for that than the 2016 TV show of the same name. While it only made it to two seasons on broadcast network Fox, "The Exorcist" attracted big names — Geena Davis in its first season and John Cho in its second — and proved that there was enough to the premise to sustain an episodic series.
Instead of rehashing the events of the movie, the show starts a new story that takes place in the present: the first season revolves around the possession of 19-year-old Casey Rance (Hannah Kasulka) and the second focuses on a mysterious presence that has wormed its way into a foster home run by Andrew Kim (Cho). The show is an effective continuation of legacy of "The Exorcist," one often quite scary while also using the idea of possession as a metaphor for physical, sexual, and mental abuse. Fans who were fascinated by the "Midnight Mass" exploration of what really makes a person good or evil, will appreciate the take of "The Exorcist" on similar themes.
Servant (2019-present)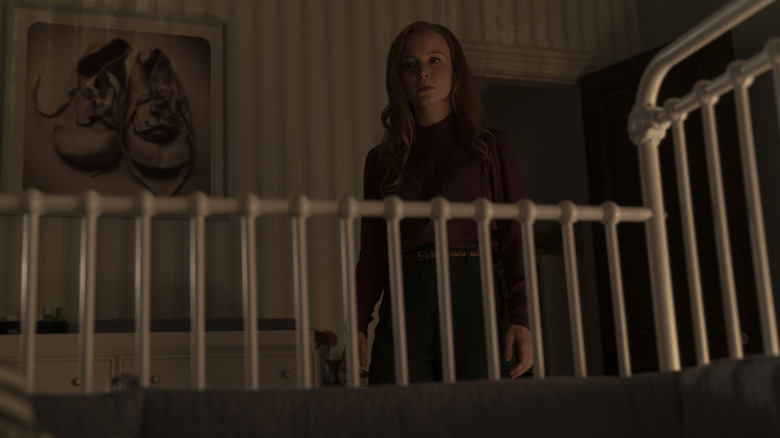 Apple TV+
If you loved the slow, steady pacing of "Midnight Mass," you'll adore "Servant," which takes the concept of a slow-burn story to a whole new level. The Apple TV+ series, which boasts M. Night Shyamalan as one of its executive producers and the director of several episodes, focuses on what happens when Dorothy (Lauren Ambrose) and Sean (Tony Kebbell) Turner hire a mysterious young nanny named Leanne (Nell Tiger Free) for their infant son Jericho.
The less you know about the story going into the show the better, but suffice it to say that both the Turners and Leanne aren't exactly what they seem, and each character's (frequently unexpected) response to the others brings the story to disconcerting life. While the series is slow to provide answers over the two seasons that are currently available (with a third on the way), it makes up for it with expertly-crafted episodes filled with spooky tension that will keep you riveted as you work to figure out what's really going on. "Servant" is the sort of show that draws you in from its opening moments and keeps you fully engrossed with a shocking premise.
Preacher (2016-2019)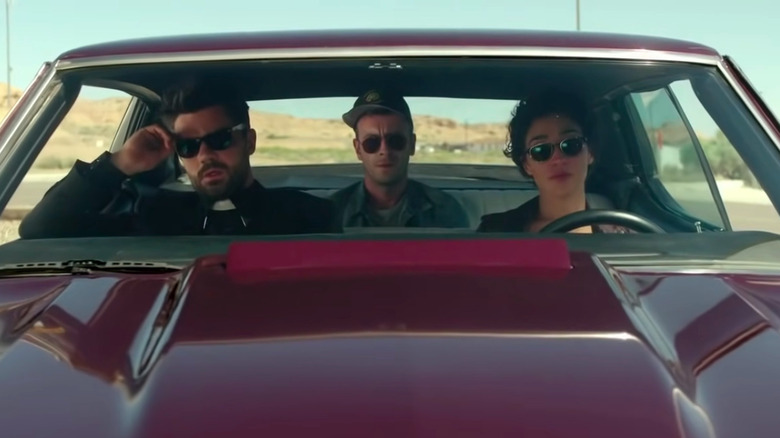 AMC/YouTube
If you enjoyed "Midnight Mass" but wished it were zanier, "Preacher" is the show for you. 
The four season series centers on Jesse Custer (Dominic Cooper) a Texas preacher with a violent past who accidentally acquires the power to make people do anything he says. In order to understand more about his newfound supernatural gift, Jesse embarks on a journey to literally find God with his ex-girlfriend Tulip (Ruth Negga) and his vampire pal Cassidy (Joe Gilgun). Along the way they meet everyone from Adolph Hitler to Jesus Christ. Needless to say, it's a wild, violent ride.
The AMC series, based on the comic of the same name by Garth Ennis and Steve Dillon, explores ideas about good and evil, faith and power, and responsibility and selfishness, all with its tongue firmly planted in its cheek. No one gets off the hook in "Preacher," including the Catholic Church, but the show's mix of comic book action, over-the-top gore, and wry attitude make for a rip-roaring series that's unlike anything else that has ever graced a TV screen.
Penny Dreadful (2014-2016)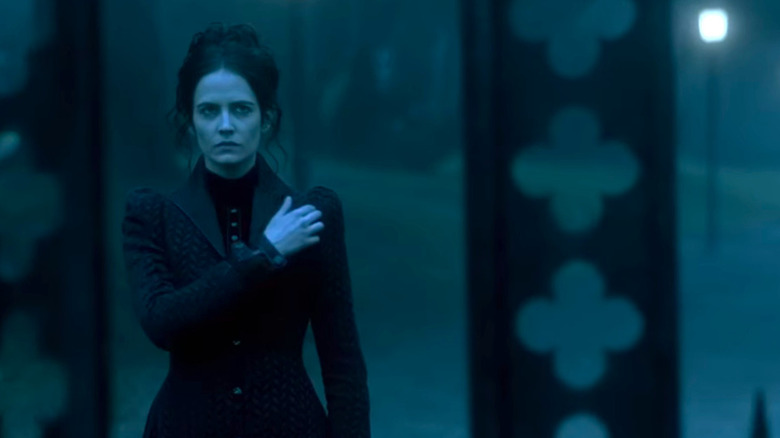 Showtime/YouTube
"Penny Dreadful," which aired on Showtime for three seasons, was a who's who hodgepodge of Gothic literary characters. Everyone from Dorian Gray to Dracula to Frankenstein made an appearance, often as major characters, although none of them strictly followed their well-known stories. Instead, "Penny Dreadful" used them to tell an entirely new tale about good, evil, and the woman caught in-between.
While the show boasts a large ensemble of characters, most fascinating of all is the mysterious, alluring Vanessa Ives (Eva Green), a Victorian-era aristocrat who, as a medium, is very much in touch with the supernatural. Vanessa has suffered through possessions and a stint in an insane asylum, yet fervently clings to her belief in God, even though she knows both the Devil and Dracula covet her, and fears her inner demons may destroy her and everyone around her at any time. Just like "Midnight Mass" deconstructs the mythology of the vampire, "Penny Dreadful" does the same for its set of classic characters while also detailing the plight of a women desperately battling all manner of evil even though she knows she may not win.
Stranger Things (2016-present)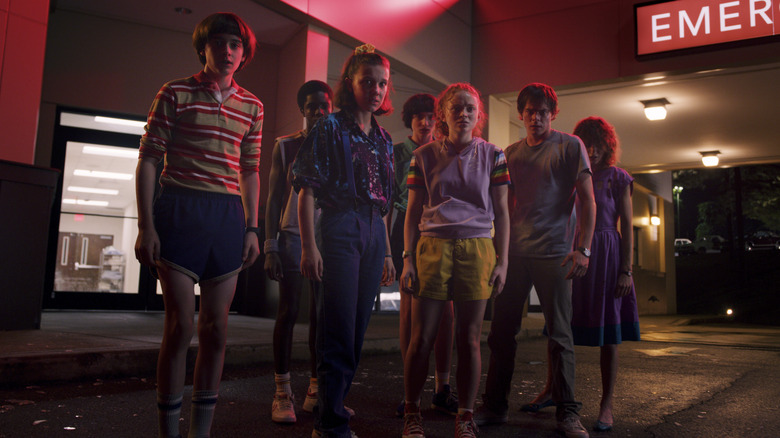 Netflix
Netflix's 1980s-set series "Stranger Things" has become a pop culture phenomenon, and if you're a "Midnight Mass" fan who hasn't seen it yet, you'll find it's well worth your time. Set in the tiny town of Hawkins, Indiana, the events of the show kick off when the strange disappearance of a young boy named Will Byers (Noah Schnapp) leads to a frantic search that involves his desperate mother Joyce (Winona Ryder), the town's Sheriff Jim Hopper (David Harbour), and Will's group of friends. Their efforts are assisted by an odd young girl who refers to herself as Eleven (Millie Bobby Brown) and knows more than anyone about where Will was taken. 
"Stranger Things" is a joy ride for anyone who enjoys supernatural horror or just likes a good '80s homage, and since it premiered in 2016, its parallel universe (called the Upside Down) and the monstrous demogorgons that emerge from it have become pop culture touchstones. While it's best to watch the series from the very beginning, the third season may be especially interesting to those who loved "Midnight Mass," as it focuses on the emergence of a force from the Upside Down that works to take over Hawkins by possessing the town's residents. It's a horrifying (and remarkably icky) scenario that has drastic consequences — just like Father Paul's plan in "Midnight Mass."
The Third Day (2020)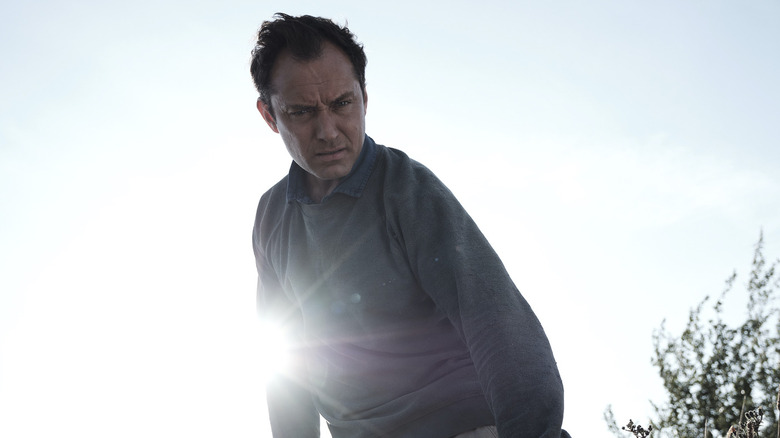 Robert Ludovic/HBO
If you're looking for more isolated island-set adventures after "Midnight Mass," then check out "The Third Day." The six-part series follows the stories of two people who are drawn to Osea, a British island that can only be reached via a causeway that is underwater most of the day. The first three episodes center on the journey of Sam (Jude Law) a grieving father who ends up on Osea after helping a troubled girl and is drawn in by the townspeople, only to discover that the island holds secrets that are very personal to him. The second three episodes takes place months later, as Helen (Naomie Harris) takes her two daughters to Osea for an impromptu vacation, only to get caught up in a conflict between the residents that she barely understands.
"The Third Day" is a deliberately-paced story that includes many tropes "Midnight Mass" fans will find familiar, including an island in decline and a community of faith. The mystery of what's really going on in Osea and what the residents' faith has to do with it is revealed slowly, and the show leaves several things open to interpretation. This makes the series an intriguing head-scratcher, anchored by excellent performances from Law and Harris, as well as Paddy Considine and Emily Watson as two Osea residents whose friendly exteriors may hide the truth of what's really happening on the island.
Chapelwaite (2021)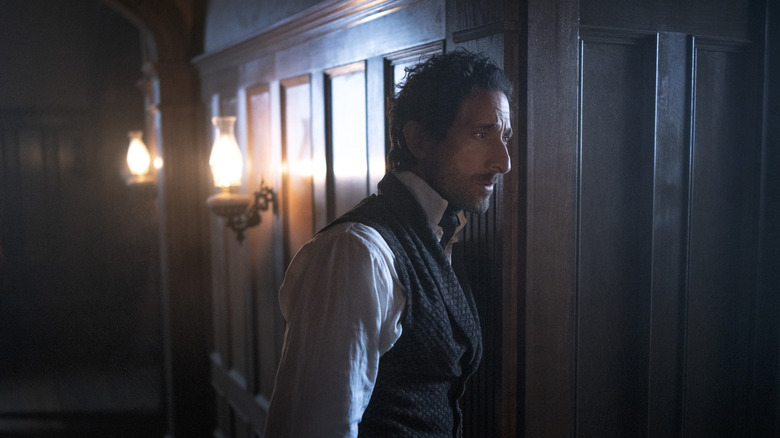 Epix
"Midnight Mass" co-creator Mike Flanagan has said that Stephen King's novel "'Salem's Lot" was one of the biggest influences on his series, and it just so happens that another show influenced by King's novel hit the airwaves around the same time: The Epix series "Chapelwaite." Based on King's short story "Jerusalem's Lot," the series serves as something of a prequel to the 1975 vampire tale. Yet, while "'Salem's Lot" has a modern day setting, "Jerusalem's Lot" takes place in 1850, the period when "Chapelwaite" is also set.
The series follows the story of Charles Boone (Adrien Brody), the captain of a whaling boat who moves with his three children to a tiny town in Maine after inheriting the show's titular home. Yet, the nearby town of Preacher's Corner doesn't welcome the family the way Charles had hoped. Instead, the town blames the Boone family for a mysterious illness infecting its citizenry. Meanwhile, Charles is suffering from trauma of his own. Charles' father tried to kill him after being stricken by a strange madness when Charles was a boy and after arriving in Chapelwaite, Charles soon finds himself experiencing a similar malady. Eventually, he learns that his family's former mining town, Jerusalem's Lot, holds the answers to both the mystery of his ailment and the illness impacting Preacher's Corner. The series tells the demented tale of a beleaguered small town where one person's salvation is another's damnation, making it the perfect companion piece to "Midnight Mass."
The Haunting of Bly Manor (2020)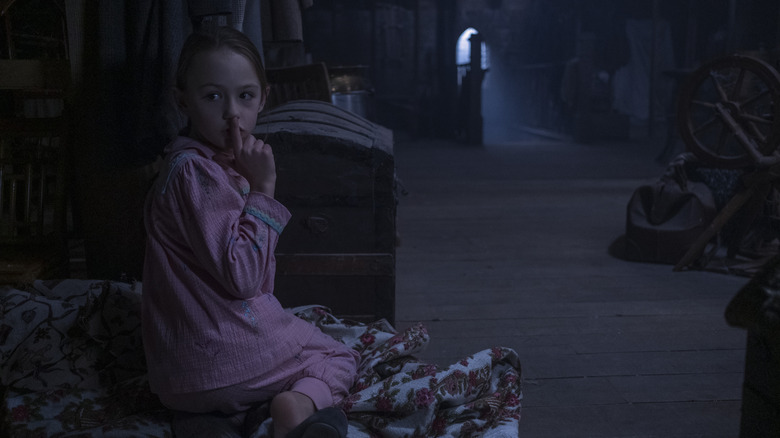 Eike Schroter/Netflix
The second entry in Mike Flanagan's "Haunting" anthology series, "The Haunting of Bly Manor" is an adaptation of the Henry James' novella "The Turn of the Screw." Although the story spans multiple timelines like "The Haunting of Hill House," the main one focuses on events that happen in 1987 when Dani (Victoria Pedretti), a young American woman, is hired by Henry Wingate (Henry Thomas) to be the nanny to his niece and nephew Flora (Amelie Bea Smith) and Miles (Benjamin Evan Ainsworth), who live in the remote Bly Manor in the English countryside. The place is filled with ghosts who haunt the manor's living residents, and often prey on Dani and her young charges. However, not all the spirits that occupy the house are malevolent.
Like Flanagan's other Netflix shows, "The Haunting of Bly Manor" unravels at a steady-but-careful pace, deliberately revealing plot points and background information in a way that ensures the nail-biting tension remains high from episode to episode and all the loose ends come together in the end. Plus, if you loved the actors in "Midnight Mass," you'll enjoy seeing several of them here too, including Kate Siegel, Henry Thomas, and especially Rahul Kohli, who brings the same warmth and longing to his role in "Bly Manor" that he does here to the character of Sheriff Hassan.