The Spider-Man Character Fans Want To See Most After No Way Home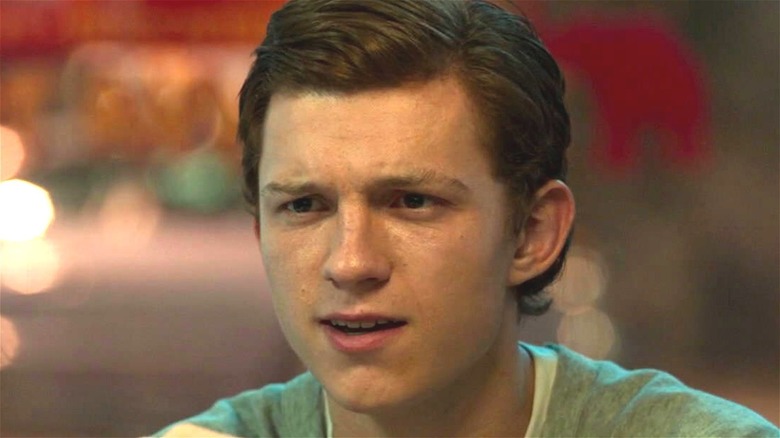 Marvel Studios/Sony Pictures
On December 17, "Spider-Man: No Way Home" is expected to blast open the door to the multiverse and pave the way for endless possibilities in Disney's ever-evolving Marvel Cinematic Universe. We know we'll be seeing old friends like Peter Parker (Tom Holland), MJ (Zendaya), and Ned (Jacob Batalon), as well as some even older friends in the form of characters crossing over from previous "Spider-Man" films.
The anticipation for "No Way Home" has reached a fever pitch in the weeks leading up to the film's release, thanks to the trickle of new trailers and TV spots that continue to hint at cameos and surprise character arrivals. There are lots of figures from the wider Spidey-verse who fans are hoping to see, but if you ask Twitter, one character's potential cross-over has them the most excited. If theories are true, some believe he'll be the next comic book hero to swing his way into Marvel's live-action side of things.
Fans calling for a live-action Miles Morales
After seeing trailers for "Spider-Man: No Way Home," some Marvel fanatics are sure that Miles Morales is set to make his live-action debut in the MCU — and they couldn't be more excited. 
"IT'S ALL COMING TOGETHER," tweeted @mischiefsmobius, sparking a deluge of retweets and likes. "LIVE ACTION MILES MORALES IS COMING." Attached to their tweet is a series of images that some fans believe support this claim. They include shots from the "No Way Home" trailer that look similar to ones from "Spider-Man: Into the Spider-Verse," as well as information on actor Donald Glover, who plays Aaron Davis aka The Prowler in the movie "Spider-Man: Homecoming." As fans know, The Prowler was a character from "Into the Spider-Verse." 
"MY BABY BOI IS COMING AND THEY ARE JUST HIDING THEIR ACE," joked one Twitter user. Meanwhile, another excitedly replied, "omgggg." 
"Spider-Man: Into the Spider-Verse" was a huge success with critics and fans when it premiered in 2018 (via Rotten Tomatoes) and will be getting a follow-up thanks to the 2022 sequel "Spider-Man: Across the Spider-Verse (Part One)." The film series stars Shameik Moore as the voice of Miles Morales aka Spider-Man.