The Spanish Crime Show That Just Stole Netflix's Number 1 Spot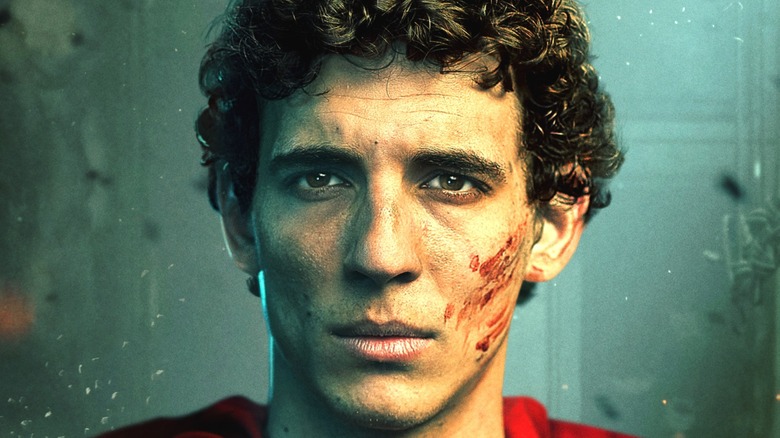 Netflix
For Netflix, 2021 truly was a year of foreign smash hits. South Korea's "Squid Game" and France's "Lupin" were two of the streaming giant's biggest and most successful projects of all time, with millions of viewers tuning in from across the globe to watch them (via USA Today).  Now, there's another international program that has made its ascent up the streaming platform's most-watched list.
Coming out of Europe, the acclaimed heist drama originally aired on the Spanish network Antena 3 as a limited series that was told in two parts, with 15 episodes airing between May and November 2017. However, Netflix eventually gobbled up the show's streaming rights later that year and renewed it several times, going so far as to produce four more seasons after the series' original debut run.
Over the course of its time on Netflix, the series has repeatedly found its way into the streaming service's Top 10 list — and it's experiencing similar success right now. Indeed, the show has, once again, made its way into Netflix's Top 10 rankings, cementing its place as yet another hit for the streaming service.
So, what is this foreign-language gem? 
Money Heist has stolen the Netflix spotlight once again
Titled "Las Casa de Papel," or "Money Heist" in the U.S., creator Álex Pina's crime drama has managed to attract viewers in countless countries since its inception. Coming off the debut of its newest batch of episodes as well, the show has managed to yet again swipe the No.1 spot on Netflix's Top 10 list.
"Money Heist" focuses on a group of eight people recruited by a man (Álvaro Morte) known as "The Professor," who has conjured up a plan to steal over $1 billion from the Royal Mint of Spain. The group takes nearly 70 people hostage and goes head-to-head with police and other thieves as they attempt to get out alive with the loot. "Money Heist" Part 5 Vol. 2 just premiered on December 3, bringing an end to the show's latest chapter and the series as a whole.
What sets Part 5 apart from previous "Money Heist" seasons is the fact that Netflix decided to give it to viewers in two, five-episode runs (Volume 1 was released on September 3). In the past, Netflix just dropped all of its "Money Heist" episodes at once without splitting each Part into separate volumes. 
The crime drama currently holds an impressive 92% Tomatometer score on Rotten Tomatoes and remains one of Netflix's many foreign-language hits. It's an engaging, unique, and unpredictable series that's well worth checking out if you've got the time.