Dwayne Johnson Had A Hilarious Response To Vin Diesel Calling Them Brothers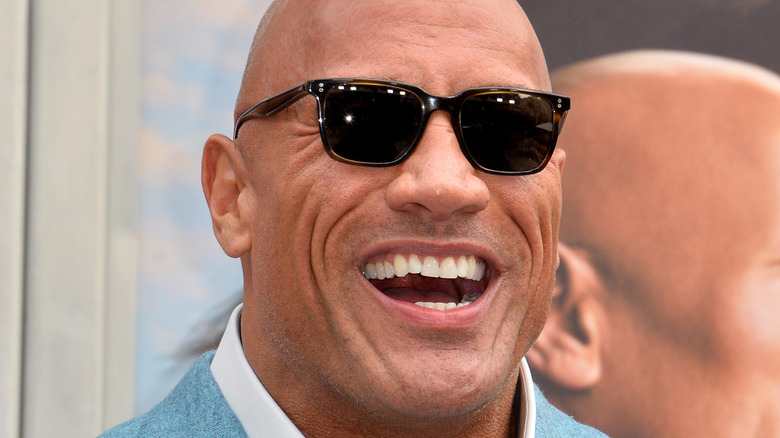 Featureflash Photo Agency/Shutterstock
With the final two installments of the "Fast and Furious" franchise being tuned up in Universal's garage, there are high hopes that the last chapter in the story all about family will have everyone available involved. Well, almost everyone. Four-time "Fast" star Dwayne Johnson confirmed that he was done with the franchise earlier this year. He notoriously had behind-the-scenes issues with the head of the tire-screeching heist gang, Vin Diesel, and the two haven't worked together (if you can even call it that) since "The Fate of the Furious." 
Since then, it's been a war of the words between the two Hollywood heavyweights. They'll often jab at each other across social media, and it's abundantly clear there's no love lost between the two action stars. The big screen spat that seems to have lasted four years has been stitched together with stories from both parties involved, but one, in particular, was something even Johnson had to laugh at.
Speaking to USA Today in 2017, Diesel reflected on his former work colleague and the supposed extent he'd gone to help Johnson. "I protect the franchise. I protect everybody, including Dwayne," said Diesel. "Dwayne has only got one Vin in his life. Dwayne Johnson only has one big brother in this film world, and that's me." Diesel went on to claim that he paved the way for Johnson's rise to superstardom, and while the accuracy of that statement is debatable, it does come across as a way to offer a backhanded compliment to one of the biggest stars working today. 
Johnson eventually learned of Diesel's comments, and his response to them suggests that they are still driving on different sides of the street.
The Rock doesn't share brotherly love for Diesel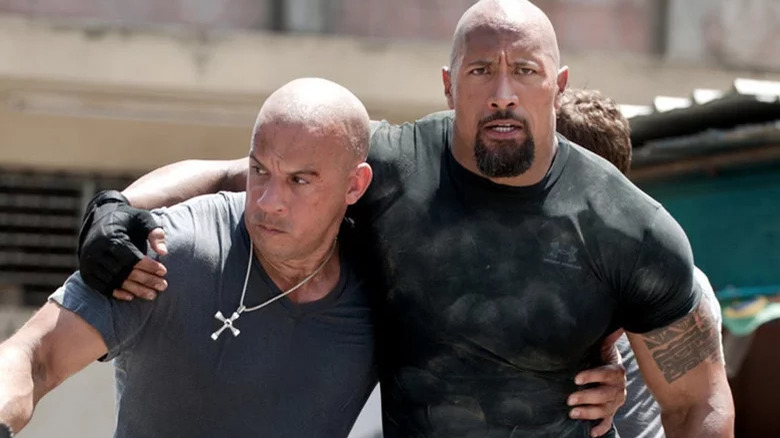 Universal
Speaking to Vanity Fair this year, Johnson spoke on a myriad of topics. He's had one of the most meteoric rises through Hollywood's hierarchy, so much so that he's even contemplating a run for president of the United States. While a decent percentage of Americans seem open to the idea, Johnson has taken time to dampen that enthusiasm, stating, "I may have some decent leadership qualities, but that doesn't necessarily make me a great presidential candidate. That's where I am today."
Of course, given Diesel's recent comments referring to Johnson as a little brother, the feud was bound to make an appearance during his Vanity Fair slot. Naturally, Johnson had a different viewpoint entirely from his former co-star. He didn't see it the same way at all. Quoting Diesel as referring to Johnson as Hollywood's second "multicultural megastar," The Rock remained unphased by the statement and his mention of being Diesel's "little brother." "I have one big brother, and it's my half brother," said Johnson. "And that's it."
With such opposing views, the chances of getting these two back together to chest bump and makeup seems unlikely. Even Diesel's Instagram post asking his former co-star to get back behind the wheel didn't get a reaction from Johnson, but he does have a fairly busy schedule. Not only is he set on changing the hierarchy in the DC universe as "Black Adam," but he's also set to be returning as Hobbs opposite Jason Statham's Owen Shaw in a sequel to their 2019 spin-off, "Hobbs & Shaw.". In that sense, fans can be happy that we will be getting The Rock back in that world, if only by an alternative route.
For Dwayne Johnson, sometimes all you can do is laugh
There may not be any chance of reconciliation between Johnson and Diesel, but that doesn't mean they can't laugh at the situation. 
Later in the Vanity Fair interview, when Johnson's reminded of what Diesel said, he elaborated, "You know, I'll tell you this. One part of me feels like there's no way I would dignify any of that bullshit with an answer. But here's the truth. I've been around the block a lot of times. Unlike him, I did not come from the world of theater. And, you know, I came up differently and was raised differently. And I came from a completely different culture and environment. And I go into every project giving it my all. And if I feel that there's some things that need to be squared away and handled and taken care of, then I do it. And it's just that simple. So when I read that, just like everybody else, I laughed. I laughed hard. We all laughed."
As Diesel said initially, they're both alphas, and there just wasn't enough room on that set for the two of them to get along. Still, it would make "Fast & Furious" fans delighted to see the two share the screen once again. It would certainly be a way to make the "Fast & Furious" franchise go out with a bang.