The Thing You Never Noticed About Dwayne Johnson And Vin Diesel In Fate Of The Furious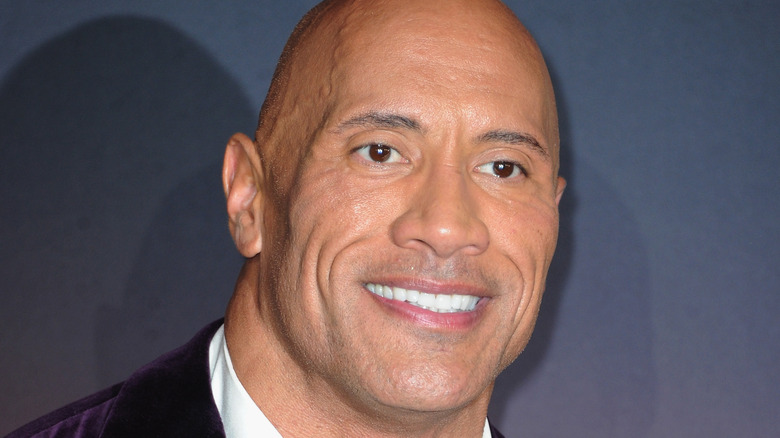 Albert L. Ortega/Getty Images
Friction between film stars is nothing new, but none have created as much attention as the rift that grew between "Fast & Furious" frontmen Vin Diesel and Dwayne Johnson. The latter made his franchise debut as Luke Hobbs in "Fast Five," helping reignite the petrol-guzzling franchise as the over-the-top heist movies we know and love today. But he ultimately butted heads with Diesel, who, as Dominic Toretto, had been the driving force behind the films since 2001.
Tension reached a boiling point in "The Fate of the Furious," the film's eighth installment, when during production, Johnson publicly slated his vest-loving co-star in all but name on Instagram. Using one of his favorite lines as a wrestler, "The Rock" shared in a now-deleted post that he had "zero tolerance for candy a**es," leading fans to waste no time at all in deducing it was Diesel he was referring to. The spat between these box-office behemoths seemingly made its way on screen as well in a way that initially you may not have noticed but now is glaringly obvious.
Diesel and Johnson are never seen together in Fate of the Furious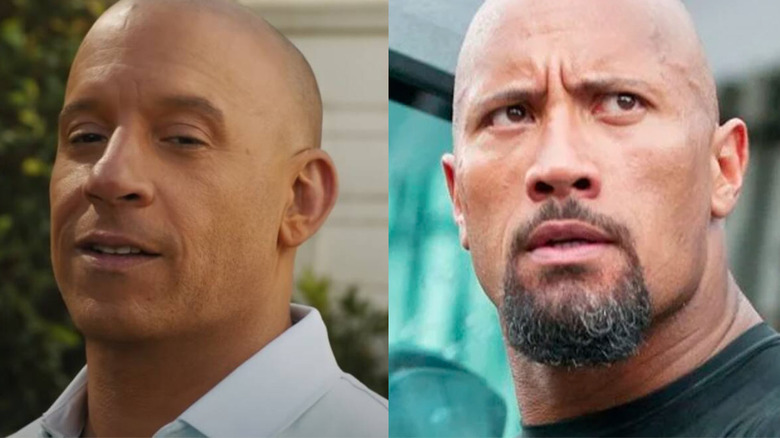 Universal Pictures
If you look closely amid the car-swerving, submarine-dodging insanity of "The Fate of the Furious," Vin Diesel and Dwayne Johnson don't ever share the screen together — not even a single time.
Speaking to Rolling Stone in 2018, Johnson was upfront about the clashes he had with his on-screen (but kind of not) colleague, highlighting that it all came down to a difference of opinion. "Vin and I had a few discussions, including an important face-to-face in my trailer," Johnson recalled. "And what I came to realize is that we have a fundamental difference in philosophies on how we approach moviemaking and collaborating. It took me some time, but I'm grateful for that clarity. Whether we work together again or not."
Regarding the final product, Johnson himself acknowledged the crafty cinematic trick played on audiences that didn't quite get past us. "That is correct. We were not in any scenes together," he said. The outcome was a disheartening one, particularly after seeing these two titans go at it in "Fast Five" beat any form of transportation-based boom-fest the franchise could conjure. Hopefully, though, that could all come to an end with the next installment. Following Diesel's public plea to Johnson regarding "Fast & Furious 10," the two could potentially be back on-screen together for real when the last chapter of the franchise starts filming.