Chris Hemsworth Teases The Start Of Filming On Extraction 2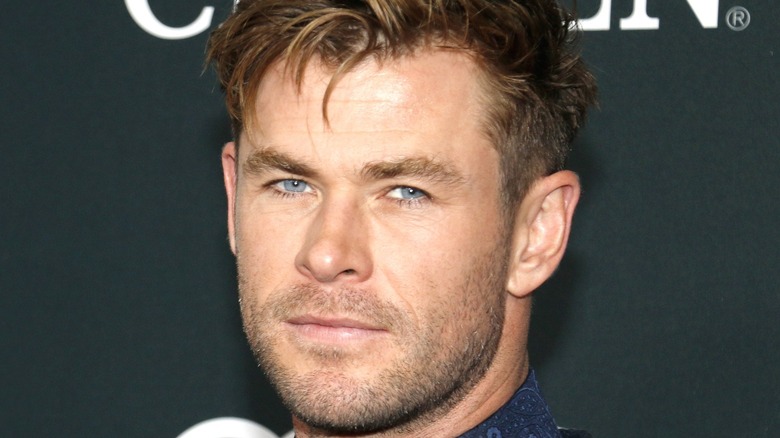 Tinseltown/Shutterstock
Chris Hemsworth just hit social media with a message sure to excite fans of his 2020 Netflix film "Extraction." The MCU leading man revealed in an Instagram video that he's back as Tyler Rake for "Extraction 2." It's a 15-second glimpse behind the scenes of a new adventure for the character which could have been easily left for dead after the surprise ending of the first installment.
While the previous film was set in a much warmer climate, the upcoming release sees the hero surrounded by wintry weather. The video shows Hemsworth on a train along with director Sam Hargrave. As he's quick to point out, their new shooting location of Prague is offering nothing but snowy landscapes for the crew.
The film was initially set to shoot in Australia but the ongoing pandemic made it impossible. A source told the Sydney Morning Herald that initial plans fell apart due to "risky" and "too logistically difficult" aspects of location scouting as well as shooting with large crews.
How does Tyler Rake return in Extraction 2?
"Extraction" proved to be a popular title for Netflix after its release. It was Netflix's most-watched original film based on household viewership hours for a time, temporarily beating out "Bird Box," (via Business Insider), though they were both recently surpassed by 2021's "Red Notice." "Extraction" follows the exploits of Tyler Rake, a mercenary who encounters more than he bargained for when tasked with saving a drug lord's son.
Netflix was quick to get a sequel into production, though setbacks due to COVID-19 pushed back start dates. Not much is known about the sequel's storyline, and star Hemsworth isn't giving away any clues in his Instagram video. When asked about the fate of Rake, writer Joe Russo took the same approach. "We're not committing yet to whether that story goes forward, or backward in time. We left a big loose ending that leaves question marks for the audience," he told Deadline in 2020.
A recent teaser for the film was released during Netflix's TUDUM event this year. With the hashtag #RakeLives attached, the entire video was more of a recap than a reveal. Viewers will just have to wait for a teaser with new footage as the project moves forward.