Why Beau Bennett From The Ranch Looks So Familiar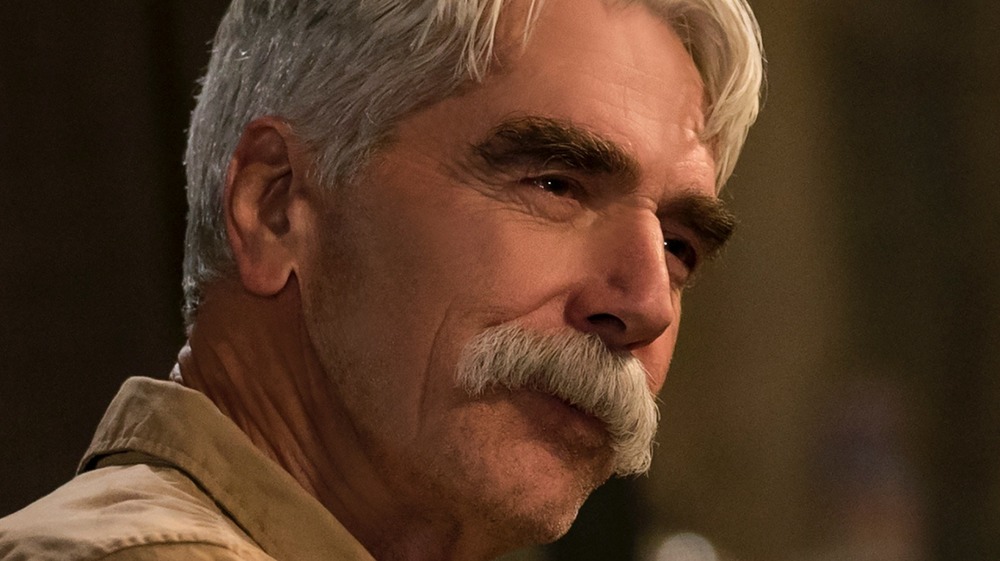 Netflix
Despite being canceled in 2020, The Ranch still lives on in fans' hearts — as well as in the back catalog on Netflix. The show centers on Colt Bennett, played by Ashton Kutcher, coming home to help out on his family's ranch in Colorado. Portraying the aging patriarch of the titular ranch is Sam Elliott. As Beau Bennett, Elliott bumps heads with Colt; his ex-wife, Maggie (Debra Winger); and his other son, Rooster (Danny Masterson). 
Masterson left the show after season 3, due to his increasing legal problems. But The Ranch continued for another season, with Dax Shepard replacing him in the ensemble as Colt's cousin, Luke, who comes to the farm after Rooster disappears.
TV and movie fans who haven't seen The Ranch may recognize Sam Elliott from any number of works. The man is an acting legend, bringing his folksy charm, gravelly voice, and mustachioed gravitas to big and small screens since the '70s.
Sam Elliott mentored Patrick Swayze in Road House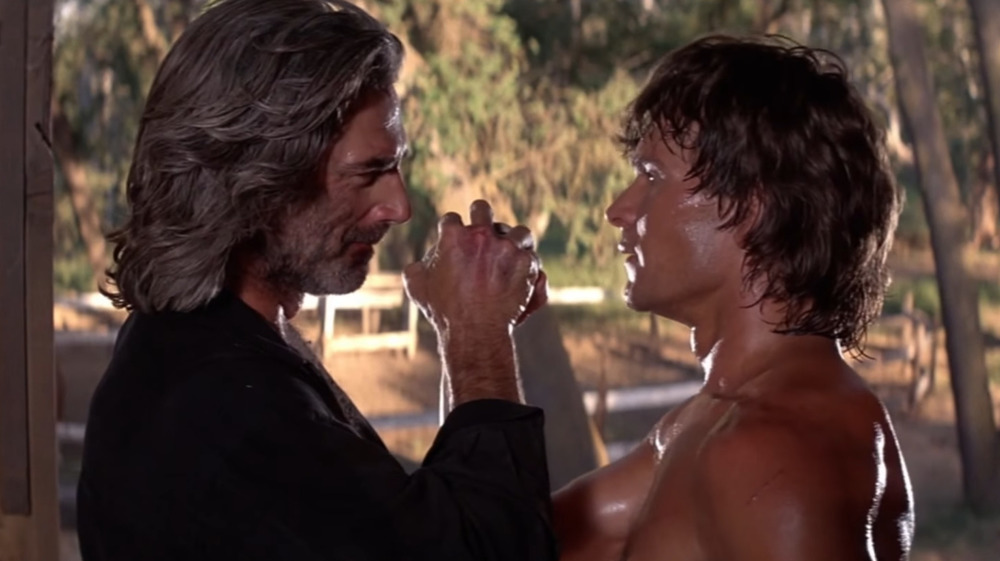 Silver Pictures/MGM
Sam Elliott stars opposite Patrick Swayze in 1989's Road House as Swayze's mentor in bouncing, Wade Garrett. In the action-packed punch-em-up, Swayze plays professional cooler James Dalton. He's running away from his past (including the time he killed a guy in self-defense) and winds up running security at the Double Deuce. The roadhouse in Road House is a rough 'n' tumble saloon not far removed from the biker bar in Sons of Anarchy (or Pee-wee's Big Adventure). 
Wade shows up to help his protege defend the Double Deuce from arch-villain Brad Weseley, played by Broadway veteran Ben Gazzara. Although Wade meets an untimely end, with a note attached to his dead body ala Die Hard, his death is the motivation James needs to finally take down Brad. Elliott underplays his role with his trademark laconic cool, which is quite a masterful feat in a movie that includes a scene where someone gets their throat ripped out.
The Dude abides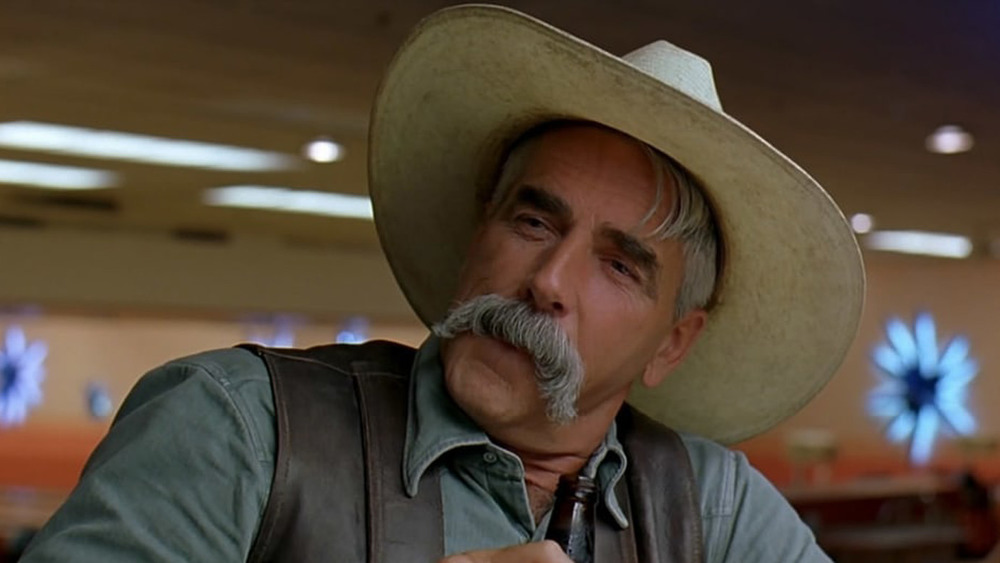 Working Title
Elliott's cult status went into the stratosphere with 1998's The Big Lebowski. Though Elliott only appears on-screen briefly near the end of the comedy classic, he narrates the whole story, and his connection with The Dude echoes through pop culture.
The Big Lebowski is a picaresque about Jeffrey "The Dude" Lebowski. Played by Jeff Bridges, The Dude is plagued by weirdos trying to go after another man named Lebowski. He's then enlisted by this other Lebowski to save his much younger wife from a supposed kidnapping. The Dude navigates a bizarro Los Angeles full of nihilists, conceptual artists, and the angriest bowling league you've ever seen in trying to solve the whodunnit. The film also stars John Goodman, Tara Reid, Steve Buscemi, and Julianne Moore. 
Joel and Ethan Coen really snapped with The Big Lebowski, and Elliott's folksy cowboy narration provides the perfect counterpoint to the movie's bizarre plot twists.
A Marvel misstep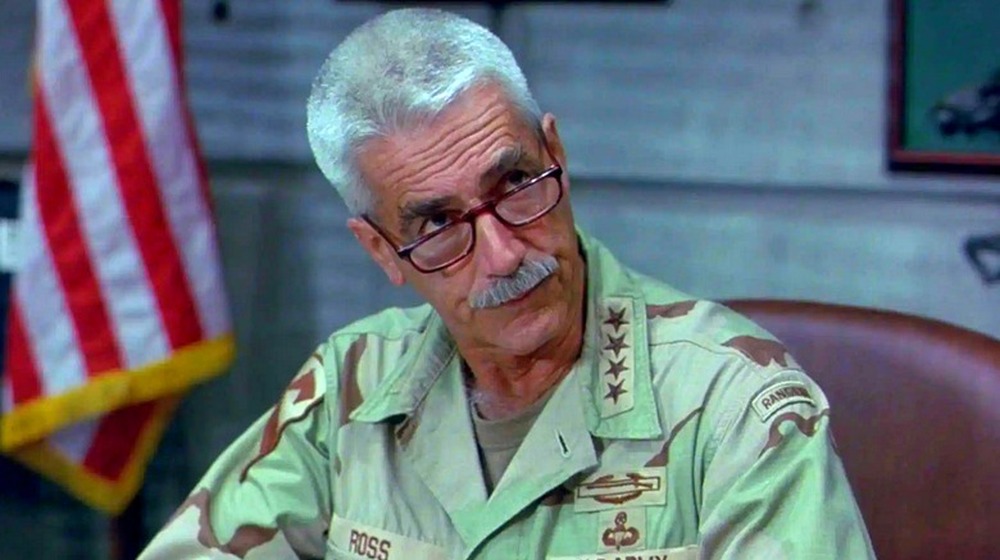 Marvel Studios/Universal
Sam Elliott just missed being part of the Marvel Cinematic Universe. The character actor co-stars in Ang Lee's Hulk film, opposite Eric Bana and Jennifer Connolly. The film languished in development hell for over a decade, only to come out in 2003 — just before the MCU kicked off with Iron Man.
In the film, Elliott plays Thaddeus "Thunderbolt" Ross, the father of Bruce Banner's love interest, Betty. Thaddeus had worked with Bruce's father, David Banner, who exposed himself to gamma radiation, which caused mutations. He somehow passed those mutations on to his son, Bruce. After David kills his wife, Thaddeus shuts down the gamma bomb program and puts Bruce in foster care. 
Adult Bruce works with Thaddeus' estranged daughter, Betty, where he's re-exposed to gamma radiation. This eventually results in Bruce becoming the Hulk — and he Hulks out at inopportune moments. It's a big old mess for Thaddeus, who eventually vows to protect Betty from Bruce by any means necessary. Of course, this all got retconned out of existence by 2008's The Incredible Hulk.
The two Rons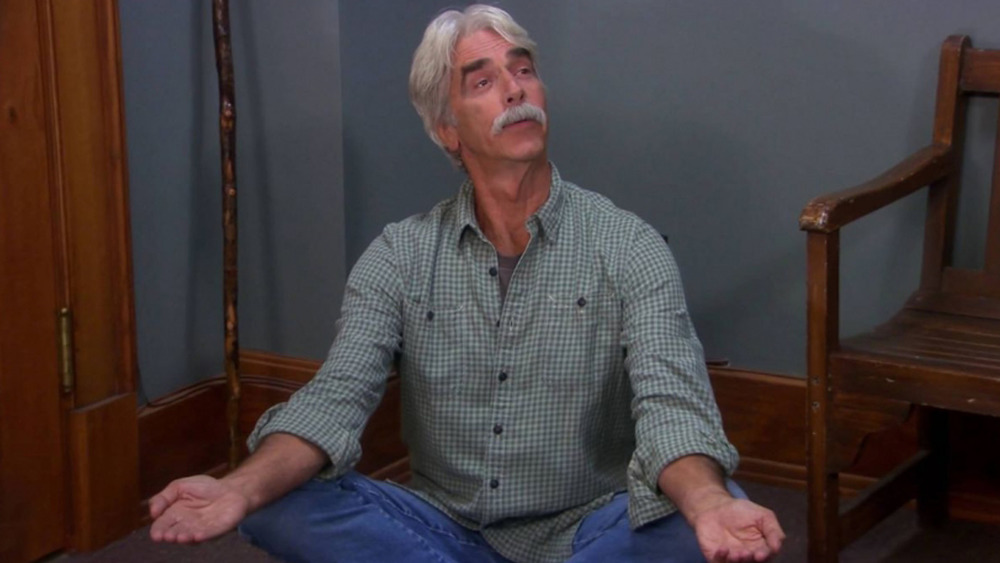 NBC
The early 2010s were a big TV time for Elliott. Right before landing on The Ranch, he guest-starred on Parks and Recreation as Ron Swanson's Eagleton doppelganger, Ron Dunn. Eagleton is Pawnee's rival city, similar to how the citizens of Springfield feel about Shelbyville in The Simpsons. Eagleton was founded by the richest members of Pawnee's founders, who thought Pawnee was too smelly for human habitation. They settled on top of a hot spring, which allowed the town to prosper.
When the seemingly ultra-rich town goes bankrupt, Pawnee reabsorbs it. Eagleton's Parks Department is forced to meld with Pawnee's, and we discover that every member of the cast has a weird Eagleton shadow self. Aubrey Plaza's April is confronted by Tynnyfer (June Diane Raphael), Donna (Retta) has to work with Craig (Billy Eichner), and Swanson meets Dunn.
The two Rons initially get along due to sharing a taciturn nature. However, it turns out that Dunn is much more liberal-leaning (not to mention vegan) than Swanson can tolerate. He comes to despise Dunn's interest in astrology, sandals, and cage-free poultry. If you want to hear Sam Elliott extol the virtues of nut milk, this is the TV show for you.
Far from the shallow now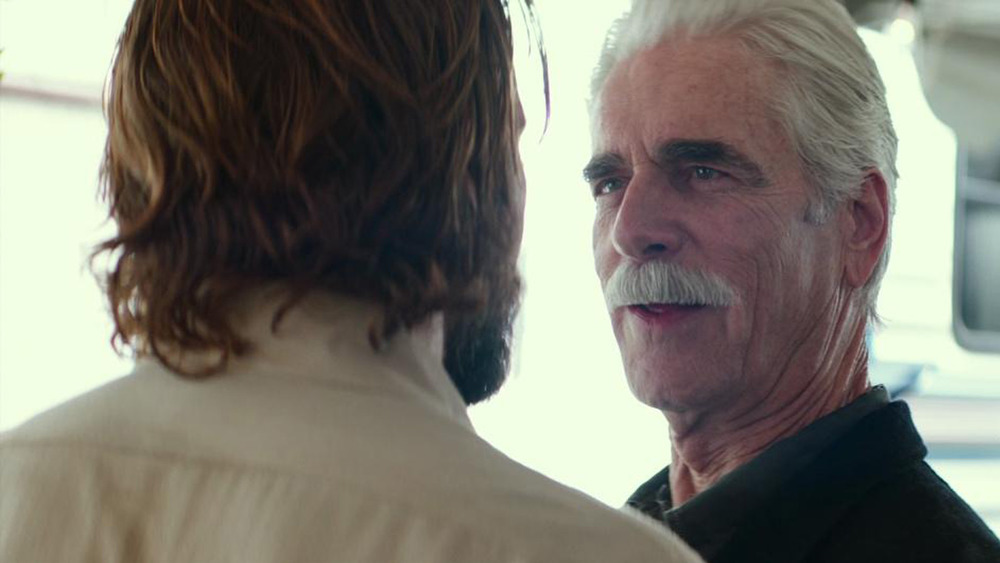 MGM
In 2018, Elliott appeared in Bradley Cooper's critically acclaimed remake of A Star Is Born. He plays Cooper's older half-brother in the film, who doubles as his manager. Bobby (Elliott) clashes with his younger brother, music superstar Jackson Maine, over issues like Jackson's substance abuse and indifference to his worsening hearing loss. The two part on bad terms when Jackson discovers that Bobby has sold their father's ranch, and it's been converted into a wind farm. 
At times, Bobby seems like the only person, besides Lady Gaga's Ally, who truly cares for Jackson. Even so, Bobby quits as his manager after the wind farm debacle, and the two don't reconnect until Ally's performance on Saturday Night Live.  
Elliott garnered much praise for the performance, even being nominated for a Best Supporting Actor Oscar. When asked by Deadline how he felt about his first nomination, Elliott said, "It's about f***ing time." Beau Bennett couldn't have said it any better.