The Real Intention Behind Aaron Sorkin's Biopic Being The Ricardos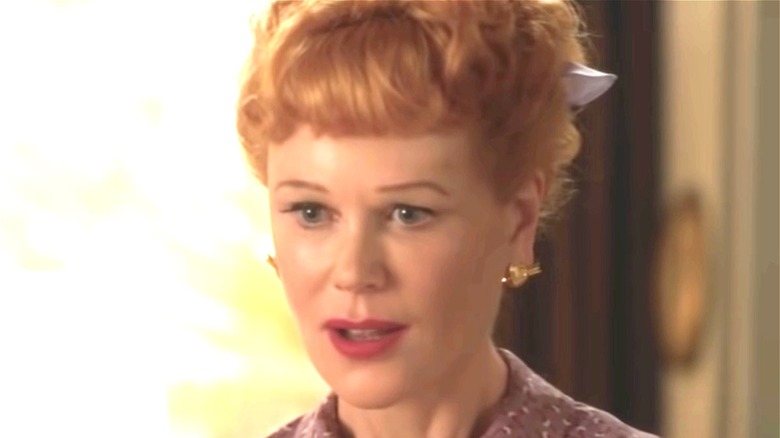 Amazon Studios
We're just a couple of weeks away from the Amazon Prime Video release of Aaron Sorkin's latest film, "Being the Ricardos." While anticipation of the Oscar-hopeful biopic about a tumultuous week in the lives of "I Love Lucy" stars Lucille Ball (Nicole Kidman) and Desi Arnaz (Javier Bardem) is at an all-time high, the film has already faced a bit of backlash over the casting of Kidman and Bardem as the leads (per The Hollywood Reporter). Sorkin continues to stand by his casting choices and went on record in that THR piece about firmly believing viewers will get on board once they've seen the film.
As for the film itself, it falls well in line with Sorkin's penchant for telling politically-charged and socially-relevant stories, detailing the professional and personal fallout from Ball being accused of being a Communist, and Arnaz being accused of having an extra-marital affair. In a recent interview with Variety, Sorkin admitted he had very specific intentions in presenting those real-life controversies in the film. The writer-director went on to say he also hopes viewers will come to understand, "that the lives of Lucy and Desi were considerably more complicated than Lucy and Ricky and pay less attention to Twitter."
Sorkin hopes viewers draw parallels between the events of the film and the perilous world of social media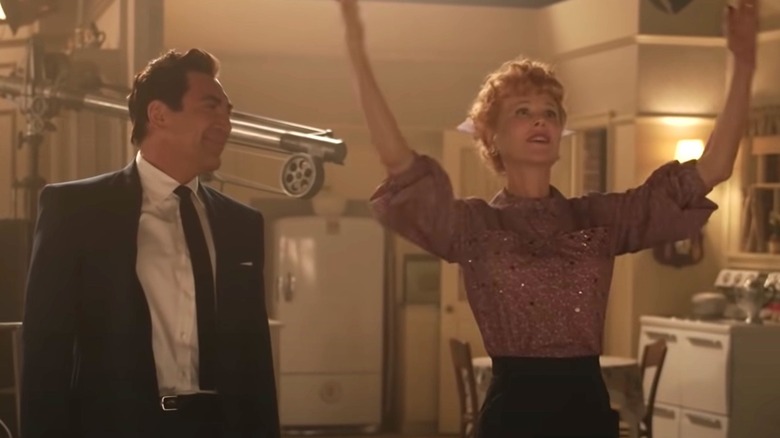 Amazon Studios
The last few words of that quote are a clear knock at the social media site in which "Being the Ricardos" casting complaints were arguably most prominent upon release of the film's trailer. Though "The Social Network" scribe named Twitter specifically in that Variety interview, it's clear at least part of Sorkin's intent with "Being the Ricardos" is to explore parallels between sordid McCarthy-era politics and the ways in which speculation, misinformation, and insinuation across all social media platforms can often have the same effect.
Sorkin continued on that train of thought telling Variety he really hopes audiences grasp those parallels in the new film, "I hope the way they'll react is that they'll see some similarities between what's happening to Lucy and what happens to a number of people that fall out of favor with Twitter." As for his own views on social media platforms, the always-opinionated Sorkin pulled exactly zero punches in his estimation of the often toxic social realm, stating bluntly, "It just seems like when you walk into social media that you're walking into a big room with mean graffiti all over the walls."
Noble intentions aside, the jury is obviously still out on whether or not Sorkin succeeds in that endeavor, as "Being the Ricardos" doesn't hit Amazon Prime Video until December 21, 2021. And whether he likes it or not, you can bet there will be plenty of chatter about the film in the social media realm.