Is Drew Really Leaving B Positive?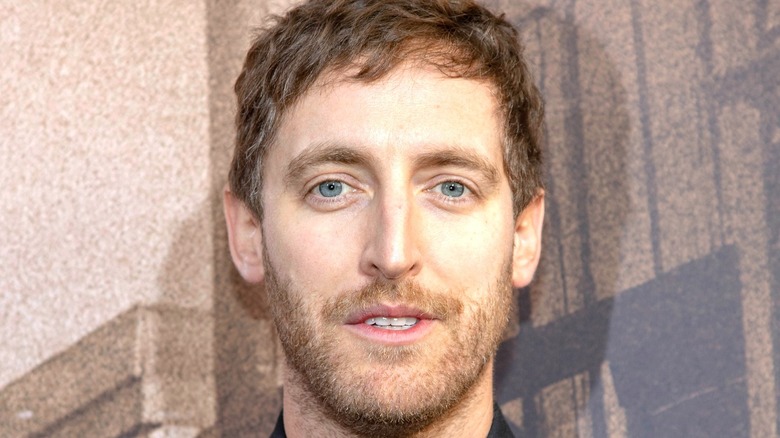 Eugene Powers/Shutterstock
Screenwriter and TV producer Marco Pennette turned his own experiences into entertainment in "Inconceivable" and "Crumbs," and his latest venture, "B Positive," is no different. The CBS sitcom is inspired by the time he was diagnosed with kidney failure as well as the journey he took to get a transplant (via Distractify).
The first season of "B Positive" follows Drew Dunbar (Thomas Middleditch), a therapist and recent divorcé who learns that he is in the early stages of kidney failure. While searching for a donor who matches his rare B-positive blood type, Drew unexpectedly reconnects with an old friend from high school, Gina Dabrowski (Annaleigh Ashford). The two lead wildly different lives and much of the show's humor comes from the contrast between Gina and Drew's personalities.
Season 2 of "B Positive" continues to explore the dynamic between the will-they-won't-they duo, but the show has also undergone a soft reboot that has fans wondering what's going to happen next. With Drew in recovery following a successful kidney transplant and Gina both succeeding professionally and becoming more independent, some viewers are worried that Drew is being phased out of the show.
So, is actor Thomas Middleditch actually leaving "B Positive?"
There's no B Positive without Drew
Thanks to its soft reboot, "B Positive" is going in several new directions. Season 2 of the show begins with Gina coming into a substantial inheritance after one of her residents passes away, which allows her to buy the assisted living facility where she works. With Valley Hills undergoing a transformation and Gina moving on from being Drew's kidney donor, it makes sense that the show is putting her journey front and center.
However, this isn't the end for Drew on "B Positive." Executive producer Chuck Lorre revealed to TVLine that, even with Gina's important professional undertaking and the introduction of several new characters, Drew remains a necessary part of the show's story.
"[Drew and Gina] have a deep bond that keeps him very much a part of the series," Lorre said. "He continues on this journey of self discovery... and he's going to make some horrible mistakes down the road — the mistakes you make when you're trying to figure things out. You don't necessarily figure things out right away."
Lorre also said that Gina will make similar mistakes, teasing that the show's characters share a "wonderful impulse" to do good things but don't always know how to execute them. "We're really turning this ship around — or, as I like to say, fixing a helicopter while it's flying," the executive producer added.