What Happened To Samantha On B Positive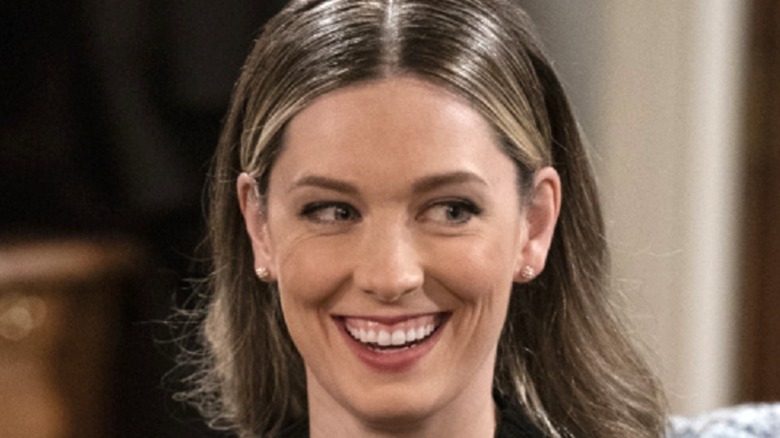 CBS
"B Positive," which ended its first season on May 13, has established itself as one of the best new sitcoms on CBS' Thursday night lineup. Based on creator Marco Pennette's actual experiences, the show follows Drew (Thomas Middleditch), an awkward therapist in need of a kidney, and Gina (Annaleigh Ashford), an outgoing high school friend with a kidney to spare and a rare blood type that matches Drew's. The show is also produced by Chuck Lorre, who has previously helmed projects like "Roseanne" and "The Big Bang Theory."
Hijinks ensue as personalities clash, earning praise for the sitcom from critics on Rotten Tomatoes, many of whom focused on the standout performances of the leads. However, the show also utilizes a wide array of recurring cast members, many of whom Drew meets in the dialysis group he attends while preparing for his upcoming kidney transplant. It is there that Drew and viewers have the chance to meet Samantha (Briga Heelan), a career-focused millennial whose lack of tact and anger over the inconvenience of her illness result in some of the first season's most memorable moments.
So when Samantha was conspicuously absent from the dialysis group for the show's final three episodes, fans were a little concerned. Did something terrible happen to the fan-favorite character? Or did Briga Heelan, who previously starred on "Great News" have a scheduling conflict that kept her from appearing on the show? Here is all we know about what happened to Samantha on "B Positive."
Samantha's absence on B Positive has been noted on the show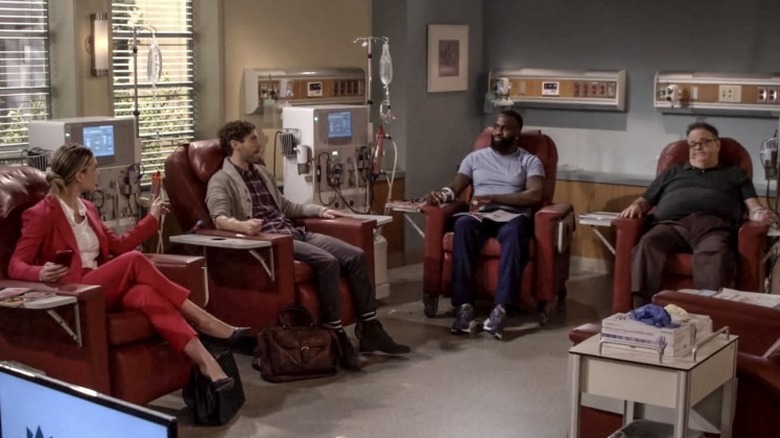 CBS
As one of the few members of the dialysis group that "B Positive" really explored during Season 1, Samantha jarred viewers with her sudden disappearance. However, the show has acknowledged unexpected departure, leaving hope that she might return.
In the first episode that Samantha was not featured in, "A Cute Asphyxiation," Drew, after making a bad joke about his friend's one-person play, apologizes and says, "Uh, with Samantha being out of town, I'm trying to be the sassy one, and it's not working." Even if it does seem like the writers may be trying to recycle a line intended for Samantha, it's pretty innocent stuff.
A bit more worrying for Samantha fans, however, is what happens in the next episode, "Transplanticipation." When Eli (Terrence Terrell) arrives at the dialysis group, he meets Megyn (Melissa Tang), a podcaster and social media influencer. The nurse in charge of the dialysis group, Gideon (Darryl Stephens), explains that "Megyn will be taking Samantha's chair while she's out of town," and she certainly brings a certain Samantha spark to the scene.
The fact that the show rushed to replace its missing cast member could indicate that something unexpected kept Heelan from filming the last few episodes, which doesn't mean that Samantha couldn't return for Season 2. Of course, another season has yet to be confirmed, although the show's positive reception and midseason extension, via TV Line, are all a good sign that more "B Positive" and hopefully more Samantha are in the future.