Pierce Brosnan Pays Tribute To Roger Moore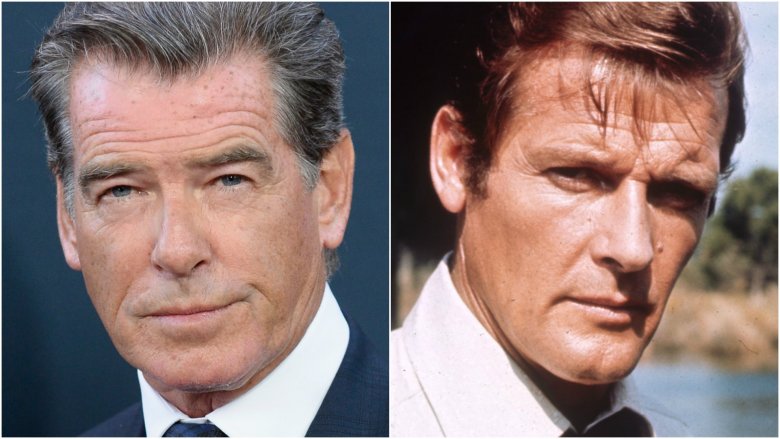 Getty Images
Pierce Brosnan understands the late Roger Moore on a level very few can. 
After Moore portrayed James Bond in seven classic movies, Timothy Dalton took over for two installments before Brosnan stepped in as 007 for 1995's GoldenEye. Moore passed away last week at the age of 89, and Brosnan penned a personal tribute to his "first real hero" for Variety.
Brosnan said he first became a huge fan when he was a young boy in London. At that time, Moore starred as Simon Templar on the spy series The Saint, and had recently taken the role of James Bond on the big screen. "I guess the combination of Bond and the Saint ignited a flame for fame in my heart of innocent wonder," he said. "I wanted to be up there. Roger as the Saint made me believe in his world. And before I knew it, the man who was the Saint transformed into James Bond, an even greater hero to me as a boy."
Brosnan pointed out that Moore brought a wry comedy to Bond, and seemingly did so effortlessly. "He reigned over seven movies as James Bond with exceptional skill and comic timing laced with a stiletto vengeance. He knew his comedy, he knew who he was and he played onstage and off with an easy grace and charm."
Brosnan also noted that Moore didn't let critics and detractors bring him down. "Never forgetting the audience, never letting the begrudgers in, Sir Roger enthralled the world for many years as Bond. Sir Roger played it to the end with impeccable good manners and a wicked sense of irony that was born of years upon the stage. He saved our world, for heaven's sake, with his movies as James Bond."
Brosnan said Moore is the only actor he ever asked for an autograph (back when he was 12), and he never stopped being a fan. "By the time I came to stand on the stage as Bond, the performances of Sean Connery and Roger Moore were difficult to shake from my DNA. Roger came down to set one day on GoldenEye and wished me well. I was still in awe of the man."
Meanwhile, there's still some question about who will play Bond next. While Daniel Craig has hinted that he might be back for Bond 25, the future of that movie is still up in the air. Although rumor has it that Christopher Nolan will serve as a producer and could potentially direct.
While we wait for more details, take a look at the untold truth of Roger Moore.