Doom Patrol Season 4 - What We Know So Far
DC's "Doom Patrol" began after the team was first introduced in the fourth episode of Season 1 of "Titans," the gritty and dark take on the famous youthful squad of heroes and former sidekicks in the DC Universe that wanted to break out on their own to protect the innocent. While the "Titans" lineup features some familiar characters like Robin, "Doom Patrol" holds characters that might be unfamiliar to the laissez-faire DC fan. Wrapping up its third season in early November, fans witnessed a diverse group of characters like Negative Man (Matt Bomer), Cyborg (Joivan Wade), and Robotman (Brendan Fraiser) take on the Brotherhood of Evil with the rest of the Doom Patrol team, finally accepting their roles as heroes.
Throughout Seasons 1 and 2, fans have seen each member of the team battle with their own demons and past trauma that contributed to the special abilities that they now possess, including the revelation that obtaining their abilities wasn't a mere accident, as The Chief/Doctor Niles Caulder (Timothy Dalton) arranged for everything to happen to each member of the team. In Season 2, everyone had to reunite with The Chief in order to save one of their own. With Season 3 ending on a relatively positive note, what kind of challenges will Season 4 hold, given the team's newfound camaraderie? Here's everything we know about Season 4 of "Doom Patrol" so far.
What is the release date of Season 4 of Doom Patrol?
Warner Bros. Pictures/HBO Max
According to Variety and the 2021 DC FanDome Event on October 16, 2021, where the cast of "Doom Patrol" decided to quickly drop in to let fans know that they had been officially renewed for a fourth season, the show is likely to premiere sometime in 2022. While there has been no confirmation of any actual release date, based on prior release dates of "Doom Patrol," it's likely that it could be released in the summer or fall of 2022 on HBO Max. "Titans" is also renewed for Season 4 and set to be released sometime in 2022 as well (via Variety). "Titans" has usually been released alongside "Doom Patrol" in the summer/fall.
"Doom Patrol" and "Titans" are just two of the many original content offerings for DC on HBO Max. The streamer is also working on a "Batgirl" film starring Leslie Grace, and a "Peacemaker" series starring John Cena of "The Suicide Squad."
Who is in the cast of Season 4 of Doom Patrol?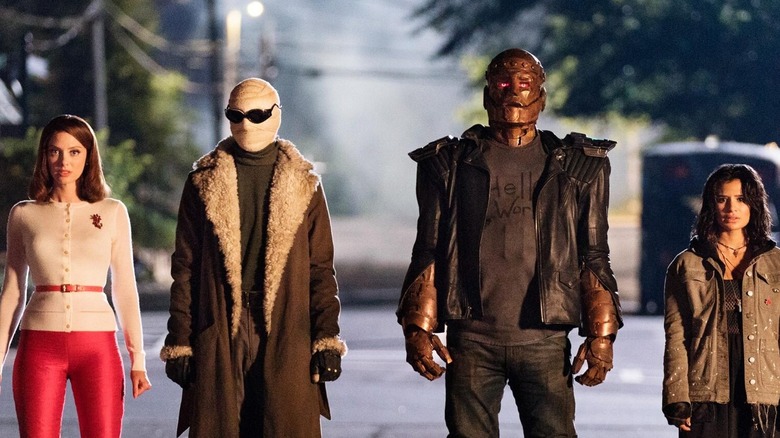 Jace Downs/Warner Bros.
So far, there has been no officially released cast list for Season 4 of "Doom Patrol." However, there have also been no rumors about any primary cast member leaving. So if the same cast from Season 3 is set to return, fans can expect to watch Brendan Fraiser, Matt Bomer, Diane Guerrero, April Bowlby, Joivan Wade, Skye Roberts, and Michelle Gomez as their respective characters during Season 4. It is highly likely for a full cast return simply due to the nature of the end of Season 3, as the "Doom Patrol" team feels more united and heroic than ever before. It's unclear if Timothy Dalton will return, though, due to the character's seemingly permanent death in Season 3.
There have been no rumored additional characters or cast members for Season 4 as of this time. Given that the Doom Patrol will have new threats to take on, there's likely to be new antagonist additions. More information is likely to be released as the new year gets underway.
What is the plot of Doom Patrol Season 4?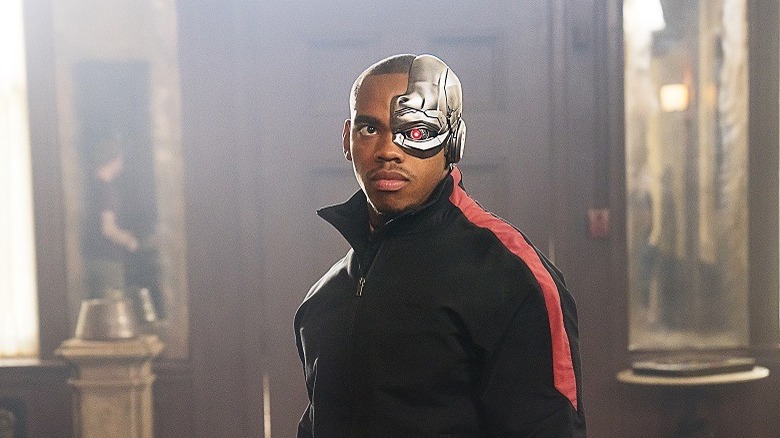 Warner Bros. Pictures/HBO Max
No information regarding the plot of Season 4 of "Doom Patrol" has officially been confirmed, although again, due to the nature of Season 3's ending, it's highly likely that the team will take on larger missions due to their shared acceptance of their role as a super-team of sorts. It's possible that we could see some recurring characters like Dorothy (Abi Monterey) and the Dead Boy Detectives make more appearances as well.
There are plenty of issues left unaddressed in Season 3 for Season 4 to tackle as well, including Robotman's new body, Rita's possibility of becoming a villain now that she has embraced her darker side, and Laura De Mille's struggles in truly being a hero. Either way, the plot of Season 4 is likely to see the entire "Doom Patrol" squad deal with their newfound responsibility as a super-team, including finding the best ways to make it work as a cohesive unit. Expect to hear more about the details of "Doom Patrol" Season 4 next year.