Alaqua Cox Just Opened Up About Taking On The Role Of Maya Lopez In Hawkeye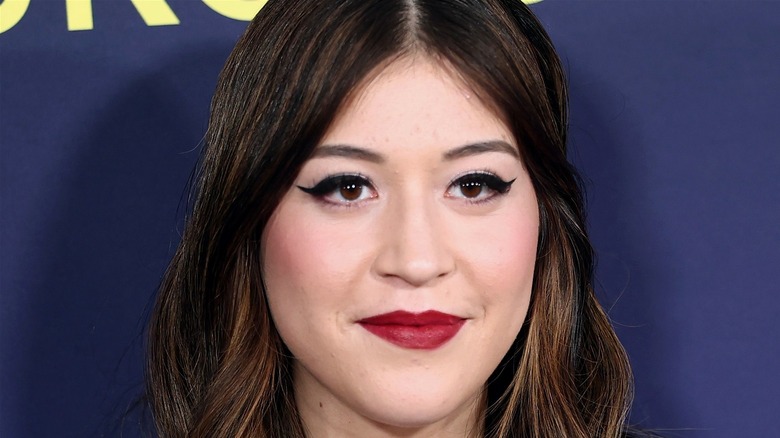 Matt Winkelmeyer/Getty
Marvel's "Echo" was one of the many new Marvel series recently teased on Disney+ Day. Though some fans of the Marvel Cinematic Universe may not have recognized the name simply by the new title card, "Echo" is just one of the many Marvel series aimed for release on Disney's streaming platform in the next few years. In Marvel comics, Echo is said to have an uncanny ability to copy other people's movements, including the types of skilled actions that would take most others years to master. In many ways, the character's powers are similar to those of Taskmaster in "Black Widow." 
However, before fans can even start to get excited about that series, Marvel is set to first introduce the character of Maya Lopez (Alaqua Cox) in the upcoming series "Hawkeye." Maya Lopez first appeared in a 1999 issue of "Daredevil" (via Marvel) and has been known by a number of different superhero names, but is most commonly associated with the name Echo. However, in a 2005 issue of "The New Avengers," Lopez took on the Ronin persona (via Marvel), certainly something of note, considering the recent MCU history of Clint Barton (Jeremy Renner).
It's currently unknown exactly how developed of a superhero Maya Lopez will be when audiences first meet her in "Hawkeye." However, with the first two episodes of the series due for release in just a few days, the stars have been spending plenty of time talking with the press. In a recent interview, "Echo" and "Hawkeye" star Alaqua Cox spoke about what excites her about playing the new MCU character.
Alaqua Cox wasn't originally interested in acting
In a recent interview with Entertainment Weekly, actor Alaqua Cox emphasized that she wasn't even interested in acting prior to reading about the opportunity to play Maya Lopez. Indeed, the 24-year-old, Native American actor has no prior listed roles on her IMDb profile. Instead, Cox reported that she was intrigued by the Marvel role because of Maya's particular set of skills and how they relate to her experience as a deaf person. Cox will portray the second deaf superhero in the MCU, following Lauren Ridloff's debut as Makkari in "Eternals" (via IMDb).
"Deaf people have really good visual skills. I can easily catch things," Cox told Entertainment Weekly. "During training they were like, 'Oh, wow, you're a fast learner.' I was like, 'Well, I just watched you.'"
Despite her initial lack of interest in acting, in a recent interview with People Magazine, Cox admitted that she and her entire family were elated to learn the news that she had gotten the part. "My dad actually cried, and it is rare to see my dad cry," Cox said, later adding that her mom even popped open a bottle of champagne.
Cox also walks with a prosthetic lower right leg, something that some people might think would complicate fight scenes. However, Cox says her prosthetic hasn't slowed her down one iota and she has an Instagram photo to prove it. 
"People with a disability like me can do anything: We can fight, we can flip, we can fall," Cox also told Entertainment Weekly. "I'm excited for people to say, 'Wow, she can do that?'"
The first two episodes of "Hawkeye" premiere exclusively on Disney+ on November 24.