Mckenna Grace Reveals What It Was Really Like Working With Paul Rudd On Ghostbusters: Afterlife - Exclusive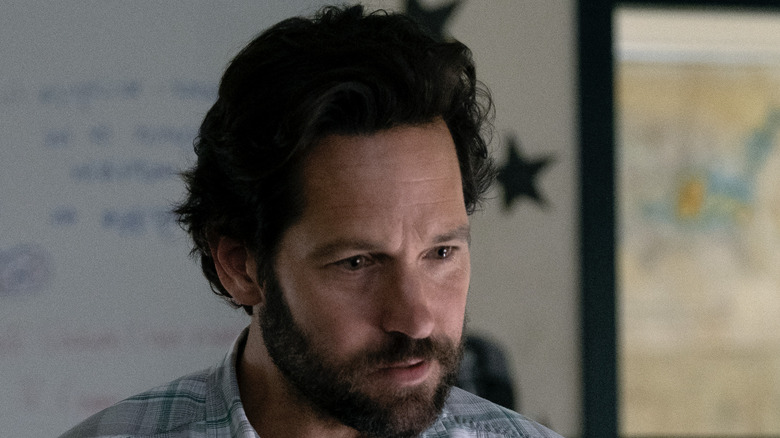 Sony Pictures
The internet knows Paul Rudd as the wholesome guy who never ages, but his costars get a much deeper look at the newly-crowned Sexiest Man Alive. At just 15, actress Mckenna Grace scored the role of Phoebe in "Ghostbusters: Afterlife," earning her the privilege of costarring in the film alongside Rudd (Grooberson). He plays her mildly disinterested teacher, who's very interested in her character's mother — and figuring out what the heck is going on with the environmental anomalies in the ghost-ridden town. Sharing a nerdy passion for science, Grooberson and Phoebe get into some pretty entertaining science experiments (read: they just blow stuff up).
Looper spoke to Mckenna Grace during an exclusive interview where she revealed what it was like working with Paul Rudd, teased some of his behind-the-scenes antics, and dished on how she came about working with so many Avengers and the impact it's had on her career.
The man, the myth, the possible vampire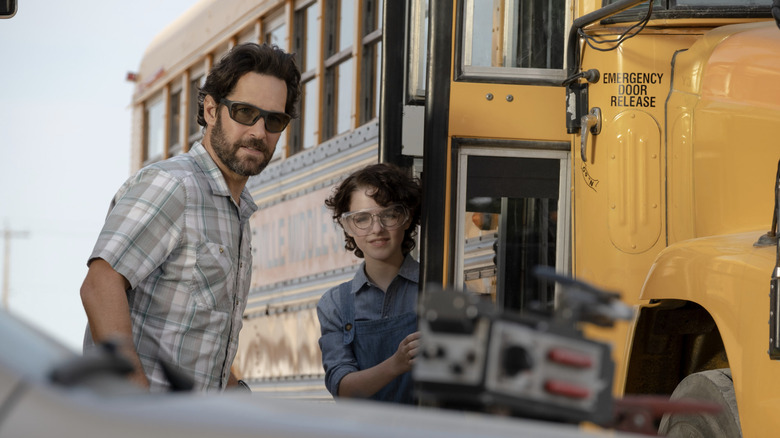 Sony Pictures
On working with Paul Rudd and the possibility of his antics ending up on a future gag reel, Grace said, "Mr. Paul was really funny. Mr. Paul ... he's great. I wish that there was a gag reel. I feel like there was so much funny stuff that we did that didn't make it in. There's always going to be gag reel stuff for Paul." She added, "It's Paul Rudd. Sexiest man alive. Hilarious. He's great. I'm sure if there was a gag reel, it would be filled with Mr. Paul. There's nothing very specific that I can remember, but he's very nice and very funny." That certainly seems to be the general consensus with anyone who's worked with the star.
Our first instinct may be to wonder how much industry advice seasoned actors give young stars, but Grace is much more interested in personal facts from her A-List costars. "I always get questions like that, but I feel whenever I'm on set or whenever I'm talking with other actors, it's fun to ask them more questions that are less about the business. I feel like I'd want to know what his favorite color is or something more than his advice, which is really funny," she explained. "So I can't remember what his favorite color would be. Man, I'm a bad coworker, but nothing that I can remember. Though I was chatting with him at the afterparty last night, and he's just very kind. He does give me advice and talk to me about the film, and it's really kind." Let out that sigh of relief that Paul Rudd is just as wholesome as everyone hoped.
Chillin' with the Avengers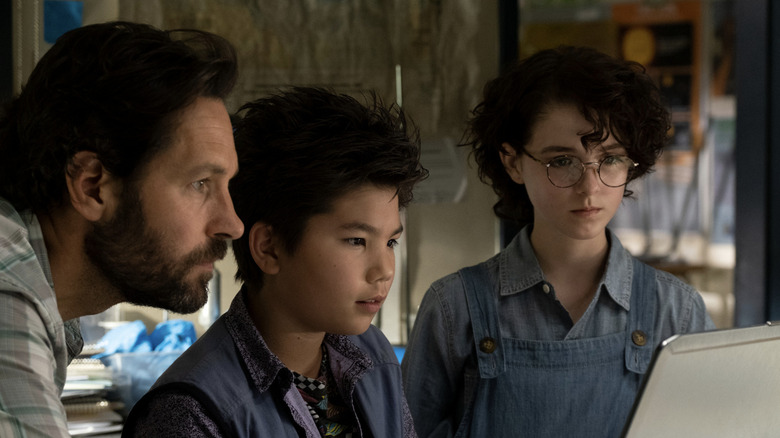 Sony Pictures
On what it was like working with Grace's various slate of Avengers and whether she's team Ant-Man or Captain America, she joked, "I didn't know that they [Captain America and Ant-Man] were fighting." She added, "It's fun, though, because whenever I work with people, I like to see how many people I can see that I work with in 'The Avengers.' I think right now I've worked with Paul Rudd, I've gotten Ant-Man, Captain America, Captain Marvel, and the Winter Soldier, and I don't know if I can think of anyone else that I've worked with that's in a Marvel film."
At such a young age, it's a pretty impressive feat that Grace has co-starred along with Hollywood's biggest names. "I think that being a part of a Marvel film is such an iconic thing. I would love to do something like that," she said. "I think that would be a dream come true. But working in 'Captain Marvel' was like a dream come true as well, to have a small cameo in that — that was so cool."
Hanging out with so many Avengers certainly ups Grace's street cred on social media. "It's always really funny to me whenever I work with more people that are in the Marvel [franchise] because then everybody talks about it on Twitter, on TikTok. And they're like, 'Why is she meeting all the Marvel people?' And I'm like, 'I don't know! But I'm happy about it,'" she noted. "I absolutely love Marvel. It's my favorite franchise, and I'm totally going to just glaze over the Ant-Man or Captain America question. [Laughs] Just not going to answer. No comment. I will not pick a side." Who could choose between Paul Rudd and Chris Evans anyway?
Fans can catch "Ghostbusters: Afterlife" exclusively in theaters now.