Thor: Love And Thunder: MCU Artist Confirms What We Suspected All Along About Taika Waititi's Vision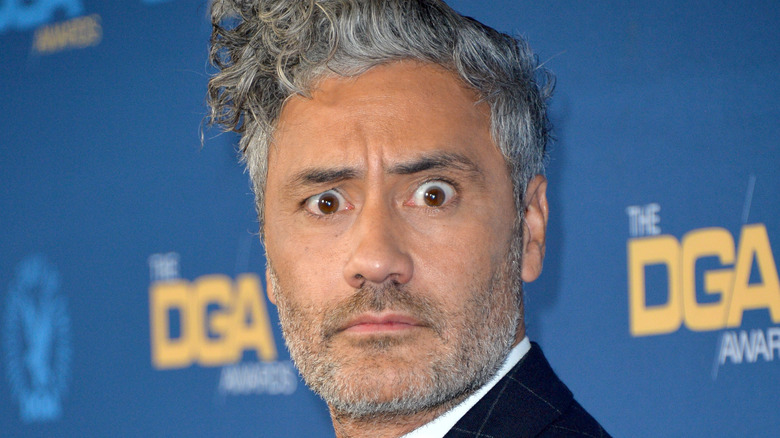 Featureflash Photo Agency/Shutterstock
Thor (played by Chris Hemsworth) arrived in the Marvel Cinematic Universe way back in Phase One via "Thor." The 2011 flick from director Kenneth Branagh established a regal, Shakespearean tone for the God of Thunder and his home realm of Asgard, which bled over into its 2013 sequel, "Thor: The Dark World." While these films and their aesthetic fit the hammer-wielding Avenger, neither fans nor critics had much good to say about either. Therefore, if Marvel Studios wanted the third "Thor" feature to succeed, major adjustments were in order.
Enter Taika Waititi: an accomplished director who'd risen to fame with projects like "Boy" and "What We Do in the Shadows." He stepped up to the plate to helm "Thor: Ragnarok" and ultimately overhauled Thor and his place in the MCU in the best way. Neon colors and offbeat humor replaced muted visuals and over-the-top stoicism, and it goes without saying that moviegoers liked what they saw. In fact, this remarkable support — coupled with some solid financial numbers — surely played a role in the fourth "Thor" installment, "Thor: Love and Thunder," getting the green light.
"Love and Thunder" will employ Waititi's distinct filmmaking vision, and according to an MCU artist, it's quite unconventional.
Waititi's vision for Love and Thunder is bonkers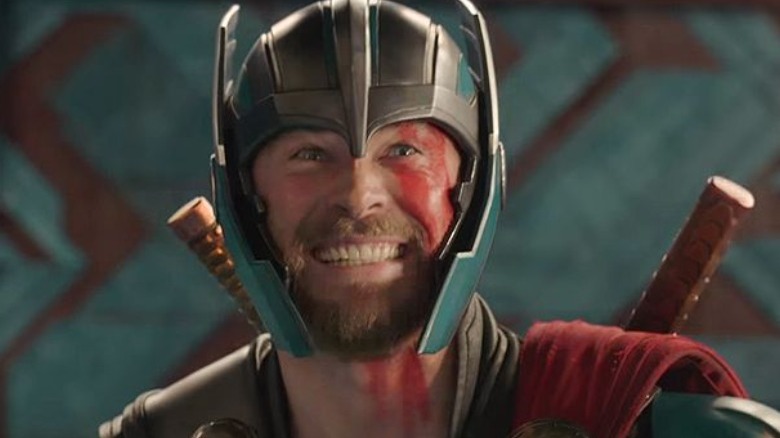 Marvel Studios/Disney
At the time of this writing, details regarding "Thor: Love and Thunder" are on the sparse side. It's known that Christian Bale will play the main villain, Gorr the God Butcher, Natalie Portman is returning as Jane Foster and will finally take on the Thor mantle, and several members of the Guardians of the Galaxy will stop by for a spell. Otherwise, though, we're in the dark, but if recent comments made by Marvel's Director of Visual Development, Andy Park, are of any indication, this sequel is about to be bonkers thanks to Taika Waititi's creative touch.
"'Thor: Love and Thunder' falls right into that where it's just pushing the boundaries of what's comfortable and what should be expected," Park told Screen Rant on November 30, 2021, adding that the trajectory the film takes the characters, and its overall visual choices will leave audiences surprised. He also cites previous comments made by Waititi that boiled down to his amazement that he even had the chance to make a movie like this. "This movie is crazy wild. It's so much fun. And I simply cannot wait for everyone to see it."
"Thor: Love and Thunder" aims to hit the big screen on July 8, 2022, and when it does, the phrase "expect the unexpected" will almost certainly apply.