This Possible Sneak Peek Of Natalie Portman's Mighty Thor Has The Internet Buzzing
After over two years without any new films in the Marvel Cinematic Universe since "Spider-Man: Far From Home," they're finally coming back with "Black Widow" in July 2021, and with steady production on subsequent films chugging along, there are many more MCU movies in the near future. One highly anticipated film among these is "Thor: Love and Thunder," which chronicles Thor's (Chris Hemsworth) journey alongside the Guardians of the Galaxy. This latest entry seems to continue the tonal makeover the Asgardian got in 2017's "Thor: Ragnarok," thanks to director Taika Waititi's fun and comedic take on the hero.
Waititi's return to the director's chair for "Love and Thunder" has been enough to make fans extremely excited for the film, but there are other details that have people even more interested. One notable element is the return of Natalie Portman as Thor's previous love interest Jane Foster, who last made a big appearance in 2013's "Thor: The Dark World," although she also made a brief cameo in "Avengers: Endgame." Thanks to a leaked image, we may have a look at her newest outfit in the film.
Jane Foster's Mighty Thor costume may have leaked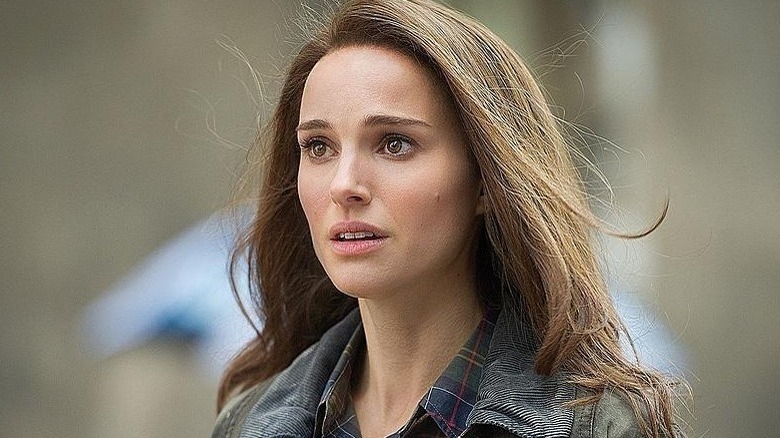 Marvel Studios
We've already confirmed that Portman's character will transform into the Mighty Thor as she did in the comics, gaining Thor-like powers as she undergoes treatment for cancer. We haven't, however, had an idea of what the transformed character would look like, other than seeing the actress' own ripped muscles she developed for the film and fan art for what the character could look like, as in our header image — until now. Thanks to a since-deleted photo of a crew T-shirt on Instagram from a crew member in celebration of filming having wrapped, we may have just gotten our first look at the suited-up superheroine.
Posing alongside the original Thor and Valkyrie (Tessa Thompson), the Mighty Thor appears to have a more classic design, sporting a helmet with what looks like wings on the sides, a red cape, and metal armor. She's also wielding Mjölnir while Thor holds Stormbreaker, the axe he forged in "Avengers: Infinity War." Although there's a possibility the T-shirt design could deviate from the actual movie shirt, or that it's a cleverly contrived fake because there's no way of accessing the original, the fact that the crew member so quickly deleted the photo of that particular shirt while keeping one of the spoiler-safe comic Thor suggests Marvel doesn't want us to see it yet. This inadvertently gives the deleted image more credibility.
We'll see what the Mighty Thor really looks like on the big screen when "Thor: Love and Thunder" comes to theaters on May 6, 2022.