The Chocolate Competition Show Netflix Fans Can't Stop Binging
Courtesy of Netflix
Netflix's original content seems to expand more and more each year. The streaming platform has cultivated a reputation for dominating original content in hyper-specific genres, such as true-crime docuseries or coming-of-age teen stories. One specific genre Netflix has totally mastered is the reality competition show. Unlike your run-of-the-mill cable game shows, the streaming giant has gotten extremely creative with its range of offerings.
For example, the Netflix original series "Nailed It" rewards the best of the worst as amateur bakers come together and attempt to make confections that seem like they were deliberately picked for them to fail. Or, there's the reality series "Blown Away," where blown glass artists show off their creations and skills in an attempt to be crowned the best of the best. Even a show like "The Great British Baking Show" has had a successful crossover to the U.S. thanks to Netflix.
These days, a new show from the platform takes a similar competition format but uses everyone's favorite ingredient as its focal point: chocolate. 
School of Chocolate is a masterclass in candy art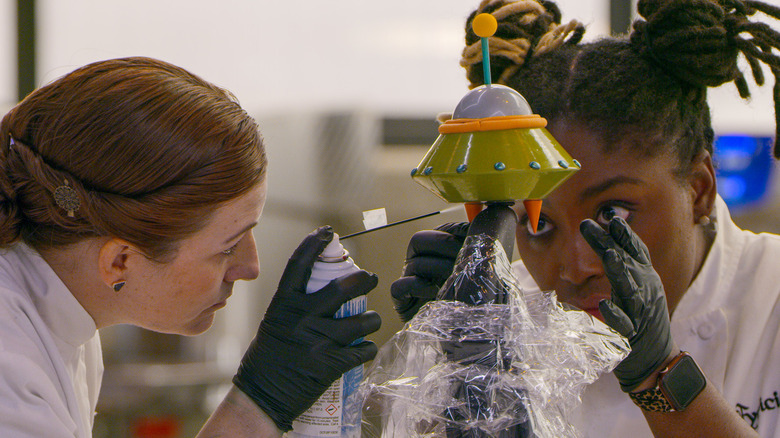 Courtesy of Netflix
Netflix's latest competition show, "School of Chocolate," is taking the streaming platform's Top 10 list by storm in the wake of its November 26 debut. At the time of writing, the baking competition show sits in the number six slot, sandwiched between "A Castle for Christmas" and "Cowboy Bebop." 
The reality television series follows eight pastry chefs and chocolatiers working to elevate their skills under the guidance of host Amaury Guichon. Contestants compete for a $50,000 prize, and there is only one winner at the end. But there's something special that makes this Netflix show a bit different. Contestants do not get eliminated as the challenges go on. Instead, every participant takes away the skills they learned while competing in the larger-than-life chocolate-themed challenges. It's a bit similar to Netflix's other series, like "Next In Fashion," "Cooked With Cannabis," and "Sugar Rush," but without eliminations.
Season 1 of "School of Chocolate" only has eight episodes, so it's a quick and easy binge-watch when you're looking for light-hearted content. It's pretty fascinating to watch the wide variety of art the contestants create with such a familiar ingredient like chocolate, totally expanding viewers' imaginations of what confections can be. If you're someone who can't get enough of cooking competition shows, make sure to add "School of Chocolate" to your must-watch list.