Nailed It! Season 6 - What We Know So Far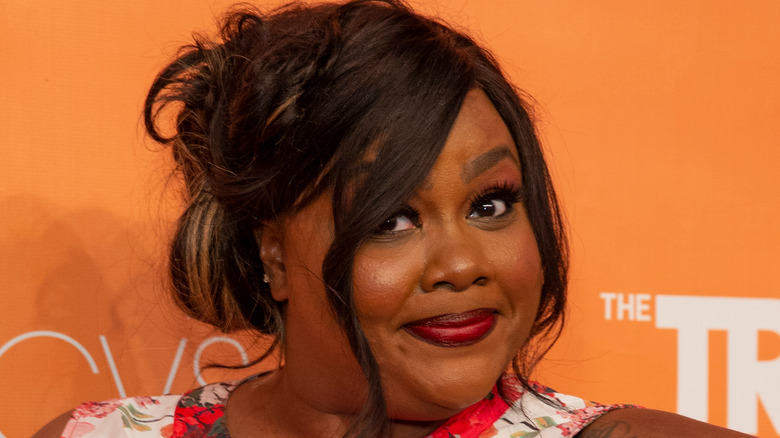 Shutterstock
A good baking show is hard to hate. The allure of watching people create an array of delectable confections under stringent time restrictions is hard to beat, and over the past few years Netflix has absolutely dominated the genre with its show "Nailed It!" Since 2018, "Nailed It!" has put its own spin on the classic baking competition formula by pitting three everyday home bakers against each other as they try to replicate a bonafide pastry chef's top-notch creations.
Having just released its fifth season all at once, fans are already preheated for another half-dozen episodes of "Nailed It!"'s culinary hilarity. However, since the last season has just come out of the oven and is still on the cooling rack, the pastry chef producers have only just begun to whip up the next batch. As a result, Netflix has released no official information regarding "Nailed It!" Season 6. Thankfully, it shows no signs of closing up shop quite yet.
When will Nailed It! Season 6 come out?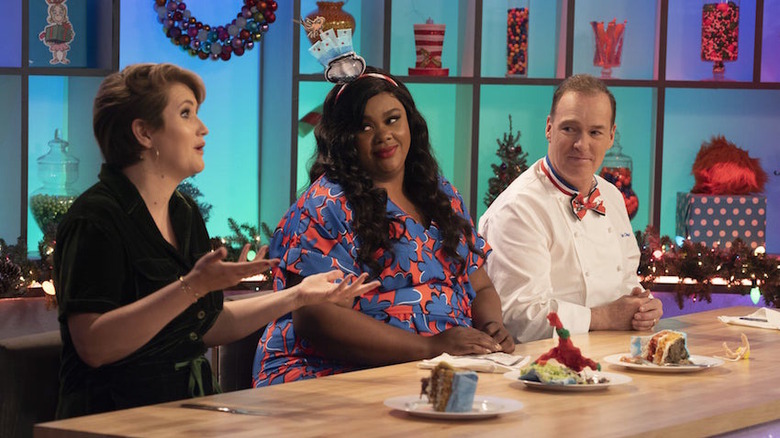 Netflix
Since Netflix has given fans a single hint as to when "Naild It!" Season 6 will be added to the streaming service's catalog, we can not give you a definitive answer regarding the show's next release date. Given that the show tends to wait around a year to release each of its newest seasons, fans can expect to see "Nailed It!" Season 6 sometime in spring 2022. However, the show's many spin-offs might be able to fill the gaps.
The show's primary spin-off, "Nailed It! Holidays," has released a new season every winter since its inception. The only exception to this rule has been 2020 when the COVID-19 pandemic likely prevented the show from filming. Since the show has gone back to filming, however, fans can be confident that "Nailed It! Holidays" will make another return come the holiday season.
Likewise, fans may way to be on the lookout for any of "Nailed It!"'s international spin-offs. With spin-offs in France, Spain, Mexico, and Germany, there is no shortage of "Nailed It!" to go around. These versions of the show all follow similarly, but not exact schedules compared to their parent series. This means that fans may find a pleasant surprise in a new international season of the show releasing between now and Season 6.
Who will the judges be in Nailed It! Season 6?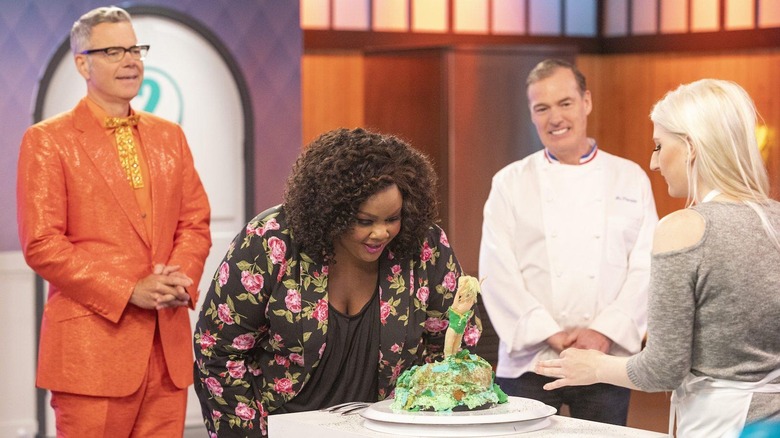 Netflix
Fans can expect to see at least two very familiar faces once "Nailed It!" Season 6 finally rolls around. The show's usual judges, actress/comedian Nicole Byer and pro pastry chef Jacques Torres have shown no signs of wanting to stop hosting the show anytime soon. According to Insider, the two have a friendship behind the scenes, and Byer seems to adore her role as the resident comedian. At the very least, fans seem to adore it, as Byer has received multiple award nominations (including one for an Emmy) based on her hosting skills (via IMDb). There doesn't seem to be many reasons for them to cut such a sweet deal short.
However, the show's regulars are just one side of the coin. Each episode has its own guest judge that adds a bit of variety between every competition. However, it is unlikely that Netflix will announce any of its guest judges anytime soon, simply to keep them a surprise for later on down the road. So until that changes, fans will have to stay content knowing that at least Bryer and Torres will bring their usual charm to the show.
What challenges will be in Nailed It! Season 6?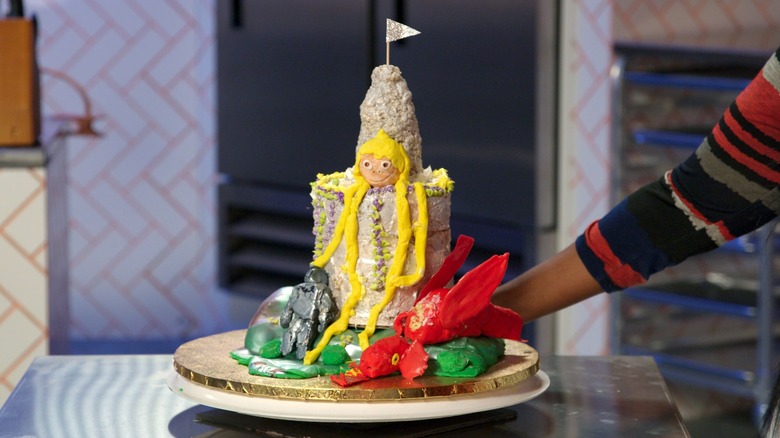 Netflix
So far, "Nailed It!" has mostly stuck to its usual formula for challenges throughout all of its seasons. Barring its most recent season, the show has had each episode's batch of contestants engage in two rounds. The first round pits the contestants against each other to see who can whip up the tastiest recreation of one of three classic pastry dishes. The second challenge follows a similar premise but instead features the contestants competing to make their best recreation of a single, more advanced cake. The show's most recent season, "Double Trouble," mixed up this formula by exchanging each individual contestant for a team of two.
Whether or not "Nailed It!" will stick with its "Double Trouble" formula or go back to its original style is unknown. However, it can be expected that the challenges will work in the same basic fashion as usual. The real variety comes in the kinds of pastries they create, and the horrible accidents that happen along the way. Unfortunately, fans will have to wait for the show's next season to come out before they know what those will look like.