Dolph Lundgren Has Some Exciting Thoughts On Aquaman 2
Dmytro Larin/Shutterstock
Part-time Expendable and former He-Man Dolph Lundgren made for a welcome appearance alongside Jason Momoa and Amber Heard in the 2018 DCEU movie "Aquaman." Although Lundgren's screentime was minimal compared to his castmates, the actor made an impression as King Nereus, the father of Heard's character who sports some impressive (CGI-enhanced) hair. James Wan, the director behind the DCEU's highest-grossing film to date (via The Numbers), clearly had more plans for Lundgren's underwater royal, as he is set to return in "Aquaman 2: The Lost Kingdom."
With major details of the upcoming sequel yet to come ashore over Arthur Curry's (Momoa) next adventure, fans have only had snippets from DC FanDome to keep them going. So far, no actual film footage has been seen, but the recent online event did reveal Aquaman's fancy new "stealth suit" and Black Manta's more comic-accurate get-up. Of course, it'll take more than an updated wardrobe to top the film's billion-dollar-making predecessor, which might not be a problem, according to Lundgren. Speaking to The Hollywood Reporter this week, he gave a promising insight that suggests one thing — we're gonna need a bigger box office.
Lundgren promises a 'stronger' and 'more exciting' film with Aquaman 2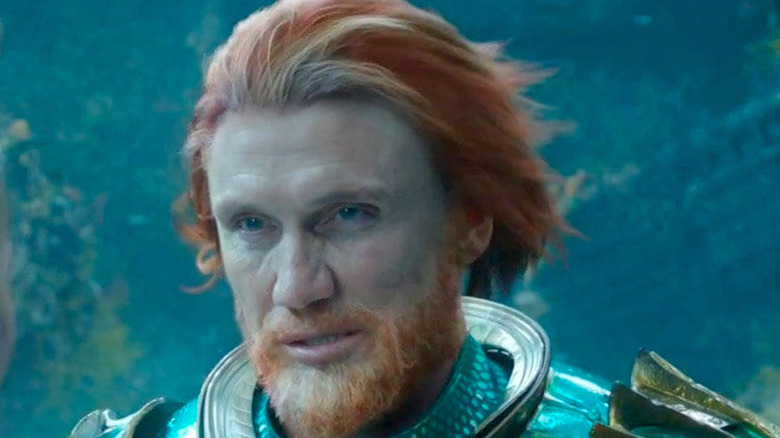 Warner Bros.
No stranger to upping the ante in sequels (he is Ivan Drago, after all), Dolph Lundgren discussed how "Aquaman 2: The Lost Kingdom" is leagues ahead of its predecessor in all the right ways. "That whole picture is just a class act," said Lundgren explained to The Hollywood Reporter. "I think [Aquaman 2] is better. I think the script is stronger, and it's more exciting." The DCEU actor also went on to praise the evolution of the technology being used to make a film of this size, and he then concluded, "I was really pleased to be a part of it."
Speaking of the director at the helm of one of DC's wildest live-action franchises, Lundgren made it clear he had total faith in the filmmaker, as well. "James Wan is just going to blow everybody away again by this tremendous world that he creates. He's involved in every little detail, even every little piece of every weapon, and I think it's going to be great."
We can see if his comments hold water when "Aquaman 2: The Lost Kingdom" arrives in cinemas on December 16, 2022.