Dolph Lundgren Teases An Ivan Drago Spin-Off And A Rocky Rematch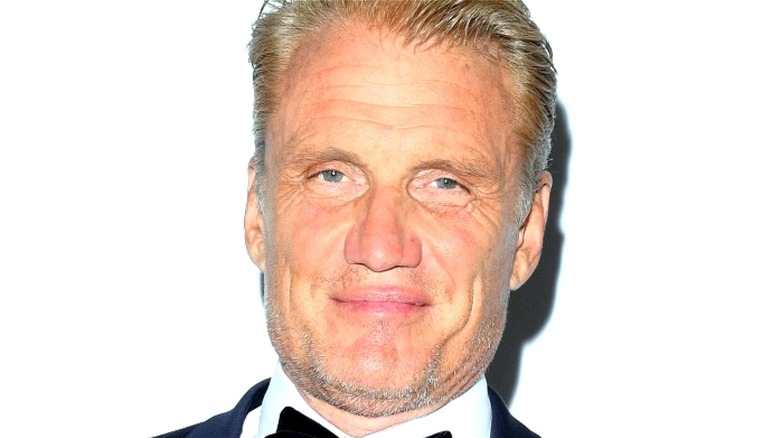 Daniele Venturelli/Getty
The "Rocky" and "Creed" films are known to have their fair share of rivalries. The rivalry (which eventually becomes a friendship) between Rocky Balboa (Sylvester Stallone) and the late Apollo Creed (Carl Weathers) is introduced in 1976's "Rocky." The opposition between the two fighters is probably the series' most remembered, but other films in the franchise have generated plenty of additional villains for its heroes to pummel in the ring.
At the height of the Cold War, "Rocky IV" introduces audiences to the character of Ivan Drago (Dolph Lundgren), a boxer from the Soviet Union who seeks to promote his country's values through boxing. Drago's style quickly makes him a target of Apollo Creed, who comes out of retirement to defend his country's honor. However, the fight does not go as Creed planned, and he is beaten to death by Drago early in the film. As Creed succumbs to his injuries, the Soviet boxer simply remarks, "If he dies, he dies."
Though Rocky later avenges Creed by beating Drago in a highly publicized fight, plenty of "Rocky" fans were eager to see more of the villain when he reappeared in 2018's "Creed II." A recent interview with Lundgren suggests that fans could see even more of him soon.
Lundgren says MGM is considering an Ivan Drago spin-off
During a recent interview with The Hollywood Reporter, Dolph Lundgren discussed a variety of subjects, ranging from his upcoming role in "Aquaman and the Lost Kingdom" to the recent release of "Rocky IV: Rocky vs Drago – The Ultimate Director's Cut." At one point, Lundgren was asked about a fight scene between Rocky and Drago that was cut from "Creed II." He went on to reveal why he was disappointed it wound up on the cutting room floor.
"I thought it was a good moment," Lundgren told THR, "It was also a fan moment. It was a quick little fight, and I thought it worked. But the director [Stephen Caple Jr.] and MGM felt that it was extraneous and that it didn't add anything." 
However, Lundgren also added a quick tease that is sure to excite fans of the "Rocky" and "Creed" series. "By the way, I think there's some talk about doing a whole spin-off on Drago with MGM," Lundgren said. "So you may get more of that." While there haven't been any official announcements on an Ivan Drago-centered spin-off, Lundgren's new comments tease the possibility of Drago and Rocky meeting in the ring once again — something that would surely excite fans of the franchise if it comes to fruition.
"Creed III," starring Michael B. Jordan, is currently set for release on November 23, 2022. Per an April THR report, it will be the first film in the series to not feature Sylvester Stallone as Rocky Balboa.