The Humans Star Richard Jenkins Reveals The One Director And Actor He Wants To Work With - Exclusive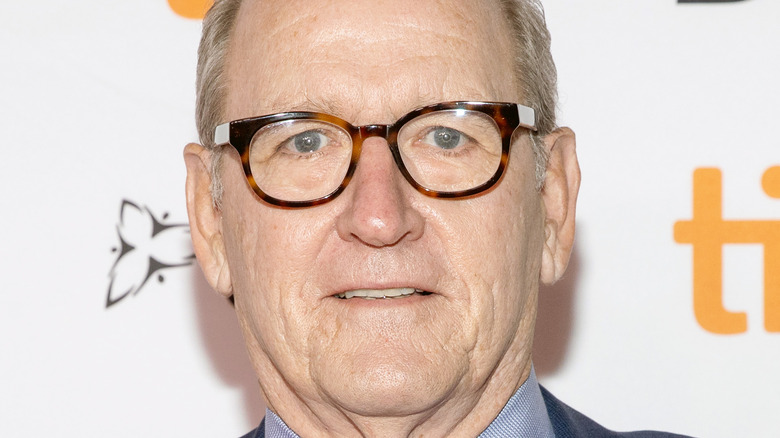 Emma Mcintyre/Getty Images
Ever since starting his film career in earnest in 1985 with the Western "Silverado," actor Richard Jenkins — who currently stars in the indie drama "The Humans," based on a Tony-winning Broadway play — has worked alongside an illustrious list of other thespians while also practicing his craft for a staggering selection of acclaimed and even legendary directors.
Among the scores of actors Jenkins has collaborated with are Kevin Costner ("Silverado"), Al Pacino ("Sea of Love"), Jack Nicholson ("Wolf"), Josh Brolin ("Flirting with Disaster"), Will Ferrell ("Step Brothers"), Sally Hawkins ("The Shape of Water"), Brad Pitt ("Burn After Reading") and Frances McDormand (also "Burn After Reading" and the HBO miniseries "Olive Kitteridge"). That's just a relative handful of the performers he's shared the screen with.
Meanwhile, the list of directors who have cast Jenkins in their movies include Lawrence Kasdan, Woody Allen, Clint Eastwood, the Coen brothers, Robert Redford, Matt Reeves, Mike Nichols, David O. Russell, and Guillermo del Toro.
It's an incredible list and a glittering body of work for one of the best character actors in the cinema today, but even an actor as busy as Jenkins has a personal list of artists he's never had the chance to work with yet — including the one actor whose performance in a movie inspired Jenkins to pursue the craft himself. "That's when I really said, 'I'm going to do this. I'm going to be an actor,'" Jenkins tells Looper. "You see something and it just motivates you to say, 'I'm going to do this. I'm going to do this.'"
Richard Jenkins reveals the actor he'd love to meet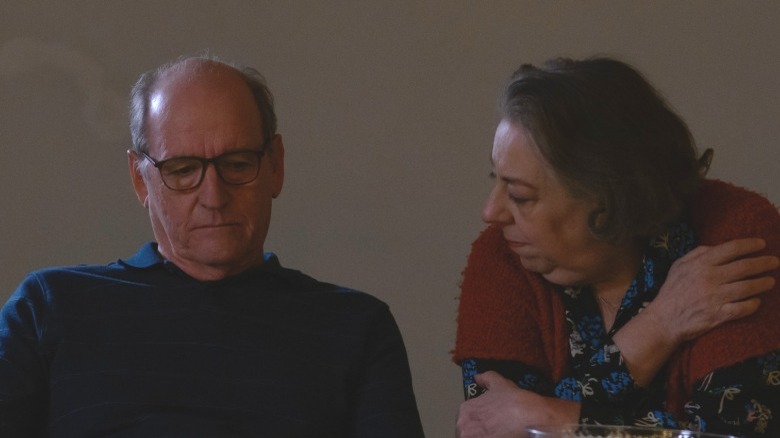 A24
According to Richard Jenkins, there is one actor he's yet to work with, but whose performance in a single movie pushed Jenkins to pursue acting as a career himself. "I always think if I worked with him, I'd be so intimidated, but I always loved Michael Caine," he says. "Michael Caine, when I saw 'Alfie,' I was about 18, 19 years old, and I just thought, 'What is this?'"
Jenkins continues, "That's when I really said, 'I'm going to do this. I'm going to be an actor.' If I can in my life do something like that, even close to what this guy did... It was one of those things where I believe you find movies and plays and literature, you find them when you need them. 'Alfie' came along at a time in my life when I was thinking about, 'Could I be an actor? Is that possible? Do I have any talent?' Then you see something and it just motivates you to say, 'I'm going to do this. I'm going to do this,' and that was Michael Caine."
Jenkins and Caine were in the same movie once — Woody Allen's 1987 film "Hannah and Her Sisters" — but Jenkins had a small role and never shared any scenes with Caine. "I've never worked with him, and I've never met him," he explains. "But I was doing something in London and he was on the soundstage next door, and I don't know why I did this because it's not me really. I would usually stay away, but I ran over there to see if I could meet him. He was gone. I don't know what I would've said to him."
Caine recently disputed reports that he was retiring from acting, so there's still a chance that Jenkins could meet and work with his idol if the right project finds them both.
There's one director Jenkins hasn't connected with yet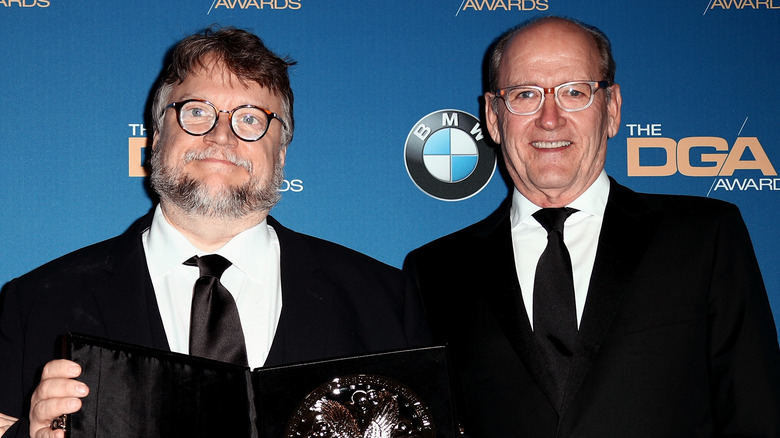 Frederick M. Brown/Getty Images
As for a director he'd like to work with, Jenkins says briefly, "I wrote a note to Steven Spielberg once and he never wrote back, so I thought, 'Well, he's a busy man.'"
Strangely enough, just like his near-miss with finally meeting Michael Caine, Jenkins almost had a chance to cross paths with Spielberg not too long ago. "We shot 'The Humans' right next door to where they were shooting 'West Side Story,'" he explains. "The choreographer's a friend with ('Humans' director Stephen Karam), and Stephen said, 'He said come over and watch him shoot.' I said, 'Let's go.' He said, 'Well, we have a movie to shoot here.' 'No, no. Let's go watch. Are you kidding? This is 'West Side Story.' We can watch the dance in the gym or something. Let's go see it.' We never did."
Luckily, Spielberg is not putting down his director's megaphone any time soon either, and because Jenkins continues to have an active and exciting career — next up for him after "The Humans" is Guillermo del Toro's "Nightmare Alley" and Ryan Murphy's Netflix limited series, "Monster: The Jeffrey Dahmer Story" — it's certainly possible that Spielberg and Jenkins will land on the same project together as well.
"The Humans" is in theaters and streaming on Showtime.