Get A Look Behind The Scenes Of Steven Spielberg's West Side Story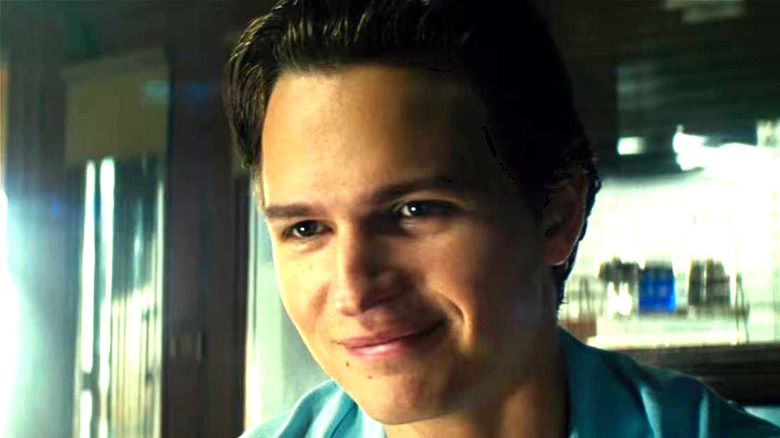 20th Century Studios
You know the story. Guy meets girl. Guy and girl fall in love, if not at first sight, then without too many more extra glimpses after that. Guy and girl's family and friends oppose the match, and make their displeasure clear, largely through song and dance, but also violence.
The culture has seen a million variations on the "Romeo and Juliet" formula, but few as beloved or successful as "West Side Story." The 1961 film adaptation of the Broadway musical was the year's highest-grossing film and its Best Picture winner. That adaptation cast a long shadow over pop culture ever since, influencing everything from the news crew battle royale in "Anchorman" to the "Beat It" music video. With a legacy like that, who'd want to try to remake it?
Well, Steven Spielberg did, which is one way to make sure that it happens (that he convinced Pulitzer-, Tony-, and Emmy- winning screenwriter Tony Kushner to write the script also helps). Now, in a new behind the scenes clip released October 27, the director explains just what getting to tell the story means to him, and pays homage to the film's inspiration: not its cinematic predecessor, but the original 1957 Broadway musical written by Arthur Laurents, Leonard Bernstein, and Stephen Sondheim.
Steven Spielberg says he's 'proud and honored' to work on West Side Story
The clip — billed as a sneak peek at "Steven Spielberg's 'West Side Story'" — is even shorter than the film's trailers, not even a minute long, and begins with the director giving a speech to his cast and crew just before filming the first shot of the movie. He calls himself "proud and honored" to have had the opportunity to make the film, his long-awaited first attempt at a movie musical, and pays homage to the months of production efforts that led up to that shot.
Spielberg doesn't specify about what that labor was, but one look at the footage overlaid on top of the director's words gives a clue: the mid-century sets, the period costumes, and, perhaps most of all, the choreography on display was not the rushed effort of a couple of weeks. Now that shooting has begun, he says, all those efforts can come together toward their end product, "as one voice, into an ensemble."
The film's teaser began with shots of a divided New York City, the Jets and Sharks coming together for their rumble, a gun on a counter emphasizing the story's violence and its tragedy. Here, the imagery is joyous — people dancing in the streets, the brilliant colors of the bridal shop where Maria works — and features a far more upbeat score. It's a reminder that the story may be familiar, but it still contains more than enough richness and depth to be worth revisiting.