Ranking Characters Of Parks & Rec By Likability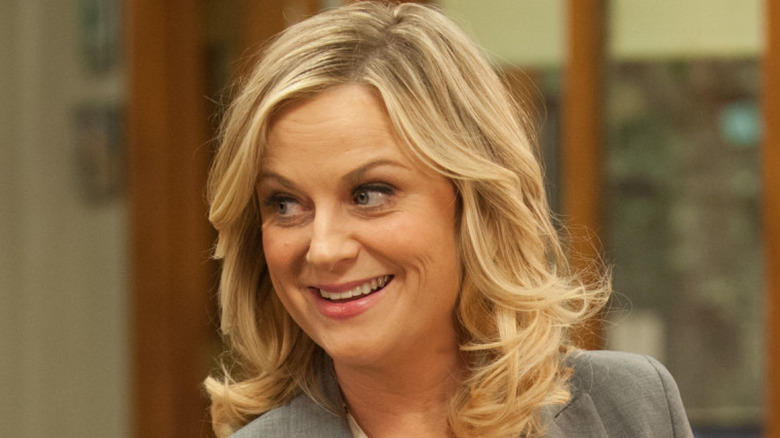 NBC
Mike Schur's beloved comedy series, "Parks & Recreation," still holds up, and will likely continue to hold up in coming years. While a show about a small town's Parks department should probably not have been as successful as it is, Schur's ability to create something memorable is due to the easily quotable characters and the undeniably beautiful friendships. Starring Amy Poehler, Nick Offerman, Adam Scott, Rashida Jones, Aziz Ansari, Aubrey Plaza, Rob Lowe, Retta, and more, "Parks & Recreation" is at its core, a series about complex characters finding ways to work together while lovingly fighting the urge to strangle each other.
"Parks & Recreation" consistently emphasized the importance of teamwork and, more notably, lasting friendships. The lengths characters were willing to go to for one another and the decisions they were ready to make to improve their work habits (even while grumbling through it). By centering stories around flawed, incredibly realistic characters, Schur excels at taking ordinary premises and adding magic to them. Holidays, birthdays, special events, whatever it may be that's happening, for a show like this to succeed depends on how well audiences resonate with the characters. It relies on how much we care for them and how hard we're rooting for them. And ultimately, as far as presentation goes, even the most unlikable characters on "Parks & Recreation" provide some of the best, most entertaining content. 
From least likable to most lovable, here are some of the most renowned characters on "Parks & Recreation."
13. 13. Tammy 1
Though she appears more infrequently than Tammy 2, Patricia Clarkson's Tammy 1 tops as the worst, most unlikable person in Ron Swanson's list of ex-wives. It's also a no-brainer that no one could be worse than her, considering the fact that she essentially groomed him. As an IRS agent with resources to look into Ron's finances, Tammy 1 doesn't understand or care about boundaries. She is cold, ruthless, and knows exactly how to manipulate those around her to abide by her demands. Tammy 1 controls everything in the relationship when she and Ron are together. She is also the only person who manages to render the grown man speechless while fundamentally transposing him into a scared little boy.
Tammy 1 always has a dark agenda. She has known Ron since the day he was born, and she has manipulated everything in his life since the age of 15. "Parks and Recreation" should have done a bit more to emphasize how sickening her behavior was, but on a comedy series, these things are sometimes tragically glossed over. In Season 4, Episode 2, "Ron and Tammys" we learn that she views everyone beneath her, Ron's mother Tamera included.
If you or anyone you know has been a victim of sexual assault, help is available. Visit the Rape, Abuse & Incest National Network website or contact RAINN's National Helpline at 1-800-656-HOPE (4673).
12. 12. Tammy 2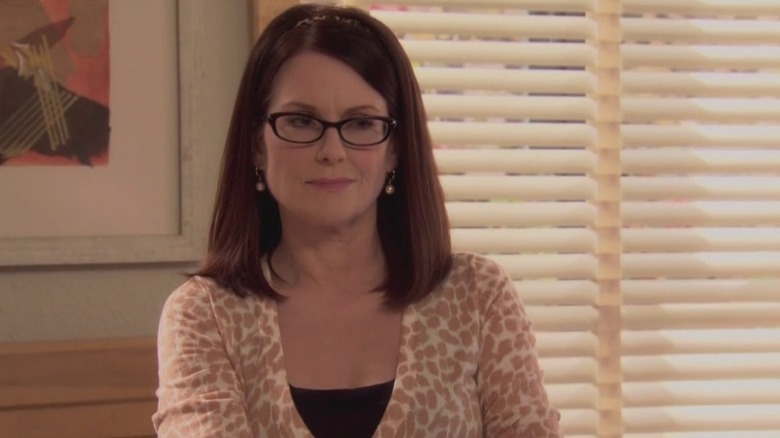 NBC
Megan Mullally's Tammy 2 is chaos personified, which at the very least provides plenty of entertainment for the viewers. The fact that there is actual chemistry between Ron and Tammy 2 is a direct result of Mullally's and Nick Offerman's off-screen marriage. Naturally, this results in some fantastic scenes between the two, even if their on-screen relationship is the very definition of toxic. For the most part (and especially when we compare her to Tammy 1), Tammy 2 is less harmful in hindsight. Yes, she manipulates Ron and turns him into a rule-breaking, hyper-sexual version of himself, but at the very least, their relationship has always been consensual. 
If you ask Leslie Knope, one of Tammy 2's most significant and unlikable traits is being a librarian. Tammy 2, much like most awful characters, is out toward her selfish agenda. Everything she does is to gain something in return, and she'll manipulate Ron to do it each time. She might not be a groomer, but she knows how to manipulate her ex-husband to give her just what she needs, and she'll go to great lengths to cause extensive issues in the department.
11. 11. Jean-Ralphio and Mona-Lisa Saperstein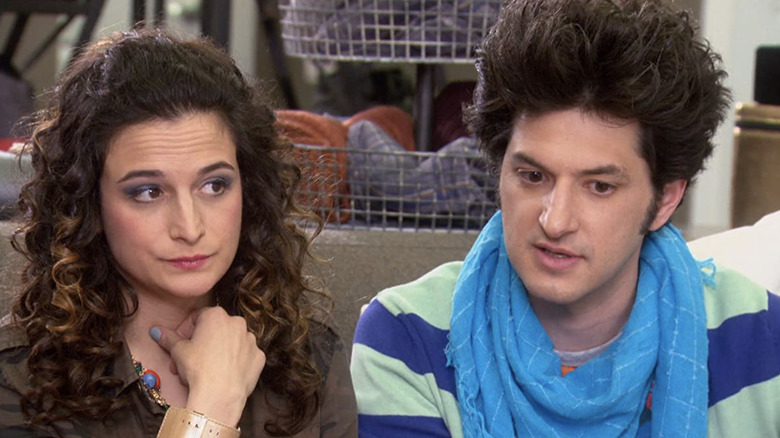 NBC
Jean-Ralphio and Mona-Lisa Saperstein are not just the worst — they are the wOoOoOoOoOrsT. Though their father thinks they have never done anything wrong in their lives, there's a laundry list of terrible things, including faking their own deaths for insurance money. They're both the very definition of white privilege, as neither of them has worked a day in their lives and they use daddy's money to get into all sorts of shenanigans, for which there are never consequences.
Though the Saperstein twins aren't good people, because of the quirks both Ben Schwartz and Jenny Slate expertly delivered, Jean-Ralphio and Mona-Lisa are some of the most quotable characters on the show. Their final "don't be suspicious" song and dance as they walk off from their "funeral" is one of the hilarious parts of the series finale. Mona-Lisa's "money please," and of course, Jean-Ralphio's "the worst" has become the kind of fan sensation that generated plenty of merchandise. They are spoiled, annoying, and show absolutely no growth or heart throughout the entirety of "Parks and Recreation," yet the show would not have been the same without them. They might not be likable by definition, but it's hard to hate them with the entertainment they provide.
10. 10. Tom Haverford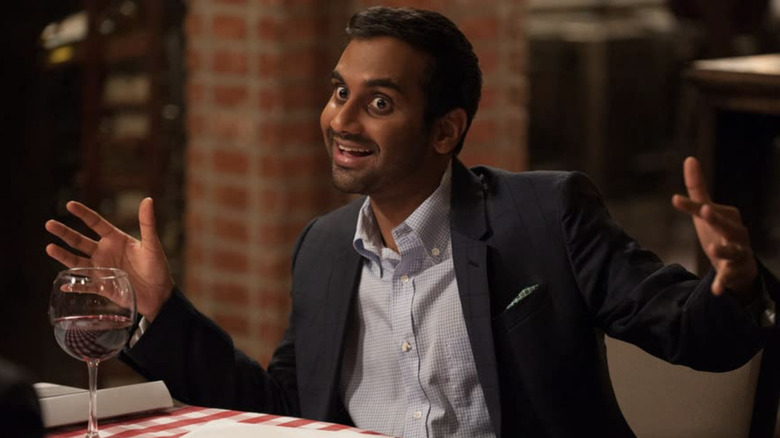 NBC
Tom Haverford is the kind of employee we'd all loathe working with, nor the kind of person we probably wouldn't be close to if we knew him in real life. So much of the reason the character worked is due primarily to Aziz Ansari's performance. Although Tom does grow throughout the years, it isn't enough to showcase that he understands his faults. Between his vulgarity towards women, hitting on Ann even when she wasn't interested, taking advantage of his co-workers' generosity, and taking jokes too far, Tom isn't a good person. His friendship with Jean-Ralphio should tell as much (although there is the instance where he finally stands up to him and tries to make Ron Swanson proud with his shop, Rent-A-Swag).
Tom Haverford isn't even the "love to hate" kind of character — most of the time, for female audience members especially, he can be incredibly frustrating to watch. Tom's harsh words are sometimes eclipsed by a kind gesture or two, but it doesn't count as much because they are far and infrequent. The only exception where his likability is concerned would be the iconic, Treat Yo Self day, but the best part of that is actually Donna Meagle's involvement.
9. 9. Gerald (Gerry/Larry/Terry) Gergich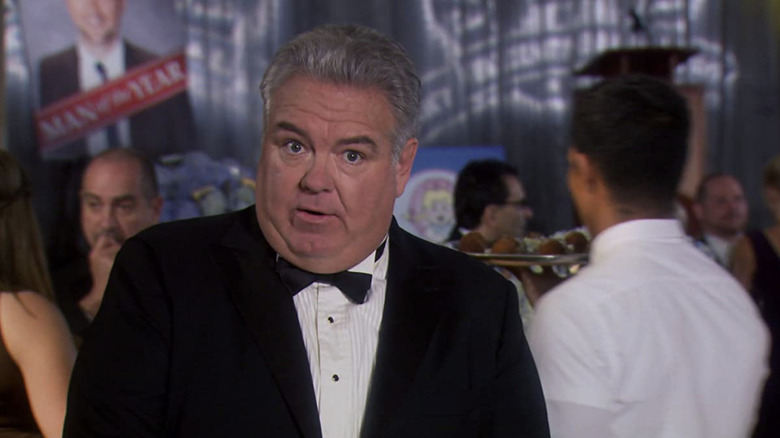 NBC
Jim O'Heir's Gerry (Jerry/Larry/Terry) Gergich is as harmless as it gets, but on "Parks & Recreation," he was too often the butt of every joke. The other characters weren't always kind to him, but he never once reciprocated any of it or ever appeared to be ungrateful to do the job he had. At times, however, the jokes are merited — Jerry is clumsy, and more often than not, he doesn't understand the memo. But he always means well. He's a family man, a compassionate employee, and a sentimentalist.
Sure, he is more unrealistic than the others, especially given his seemingly perfect life with a beautiful wife and three equally gorgeous daughters. Still, Jerry as a character was always memorable and mostly likable. Except, of course, for his name, which many of us still probably refer to as the wrong version. Where fans might not remember which name is his given one, surely they remember his fart attacks.
8. 8. Andy Dwyer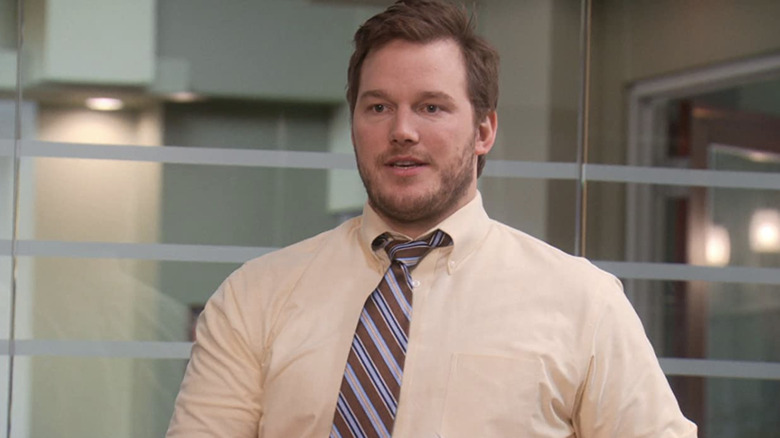 NBC
In the first season, Andy Dwyer is one of the most annoying characters on television — a terrible kind of boyfriend, bandmate, and friend. But when Andy falls in love with April Ludgate, his loyalty to her proves to be his saving grace. While Andy is harmless and generally doesn't yell out crude remarks as much as Tom does, Andy could benefit from thinking a minute or two before he speaks. Still, a person's spoken words often exhibit their true intentions, and Andy's comments generally say more about him than they do others. The foolish things he does provide viewers moments of comedic gold, such as: "Leslie, I put your symptoms into Google, and it says you might have network connectivity issues" in Season 3 Episode 2, "Flu Season."
For the most part, Andy is a kid in an adult's body, which makes his show "Johnny Karate" perfectly suitable for him — it allows him to use his best abilities, along with the his playful
"Burt Maclen, F.B.I." persona. He can be the source of entertainment for kids, but adults see a bit more of his heart through his actions and the genuine desire to be helpful. One of, if not the most, likable things about Andy Dwyer is the way he sings "5000 Candles in the Wind" — cue the tears, because we're all crying over a fictional pony named Li'l Sebastian now.
7. 7. Chris Traeger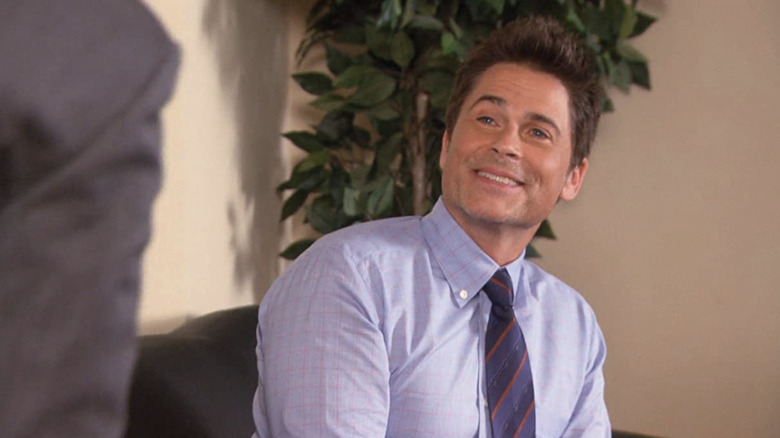 NBC
Rob Lowe's Chris Traeger is literally impossible not to like. He is a well-rounded, captivating character whose ethics stand as a top priority. If Mike Schur's worlds collided, Chris Traeger and Chidi Anagonye from "The Good Place" could have some fascinating conversations about life's complexities. Instead of creating an unrealistic persona that could be annoying, the writers and Lowe's performance did something indescribably special with Chris by making his characteristics feel organic.
Chris's optimism works best against Leslie's, because they exhibit positivity through different mediums — coupled with vulnerability. As one of the show's central conflicts, "The Trial of Leslie Knope" does a riveting job of playing with the work-life balance through Chris grappling with his beliefs and wanting the best for his friends. Because his optimism (and his constant use of the word "literally") are the most recognizable features, the more vulnerable sides of him we see throughout the trial thread brilliantly with the positive energy.
Chris Traeger is one of the kindest and most emotional characters in "Parks & Recreation." While his job doesn't sound like the most joyous part of his journey, Chris Traeger makes the best of every outcome while providing plenty of entertainment for viewers. Someone somewhere probably finds as much joy in running as he does, while most fans emphasize the word literally because of him.
6. 6. Donna Meagle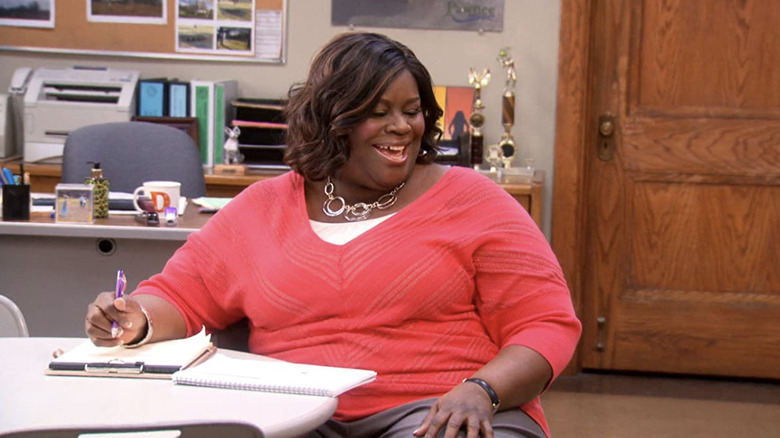 NBC
Donna Meagle is an endless mood. She is often in the background, side-eyeing the utter nonsense that's constantly ensuing in the office. She is also, quite literally as Chris Traeger would put it, the best part of Treat Yo Self. While Donna isn't necessarily close with her female coworkers, much like April, there is nothing she wouldn't do for them. Plus, everyone needs someone willing to give them the unabashed, unbiased truth at all times. 
Donna is someone who cares deeply even when she does not say it. There are no bounds to her loyalty, including the rare rides in her Mercedes Benz, which she allows Leslie during her city council campaign. She also has all the pop culture references set and reads fantasy romance — great traits. Donna is also the best dressed character, unapologetic about the things she loves, and her singing voice deserves all the accolades. 
5. 5. April Ludgate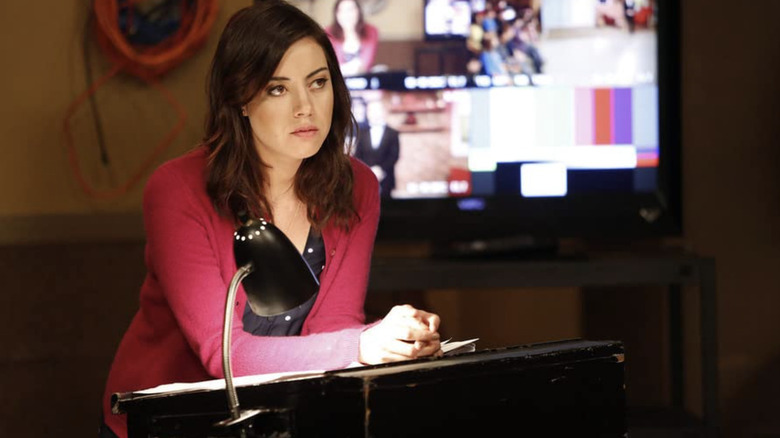 NBC
Much like Donna Meagle, April Ludgate is a forever mood and certainly likable despite her imperfections. At some point, we've all related to her, used her scenes as memes, or quoted her in sheer frustration. We've all had days (or months) where we'd much rather hang out with animals than people. But though April appears to be stoic, negligent, and an undeniable descendant of the Addams Family, April Ludgate has one of the biggest hearts on "Parks & Recreation." She cares so deeply for her co-workers that she genuinely understands each of them better than they understand themselves. Even as she initially mistreated Ann, we all know April respected her.
She may have mocked her coworkers a little too much at times, but when they've needed her, April has always been there. She made Andy a better, more compassionate person simply by loving him as he is, and she cared about animals as profoundly as they deserve. Additionally, no matter how infrequently she expresses it, doing the right thing matters tremendously for April — and in a sense, she is Leslie Knope's equal in that way. She is hugely flawed, and she might not be everybody's cup of tea, but the show would not have been the same with Aubrey Plaza's brilliant embodiment of the character.
4. 4. Ben Wyatt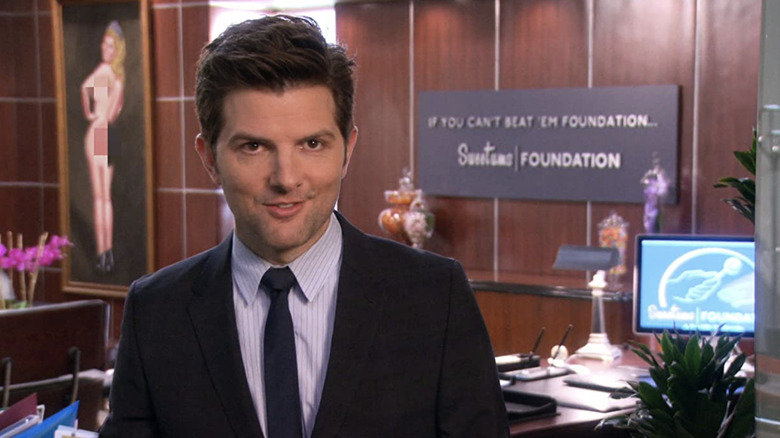 NBC
Ben Wyatt is all of us. He writes "Star Trek" fan fiction, makes groovy playlists, loves "Star Wars," protects the nerd reputation, and is the perfect kind of feminist husband. He is so acutely self-aware it might just be his most admirable trait. Ben's likability is dependent on his relatability, and the more we get to know him, the more we realize he's just on the struggle bus like all of us. Ben is resourceful, hardworking, and the best kind of manager — one willing to listen to his team even when their beliefs don't align with his.
As far as the men on "Parks & Recreation" go, Ben Wyatt is the most realistic of them, but it's his flaws that make him so likable. It's easy to understand why he's so uptight sometimes because viewers see his completely relatable exhaustion. But the best part about Ben, and the ultimate reason he is so high up on this list, is that his character brings both comedic relief and vulnerability in a way no one else can. He's the only person who could match Leslie's vigor with a refined intensity of his own. His generosity is endless, and his loyalty to his loved ones is unparalleled. Ben is always willing to give people the business advice they need while advocating for them every step of the way, even when they don't always deserve it. 
3. 3. Ann Perkins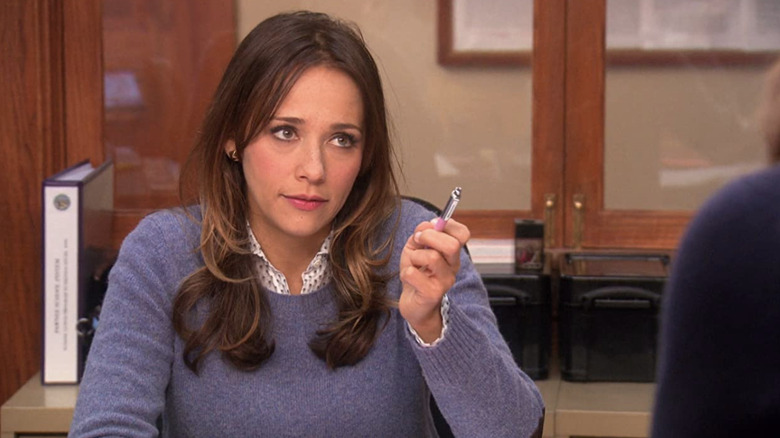 NBC
If Leslie Knope were a real person, she wouldn't be happy about the fact that her beautiful tropical fish Ann Perkins isn't number one on this list. (She'd also probably hate it if we didn't take every opportunity to sprinkle Ann with compliments.) Rashida Jones' Ann Perkins is a perfect sunflower. She is kind, compassionate, transparent when need be, and the kind of person who'd do anything for those she loves. It's no wonder Leslie loves her so much.
Ann is a nurturer — the type of person who's always willing to help out and take care of others without them even asking. She put up with Andy way longer than anyone else would have, and she dealt with Tom through a lot more grace than he deserved. In every way, Ann Perkins is truly the ultimate best friend a girl could dream of. Ann is also wickedly smart and creative. Where she was great at planning things on a whim, the last-minute wedding dress she whips up for Leslie with significant newspaper clippings is more glorious than designer top sellers. And contrary to Chris' opinion that jogging is great, Ann's belief that jogging is the worst is a superior opinion.
2. 2. Ron Swanson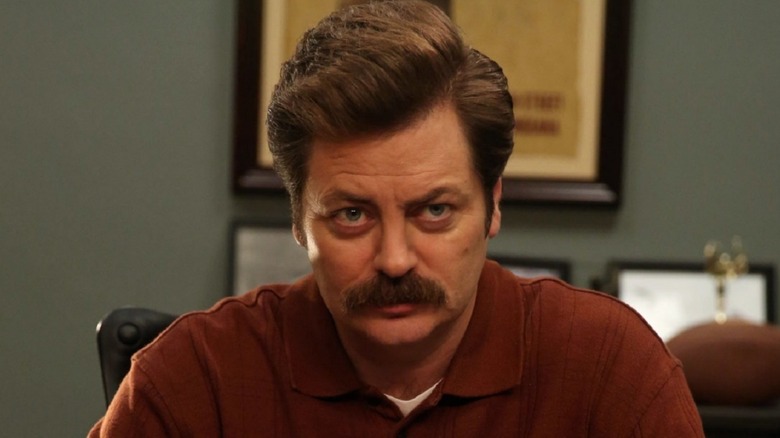 NBC
No offense to Michael Scott, but Ron Swanson is actually the best boss ever. While many might disagree with rankings of likability on this list, it's doubtful that anyone could argue against Nick Offerman's Ron Swanson being so deservedly high up. Ron might love meat a little too much, and he might be a tad too cold for some, but the quiet vastness of his heart remains an beauty in "Parks & Recreation." While he doesn't call the team his friends, referring to them instead as "work proximity associates," his adoration for them is ceaselessly present in his unwavering loyalty.
A great showcase of his heart is in the series' iconic Christmas episode "Citizen Knope," where he insists that they all do something special for Leslie because year after year, their gifts have paled in comparison to hers. When her campaign team abandons her, Ron is the one who steps up and insists that they do everything to help instead. And in Season 7, Episode 4, "Ron and Leslie," the audience learns just how much Ron cares about his team when their reason for leaving the government is that they were no longer working with him.
He is a man of refined tastes, has tremendous appreciation for breakfast foods, an enthusiast of riddles and the great outdoors, and the kind of feminist man the world could use more of. No matter how annoyed he is, Ron's advice is often the most useful — a high point being "never half-ass two things, whole-ass one thing."
1. 1. Leslie Knope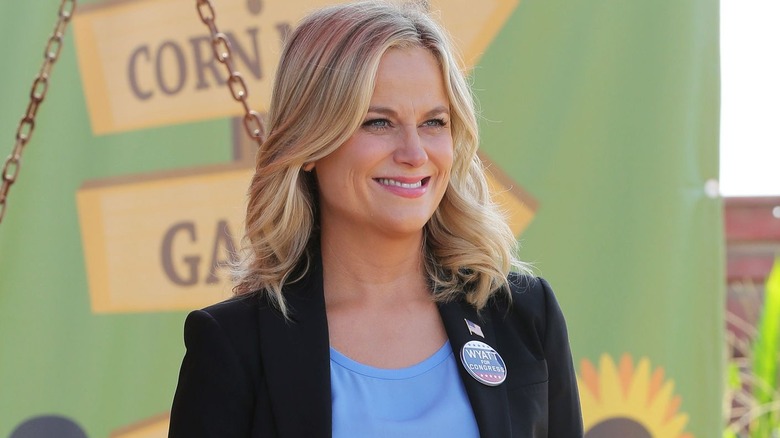 NBC
Amy Poehler's Leslie Knope is the heart of "Parks & Recreation." It's hard to imagine that anyone watching this show wouldn't agree that its leading lady is worth praising through everything. Sometimes she's over the top, but no one's heart is more prominent, and no one's stamina is as inspiring. Leslie treasures everything so profoundly that it can be overbearing at times, but regardless, her every intention is noble (except where she gets competitive). Most of what she does is for the greater good of humanity, and women especially.
Leslie Knope is an iconic character for far too many reasons to list, but it boils down to the fact that she gives freely without ever expecting anything in return. She opens up her heart even when she knows pain could follow in the process. Leslie Knope, quite literally, coined the celebration of Galentine's Day strictly reserved for celebrating female friendships.
There is not a single person in all of Pawnee (the two Tammys included) whom Leslie hasn't tried to help. Frankly, she doesn't know how not to — it's in her nature to want the best for people, and she'd do anything in her power to ensure that they achieve the goals in front of them. She'd give the world for her loved ones, and more importantly, she backs her words by actions. She shows people just how much she cares about them, and she shows the town of Pawnee that she is willing to meet them halfway. She is the best kind of team player and cheerleader, and though we don't see it on screen, we know she is the ideal type of politician. She is wordy, ridiculously detailed, and though she works way too hard, she understands that it's never more important than friends or waffles.